Barnes & Noble unveils glow-in-the-dark Nook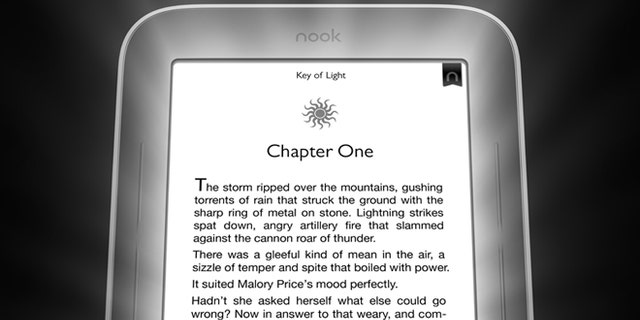 There are E-Ink devices that are great for the beach but not great at night, and there are tablet screens that shine brightly in dark rooms but are not ideal in sunlight.
So Barnes & Noble is combining E-Ink with a backlit screen in its newest Nook, the Nook Simple Touch with GlowLight.
The 6.5-inch (16.5cm) device comes with a glare-free e-reading screen, and text appears in E-Ink, but the Nook's "N" button at the bottom of the device activates GlowLight and lights up the screen.
The new Nook, which costs $139, also claims faster page-turning and longer battery life than the original Nook Touch -- up to 60 hours of continuous reading with the GlowLight turned on to around 18 percent, which sounds a lot dimmer than it is. At 6.95 ounces (197 grams), it also weighs five percent less than its predecessor.
At a New York press event Thursday, Barnes & Noble executives invited journalists to literally hop into bed with them in a dimly-lit room in a Manhattan hotel, where the new device was propped up against Amazon's Kindle Touch and Apple's new iPad. The company said internal research shows that two-thirds of US adults say they read in bed, and that 42 percent get annoyed when a partner reads in bed with the light on.
The iPad and Kindle Fire tablet were also displayed alongside the hotel's outdoor rooftop pool, in direct sunlight.
Barnes & Noble is clearly taking aim at its competitors and looking to stand out in the e-reader category, following disappointing sales of the first Nook Touch.
At $139, the Nook with GlowLight is more expensive than the $99 Kindle Touch WiFi e-reader and costs slightly less than the Kindle Touch with 3G.
The device is available for preorder Thursday, will ship in early May and is expected to hit Barnes & Noble stores in late April.