Apple fights back against DOJ eBook price-fixing lawsuit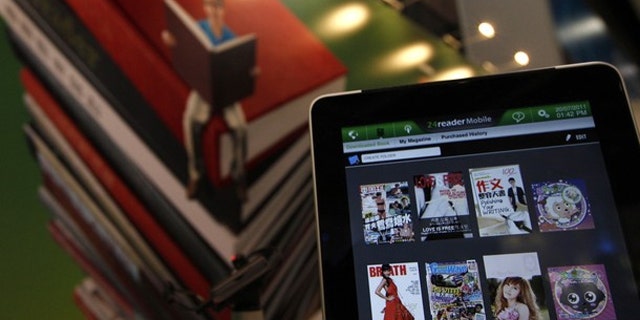 NEWYou can now listen to Fox News articles!
Apple is pushing back against government claims that it's trying to inflate the cost of eBooks by as much as $5, insisting that it's publishers and not the consumer electronics giant that sets prices.
"Just as we've allowed developers to set prices on the App Store, publishers set prices on the iBookstore," spokesman Tom Neumayr told FoxNews.com.
"The DOJ's accusation of collusion against Apple is simply not true. The launch of the iBookstore in 2010 fostered innovation and competition, breaking Amazon's monopolistic grip on the publishing industry," he said.
The U.S. Department of Justice (DOJ) filed an antitrust lawsuit against Apple and five publishers Wednesday, alleging e-book prices were artificially hiked by $2 to $3 and as much as $5 -- costing consumers tens of millions.
Publishers Simon & Schuster, Hachette and News Corp.'s HarperCollins agreed to settle the suit, avoiding a costly legal battle. But those companies refused to admit any wrongdoing or collusion.
"Hachette was not involved in a conspiracy to illegally fix the price of eBooks, and we have made no admission of liability," the company said in a statement released to FoxNews.com immediately after the settlement was announced.
"Hachette has decided that the costs, uncertainties, and distractions of this litigation would be too disruptive to our business."
Likewise, HarperCollins denied anti-competitive activities, adding that the so called "agency model" of pricing led to an explosion of choices for consumers.
But Apple, Macmillan, and Penguin Group are denying price collusion and are prepared to fight the charges of "conspiring to limit pricing competition."
"The document contains a number of material misstatements and omissions, which we look forward to having the opportunity to correct in court," John Makinson, Chairman and CEO of Penguin Group, told FoxNews.com.