Cloudy Days for Apple's iTunes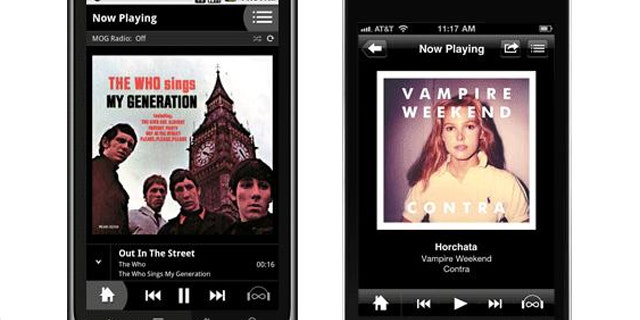 Apple may have joined the cloud generation, but has it missed the boat -- or rather the car -- when it comes to music?
Among all the new software announced by Apple yesterday, music took a back seat. While syncing songs across devices via online iCloud servers is convenient, many hoped the company would offer something more, namely a subscription music service.
Meanwhile, other companies this week are offering exactly that, and moving well beyond the old iTunes model by not only delivering subscription music services but also making them available in the place we listen to music the most: the car.
On Tuesday, on-demand music subscription service MOG announced that it is working with several companies in the automobile space. Two of them, Airbiquity and Tweddle, are behind two of the biggest in-car connected infotainment systems, Ford's Sync and Toyota's Entune, respectively.
The idea is to connect MOG's smartphone app to a car's entertainment system so that drivers can switch songs or change the volume using existing built-in car controls (just as we already do with the car's radio). It could make using services like MOG as easy as changing FM stations, and hopefully boost our listening pleasure while minimizing the threat of driver distraction.
Like the subscription services from Rhapsody, Microsoft's Zune, Rdio, and Slacker, MOG charges a monthly fee for unlimited, ad-free music listening. You can pay $4.99 a month to hear it on desktop computers or on other home devices like Roku's TV-connected boxes. Mobile service is $9.99 a month.
Customized channels like those from Pandora -- which stream free over the Internet -- are already making inroads in the car market, appearing in vehicles from Ford, GM, and BMW. The free service is fine but offers only about 800,00 songs, versus subscription services like MOGs that offer about 11 million tracks.
The other major difference is that unlike Apple's iTunes, you can't buy tracks from MOG. It's a different way of looking at -- or rather listening to -- music. And so far, Apple is sticking with the buy-to-play model.
Furthermore, in spite of a good lead working with car stereo and automakers to let iPods and iPhones operate seamlessly with in-dash systems, Apple has frustrated automakers with obtuse design parameters. App makers and online companies like MOG have been much more flexible. Indeed, MOG is already working directly with automakers, such as BMW, which plans to introduce a Mini this year with the music service.
Granted, Apple realizes that music anywhere is where it's at. Its new iTunes Match service is a partial remedy. For $24.99 a year, it will allow users to play songs they already own from the cloud (when you start to upload your songs, if iTunes already has it, Apple will save you the time of uploading it and just let you play the versions the company already has online).
But that seems like a half-step on the way to subscription-based music -- and it makes you pay for music you've already purchased. Meanwhile, Google and Amazon already have similar offerings.
So will we see fleet-footed companies like MOG, Slacker, and Pandora wrest control of the music business away from Apple, and even traditional broadcasters? The answer depends on what Apple does next and how broadcasters adjust their programming.
Traditional radio, for example, could turn back the clock to ensure its future. Once upon a time, radio used to be about discovering new music. That's what online music services are tapping into, of course.
And music discovery is what radio has abandoned by playing the same hits, over and over and over again.
Follow John R. Quain on Twitter @jqontech or find more tech coverage at J-Q.com.