Apple vs. the world: In a battle of inches, can iPhone compete?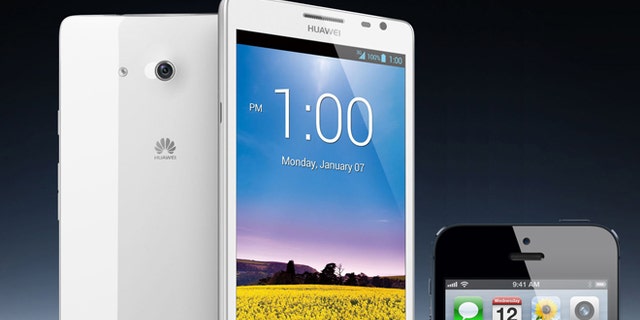 In smartphone land, everyone agrees: Bigger is better. Everyone except Apple.
Analysts expect the Cupertino-based company to release the iPhone 5S later this year, a refresh of last year's model that will likely include minimal changes. That means the only new Apple phone in 2013 is likely to have a 4-inch display.
Meanwhile, every other phone is growing like a hormonal teen.
[pullquote]
Larger phones dominated this year's Consumer Electronics Show and Mobile World Congress; nearly every Android flagship released in 2013 will have a 5-inch display. Samsung, Sony, Asus and LG all have 5-inchers in the works. That single inch translates into almost 50 percent more screen real estate than the iPhone 5 -- more screen for watching videos, more for browsing the web, more for reading the latest e-book.
But why stop at 5-inches? Huawei unveiled a 6.1-inch beast in January. And even if these kinds of sizes are stretching the limits of traditional pockets, well-made "phablets" have been warmly received. Samsung's 5.5-inch Galaxy Note 2 reached 2 million in sales in less than a month. Half a year later it's closing in on 10 million.
Samsung announced an 8-inch version of the tablet in late February.
"It's a little too wide to hold comfortably in one hand, which is especially comical here because the international version of the Galaxy Note 8 will be usable as a phone," wrote PCMag.com's Sascha Segan. "Yes, you can hold it up to your head, in theory, although that's really silly. We tried. It was silly."
Still, users prefer bigger phones, and they become more active once they get them. Given the luxury of a bigger screen, browsing the web and watching videos becomes less tedious and more enjoyable, according to a study by Kantar Worldpanel ComTech.
When the iPhone first came out, it offered its customers just that. By transitioning to a touchscreen display and dropping the physical keyboard, Apple instantly doubled the size of its screen, transforming the smartphone from email to a true multimedia device. Today, the iPhone 5's screen is the smallest of all its competitors even as our mobile Internet needs have grown.
This leave Apple and its legion of fans as cramped as a basketball player flying coach. CEO Tim Cook reiterated the firm's careful approach in January, explaining why the iPhone 5 has the "right" screen size for you thumb.
"The iPhone 5 offers a new Retina Display and is the most advanced display in the industry," Cook said on the company's 4Q earnings call. "It also provides a larger screen size without sacrificing the one-handed ease of use. We put a lot of thinking into screen size and we believe we have picked the right one."
Following the release the phone in September, the company ran a series of ads to defend its philosophy.
Not everyone is convinced, however, including Apple co-founder Steve Wozniak. "Part of me wishes Apple had not been so arrogant and feeling like "We're the only one with the right clue," he told TechCentral in an interview. "I wish they had made a wider version [of the iPhone 5]."
That leaves Apple users with two options: stick with the smaller screen or switch to Android and its myriad of size choices. "Not all people want the same thing," Woz said. "A lot of people really like big screens."
This may be one reason sales of the iPhone 5 have been decelerating faster than expected, according to a morning note by Jefferies analyst Peter Misek. Apple has cut its build orders by 25 percent to 30 million.
Even so, the iPhone 5 regained the mantle of number one smartphone in the world after outpacing the formidable Galaxy S3 in the fourth quarter of 2012.
[sidebar]
The company also continues to get hammered on Wall Street, hitting a new 52-week low last week as it faces growing competition from all angles. Samsung will look to continue its good form when it reveals its latest Galaxy S phone in the coming weeks.
And it's not just Android phones that Apple has to be worried about. BlackBerry new Z10 is reportedly outselling the iPhone 5 and Galaxy S3 at Glentel stores in Canada, which owns 330 retail outlets across the country. Half of those sales have been made by users switching from other platforms, mainly iPhone and Android.
Of course, there are still plenty of people who will agree with Cook's assessment. There is such a thing as too big, for instance when HTC starts making small phone accessories for huge phones.
And with the historically secretive Apple, Cook's words must be taken with a grain of salt. The late Steve Jobs famously bashed smaller tablets, claiming that the iPad was the perfect size. Soon after, Apple released the Mini. Rumors of a larger, cheaper iPhone to complement the impending 5S are already circulating.
For impatient users already burned once left disappointed after waiting for the 5, switching no longer means a compromise in quality as competitors have long caught up. What they will have, however, are options.