450 Amazon employees protest facial recognition software being sold to police
A group of 450 Amazon employees has signed a letter protesting the company's decision to sell its facial recognition software to police with one choosing to publish an anonymous op-ed explaining their concerns.
The letter, which was recently sent to CEO Jeff Bezos, demands that Amazon ditch Palantir, the software that has powered some of ICE's tracking and deportation initiatives, and blasts the company's chief executive -- who said recently big tech needs to keep working with the Pentagon to defend the U.S.
"We know from history that new and powerful surveillance tools left unchecked in the hands of the state have been used to target people who have done nothing wrong; in the United States, a lack of public accountability already results in outsized impacts and over-policing of communities of color, immigrants, and people exercising their First Amendment rights," the anonymous Amazon employee said in a post on Medium.
The program, known as "Rekognition," has been scrutinized over privacy concerns by the ACLU and others before. In July, the civil liberties organization uploaded 10,000 mugshots into Amazon's software and conducted a test showing that 28 members of Congress -- most of whom were people of color -- were falsely matched with stored mugshots.
BEZOS SAYS AMAZON WILL WORK WITH DEPARTMENT OF DEFENSE
The anonymous Amazon employee writes that "existing biases" will only be magnified and reproduced by the firm's facial recognition software.
Thus far, the company's response has been "radio silence," the anonymous employee said in an interview on Medium. Amazon recently signed a $600 million contract with the CIA and is likely a finalist for a $10-billion cloud storage contract with the Pentagon.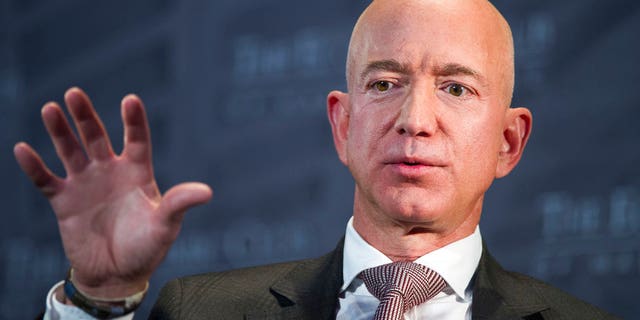 Fox News reached out to Amazon for comment on this story.
Teresa Carlson, vice president of the worldwide public sector of Amazon Web Services, stated at a security conference in July that Amazon "unwaveringly" supports the U.S. government, including its law enforcement, defense and intelligence services.
The efforts by Amazon employees come at a time when a range of Silicon Valley companies, including Google, Microsoft and Facebook, are facing internal dissent from employees who are unhappy about various policies or internal culture.
LOUIS FARRAKHAN WON'T BE SUSPENDED BY TWITTER DESPITE ANTI-SEMITIC TWEET
"Amazon talks a lot about values of leadership. If we want to lead, we need to make a choice between people and profits. We can sell dangerous surveillance systems to police or we can stand up for what's right. We can't do both," the op-ed concludes.