10 best in class - top tacticool gear for back to school
We've got the ultimate back to school gear guide curating the very best with a tactical twist.
Take advantage of tactical professional grade know how and equip the students in your life with tough stuff that will last throughout school and beyond.
You'll find the standard essentials like notebooks and backpacks – but next-level and military grade. Looking for a fun gift? From waterproof tunes through to indestructible coffeemakers, we've also got you covered. And for those parents worried about kids away from home, we've even found you ordinary school necessities specially designed to double as devices to defeat danger.
Here are 10 of the best in class for 2017.
IMPROMPTU TACTICAL PEN
Best in Class choice for student safety is the Impromptu Tactical Pen made by Gerber Gear. An incredibly robust pen with a tough machined steel body, it will outperform all the other students' pens with its "Rite in the Rain" ink cartridge that works reliably in all weather conditions.
NEW RUSSIAN STEALTH FIGHTER JET REVEALED
But it also doubles as a defensive device against danger. For parents with fears of kids walking home late at night by themselves, a pen is something students carry daily so the student will always have something with them for protection.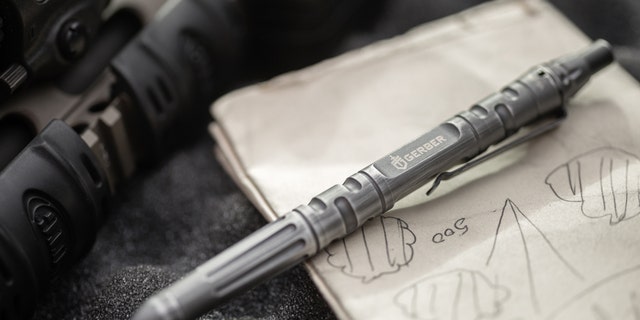 Many parents also worry about car accidents. This pen even has an integrated glass-breaker tip so, in a worst-case scenario, a student would always be able to punch through a car windshield to get out.
Available for $72.
RITE IN THE RAIN NOTEBOOKS
Rite in the Rain notebooks are wildly popular with tactical professionals. They've got truly weatherproof paper and a waterproof notebook cover.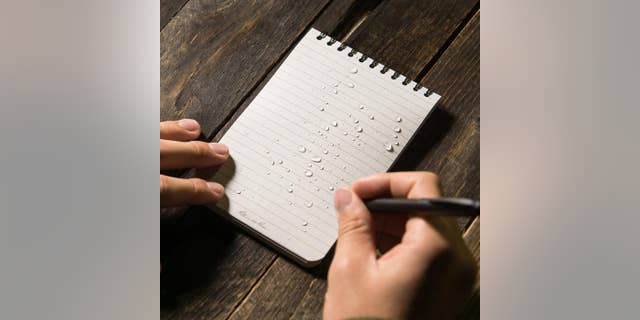 These notebooks can withstand just about anything a student could throw at it. If it gets hit with water, the All-Weather paper won't disintegrate like regular paper – it is just fine.  Accidentally left in pocket and put in washing machine? No problem. Thrown in the gym bag and hit with sweat and mud? No problem.
They come in all sorts of shapes, colors and sizes. The pocket-sized ones have a great, tough impact resistant wire binding so whether it is in the back pocket or backpack it will never lose its shape.
Pocket top spiral starts at $3.95.                                  
RITE IN RAIN TOUGH, TACTICAL PENCIL
How could the humble yellow pencil be improved on?
Rite in the Rain has given the pencil a tactical upgrade so that it can be reliably used in war zones. This pencil has a specially engineered tip that expands and ensures the pencil always works.
MEET THE WOLVERINE - WWII STYLE WITH STATE-OF-THE-ART TECH
The lead won't break. Won't be unsteady.  Won't snap off. Won't fall out. It will be the only pencil, and last pencil, you will ever need to buy for your student.
Rite in the Rain All-Weather Mechanical Pencil normally retails for $10.45 but you can now snap one up at a steal of $5 dollars.
FIREPAK
A big part of going off to school is making amazing memories. Capturing those moments is a big part of student life these days.
The Firepak is THE ultimate gift for the student in your life who lives on social media. Surefire is an innovator in incredible lighting solutions for the military and law enforcement. Think powerful weapon-mounted lights and flashlights for special operations teams for stealthy, high stakes night missions like a raid on a terrorist compound.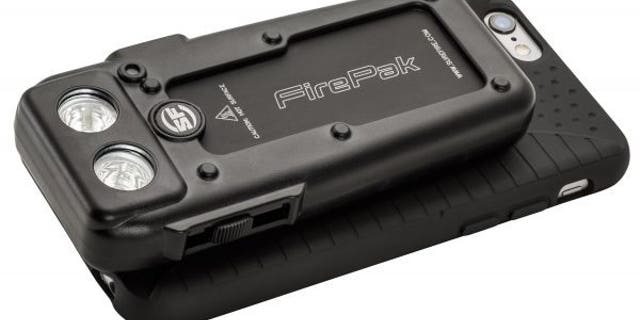 This expertise is now available to civilians for their smartphones. Surefire has created a revolutionary smartphone video illuminator and charger. This means that a student can pop this Firepak device on their smartphone and harness the power of 1500 lumens with a special blended beam for perfect night video.
With this device, students will be able to capture every single fun and special thing that happens in any sort of lighting and even the darkest of nights. The charger will help ensure those special moments can still be captured.
The Firepak is also great for student safety as well. One thing a student is never without is a phone. And this powerful light can be used on late-night solo walks home from the library. Powerful light is a great, simple way to deter criminals and predators.
The Firepak is priced at $299.
UE Wonderboom 
What student would not want to be able to stream music, anytime, anywhere, on any adventure?
There's no question that best-in-class for tunes this year comes in the form of an adorable, compact Bluetooth wireless speaker called Wonderboom.
MEET THE COMBAT CROP DUSTER, ARMED AND ARMORED TO JOIN THE FIGHT
Made by Ultimate Ears, it is ultra-compact, lightweight and effortlessly portable since it easily pops into a backpack or handbag. The devices may be small enough to fit in your hand, but it is big in ultra-high quality sound.
One of the other standout features is that it is student fun-proof.
Waterproof, it will keep on playing no matter how soaked it gets at spring break pools. Tailgating getting a bit muddy? It will keep on delivering tunes no matter how much mud gets splashed on it.  Just rinse it off.  Fraternity party get rowdy? No problem, beer spills can't defeat it. Little Wonderboom Phantom will keep on playing.
The device is available in several colors and retails for $99.99.
BANTAM PACK BY TACTICAL TAILOR
Back to School always means the hunt for the perfect backpack.
Look no further. If James Bond was shopping for a back-to-school backpack for his kid, he would head straight to the outfitter of top tactical professionals - Tactical Tailor – and little James Bond Jr. would be heading to school with the Bantam.
The company specializes in tailoring ordinary objects into ultimate covert devices – that still look just like cool ordinary bags, but have secret hidden pockets to hide James Bond-type gear inside.
The Bantam is designed for professionals as a lightweight, smaller alternative to its go-to tactical pack – but this also means it can be a great size for kids.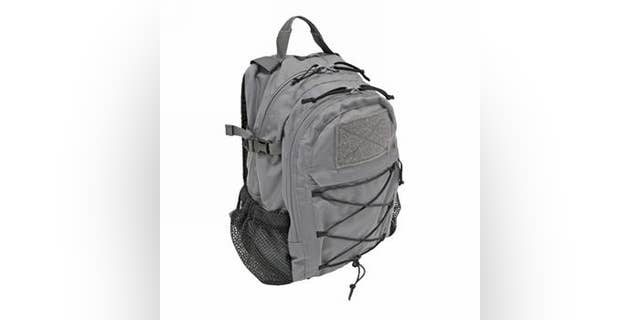 The weight of books kids carry these days is enormous, so this is a great choice because the masterful design and engineering reduces any unnecessary weight and makes it comfy to carry.
Plenty of space for books, laptop and all the student essentials with smart internal compartments.
It will be THE coolest backpack at any school and thanks to the remarkable craftsmanship it will truly go on to last a lifetime of grown-up adventures too.
In fact, if your student ends up serving our country whether in the military or law enforcement and it gets "injured" at work … no matter how many years it has been battered, Tactical Tailor will repair it to just like new for you – for free.
Available in Black, Coyote Brown, MultiCam and Wolf Grey starting at $165.
ALL HAZARDS PRIME BACKPACK
Need a bigger backpack? The All Hazards Prime made by 5.11 is designed to carry a full tactical load for the tactical professional - for a student, this translates into lots of well-designed space for stuff.
5.11 has rapidly become one of the most formidable forces in tactical gear and with good reason. The engineering on this backpack will give you a good idea why.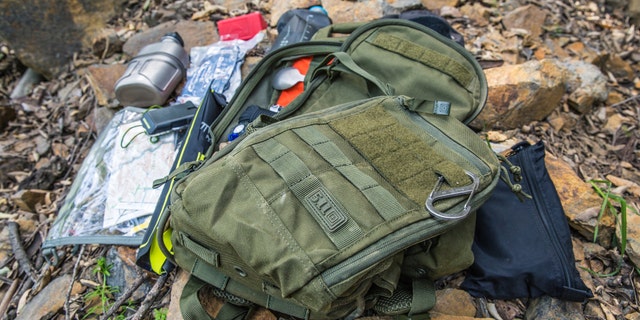 Easy to carry, it has reinforced grab-and-go handles. Highly durable and able to withstand years of daily abuse from the rigors of student life, it has a special padded laptop sleeve, hydration compartment and adjustable, comfortable compression straps.
AMAZING EXPERIMENTAL ATTACK PLANES ON SHOW
There's a handy "shove-it pocket" for expandable storage when the student needs to stash something quickly and dash to class.
Inside there's also tear-out medical pouch. For parents thinking about kids away from home and safety, knowing your child always has medical emergency essentials to hand can be a great comfort too.
The backpack is priced at $199.99.
THE RECYCLED FIREFIGHTER – SERGEANTS WALLET
Recycled Firefighter is very hot in tactical circles. Head over to Instagram and check out @recycledfirefighter.
Girls have lots of options in style and accessories to create their look for heading back to school. Boys have fewer options – so the wallet becomes a key way to declare style.
For boys and girls, the Sergeants Wallet is a top pick. They're personally made by a firefighter based in Kentucky so each one is unique.
They don't just look cool. The fact that this wallet has meaning is cool too. Each wallet has its own history since it is made from a fire hose that firefighters in the U.S. used to bravely save lives. When a student is facing a test, it is nice to have in your pocket a reminder of American courage.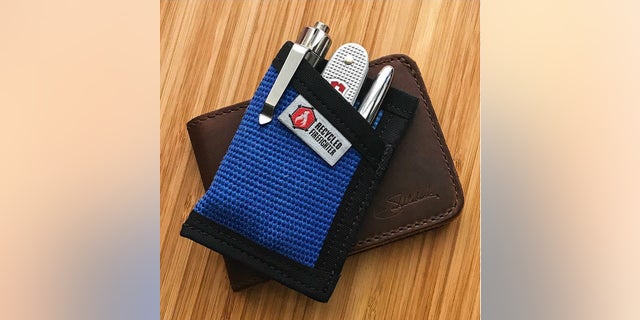 Thanks to the fire hose material, the wallets are impossibly tough and durable – but they're also super flexible and bendy, which makes them incredibly comfortable to carry in a pocket. That robustness also means it is a fantastic choice for a small child's very first wallet.
In fact, they are so popular Recycled Firefighter has already recycled more than 15,000 feet of decommissioned fire hose from around the U.S. to make them.
They come in lots of different colors, shapes and sizes. My top pick is the lightweight, compact Sergeants Wallet, which retails for $29.
BUILT TO SURVIVE STUDENT DORMS – COFFEEBOXX SPECIAL OPS
Back by popular demand is the OXX COFFEEBOXX. For downrange military environment conditions, this is the absolute best coffee maker period.
Coffee is a key part of life and a daily ritual for many students. If your student is a coffee drinker, this coffee maker will be a massive hit with everyone in the dorm.
Crush proof. Spill proof. Dust proof. Rust proof. Impact resistant. Water-resistant. It is built to defeat the elements.
So whatever a student dishes out, the COFFEEBOXX can take it. Engineered to be ultra tough and robust – this is a coffee maker your student will use throughout school and for many, many years after.
POWERFUL AIRCRAFT FROM AROUND THE WORLD IMPRESS AT UK MILITARY AIRSHOW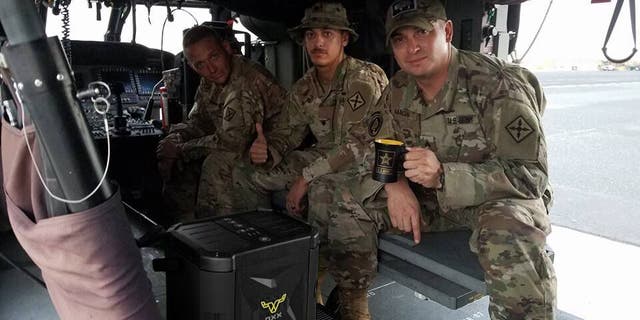 Lightweight and portable … can travel with the COFFEEBOXX to study sessions. Compact, it will comfortably fit into the tiniest of dorm rooms.
Takes any K cup, fits up to 8-inch mugs and brews a cup in 75 seconds – so a student can fire up their favorite coffee in a to-go container in mere seconds.
There's a separate hot water dispenser so it can provide other student essentials like oatmeal, noodles and more.
No coffee residue, so no cleaning, making it even more ideal for students.
The Special Operations version in ultra-sleek black is a great choice for the ultimate caffeinator for back to school.
Available for $229.
Freedom Coffee
Coffee is a basic food group for many students. Top choice for best coffee this year hails from Black Rifle Coffee, which is owned by Special Operations veterans. It truly does "smell like freedom" as their tagline suggests and the outstanding taste will make it an immediate favorite.
To provide the best possible K cup ammo for the COFFEEBOXX, they have lots of great options like the CAF Coffee Rounds and AK-47 Espresso Rounds.
If you're looking to send a fun gift that will also come in handy for studying, then gear them up with the Complete Mission Fuel Kit that includes: Sniper's Hide Blend, Silencer Smooth Blend, AK-47 Blend and Beyond Black Blend.
The K cups rounds start at $12.99 and the Complete Mission Fuel Kit is available for $45.
Learn the Secrets to how these Special Operations Veterans are Building a Business Empire