Yoenis Cespedes to stay put, not planning to exercise opt-out clause with Mets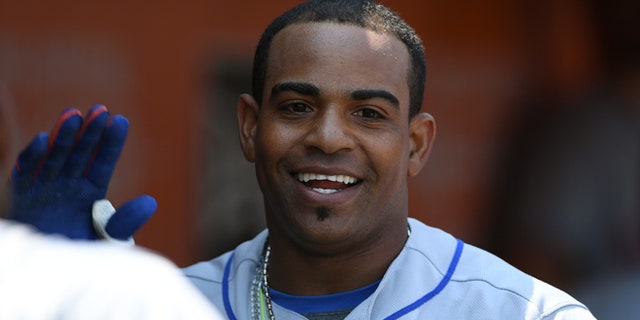 ST. LOUIS (AP) – Yoenis Cespedes says he has no plans to exercise an opt-out clause in his contract with the New York Mets.
The outfielder from Cuba is in the first year of a three-year, $75 million deal that has an escape clause after the first season. He said through an interpreter before Wednesday's game against the St. Louis Cardinals that he intended to honor the deal.
"I've said it before, my intentions of course are to be here for three years, and if I could spend the rest of my career with the Mets, I would," Cespedes said.
He said he hasn't discussed the matter with his agents and added that if anything happened, it would be after the season.
"My mind is on playing," Cespedes said. "I just haven't thought about it."
Entering Wednesday night's game, Cespedes was batting .295 with 25 homers and 64 RBIs, second on the team in both categories.
Like us on Facebook
Follow us on Twitter & Instagram