Yasiel Puig to start for Dodgers in pivotal Game 4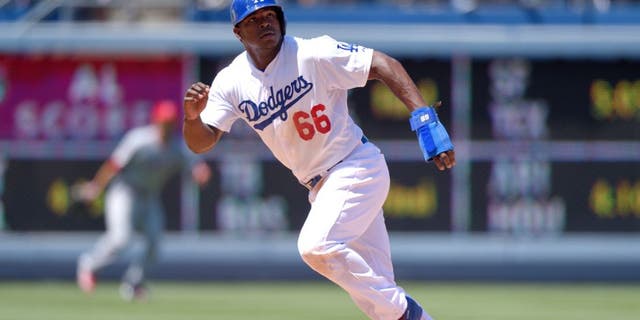 Dodgers manager Don Mattingly continues to tinker with his lineup in hopes of finding the winning combination, which he hopes will include new insertion Yasiel Puig in Tuesday's do-or-die Game 4.
Mattingly has penciled in Puig in the starting lineup on Tuesday as the Dodgers take on the Mets with a chance for New York to win the NLDS, up 2-1 after a 13-7 thumping on Monday at Citi Field.
While Puig has started previous postseason games, he has yet to start this postseason for the Dodgers after dealing with a hamstring injury in the latter stages of the regular season.
The 24-year-old outfielder will take over for Andre Ethier, who hit .200 against lefties this season, in right field as the Dodgers face Mets rookie lefty Steven Matz. Puig hit .279/.380/.544 with five home runs and 10 RBI in 68 at-bats against left-handed pitchers during the regular season.
While he has yet to start a game this postseason, Puig has received two pinch-hitting at-bats, which both resulted in strikeouts. He is now 16 for 53 (.302) with 24 strikeouts in his postseason career.
Puig will hit sixth in the lineup behind rookie shortstop Corey Seager, who has been reinserted at shortstop after being supplanted by veteran Jimmy Rollins for Game 3.
Other noteworthy changes Mattingly has made to the lineup with the Dodgers on the brink of elimination from the playoffs include center fielder Kiké Hernandez being bumped up to the top of the lineup, A.J. Ellis starting at catcher after Yasmani Grandal caught Games 2 and 3, and Justin Ruggiano -- who has bashed lefties for three home runs, eight RBI and a .333 average since joining the Dodgers -- getting the start in left field and batting eighth.
Dodgers' NLDS Game 4 lineup:
Kiké Hernandez (CF, R)
Howie Kendrick (2B, R)
Adrian Gonzalez (1B, L)
Justin Turner (3B, R)
Corey Seager (SS, L)
Yasiel Puig (RF, R)
A.J. Ellis (C, R)
Justin Ruggiano (LF, R)
Clayton Kershaw (P, L)