World-record 809-pound Mako caught with bow off California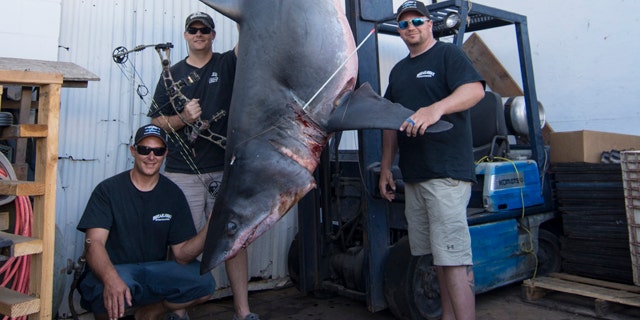 An outdoor TV host's catch of a 809.5-pound Mako shark in August off the coast of southern California was deemed the largest ever caught using a compound bow.
The shark was lured to the boat on Aug. 13, in the Huntington Beach area, after the fishermen spread chum, Lone Star Outdoor News reported. About 30 minutes later, the shark appeared.
The boat was positioned so Jeff Thomason, the host of "Predator Pursuit," could line up a clean shot at the top of the fish's back. He aimed and fired, MySanAntonio.com reported.
"As soon as the arrow hit, all hell broke loose," he said. "We freaked out because I spined him and we thought he might sink."
The shark did not sink and the fishermen were able to get it back to port. It was weighed and months later identified by the Bowfishing Association of America as the largest Mako caught with a bow.
"It was one of those days everything went right," Thomason said.