Who's Who: CFB Playoff Committee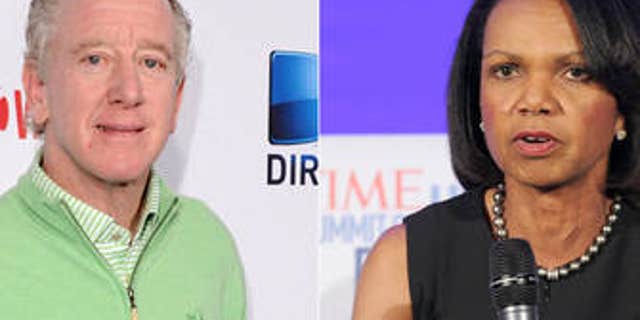 Earlier today, the 12 remaining members of the College Football Playoff Selection Committee were officially announced.
The diverse group – which includes athletic directors, a former Secretary of State, a sports writer and one especially distinguished college football legend – will be in charge of selecting four teams for the 2014 college football postseason.
What might these individuals contribute to the committee? Here's a quick briefing on the inaugural group.
Jeff Long (chairman)
Day job: Vice chancellor and director of athletics, University of Arkansas
Long has 20 years of experience in collegiate athletics administration and currently serves on the NCAA Management Council. As a former college athlete, he received seven varsity letters playing Division-III football and baseball for Ohio Wesleyan. All eyes will be on the committee during its inaugural season, and Long's press savvy from his work managing external affairs at Oklahoma and spearheading promotional efforts at Pitt could prove to be helpful.
Lieutenant General Michael C. Gould
Day job: Speaker and consultant
Gould is the former Superintendent of U.S. Air Force Academy, where he was responsible for the military training, academics and athletics of prospective second lieutenants. He formerly served as a senior Air Force aide to President George H. W. Bush and was the chairman of the Mountain West Conference Board of Directors in 2010.
Pat Haden
Day job: Director of athletics, University of Southern California
USC fans might argue firing Lane Kiffin is Haden's top accomplishment, but the Trojan's athletic director is a former Rhodes Scholar and two-time champion quarterback at USC with a law degree and a private equity business background. He brings a well-rounded perspective shaped by experiences as a player, commentator and athletic director to the committee.
Tom Jernstedt
Day job: Senior counselor, the Jernstedt Co.
Jernstedt, a former NCAA executive vice president, boasts nearly 40 years of experience working for the NCAA in influential roles and is an inductee of the National Collegiate Basketball Hall of Fame. He could contribute significant selection experience, accumulated during his role overseeing the expansion of the NCAA's Final Four Division-I basketball tournament to 64 teams. Are the college football playoffs in for future expansion, too?
Oliver Luck
Day job: Director of athletics, West Virginia University
Luck was a Mountaineers quarterback from '78 to '81, and now he heads the athletics department for his alma mater. In between, he served as vice president of business development for the NFL. As AD, he has overseen WVU's induction into the Big 12 conference. Luck has played a role in the development of franchises and sports facilities, and similar momentum could help get this new committee off the ground.
Archie Manning
Day job: Spokesman and motivational speaker; former Mississippi and NFL quarterback
After throwing for over 5,000 yards as a quarterback at Ole Miss, Manning's jersey was retired by the school and is the only sweater to be given the honor in Oxford. After college, he played 14 seasons in the NFL for the New Orleans Saints, Houston Oilers and Minnesota Vikings. In addition to tons of in-game experience as a player, the College Football Hall of Fame member raised two professional quarterbacks in sons Eli and Peyton – so yeah, you could say he's got an eye for talent.
Tom Osborne
Day job: Retired; former athletics director and head coach, University of Nebraska
Osborne spent a quarter of a century as head coach of the Cornhuskers football team. Off the field, he represented Nebraska as a member of the House of Representatives for three terms. A winning attitude has helped Osborne accumulate more than 250 career wins as a head coach, and his experience handling the pressure of politics may be counted on as well as a member of this new committee.
Dan Radakovich
Day job: Director of athletics, Clemson University
Radakovich sports more than 25 years of experience in athletic administration, including six years as athletic director at Georgia Tech. Recently, his voice became a louder one in world of college athletics when he was appointed by NCAA president Mark Emmert to an advisory commission concerned with future rules and policies of the Association. His new post will bring even more responsibility.
Condoleezza Rice
Day job: Stanford professor; former United States Secretary of State
In 2005, Rice became the first African American woman to serve as Secretary of State of the United States. Now she'll be the first, and currently only, woman on what is arguably college football's most important committee. Despite recent criticism aimed at anticipation of her selection, Rice brings a plethora of experience making important decisions under intense pressure, as Clay Travis points out in this recent article.
Barry Alvarez
Day job: Director of athletics, University of Wisconsin
Head football coach turned athletic director, Alvarez is rounding out a decade in charge of Badgers athletics. Alvarez inherited a football program that had lost its way and is credited with transforming the Badgers into three-time Big Ten and Rose Bowl champions en route to accumulating over 118 wins as a coach. He is also a member of the College Football Hall of Fame.
Mike Tranghese
Day job: Managing member for MT Consulting, LLC; former Big East Conference commissioner
Tranghese directed the Big East for almost 20 years, and it was under his tenure that football was brought into the one time basketball-only conference. Although the Big East has seen better days since the departure of big football programs such as Miami and West Virginia, Tranghese's experience evaluating big picture issues could prove helpful in picking the best four teams in college football.
Steve Wieberg
Day job: Writer/editor for public affairs department of the Kansas City (Mo.) Public Library; former college sports writer
Award-winning, originally-staffed USA Today sports writer, Wieberg represents the only journalist on this committee, which means he should bring a unique perspective to the table. He has also served on the selection committee for the College Football Hall and was named one of the "10 Most Powerful People in College Sports" by Chronicle of Higher Education in 2007.
Tyrone Willingham
Day job: Volunteer, First Tee Silicon Valley; former head coach at Notre Dame, Stanford and Washington
Willingham is the former head coach of three Division-I football programs. As a student-athlete, he played quarterback and wide receiver for Michigan State. Prior to his latest appointment, Willingham served as president of the American Football Coaches Association Board of Trustees in 2008.
The original article can be found at FOXSports.com: Who's Who: CFB Playoff Committee.