Who did the Braves receive in return for Andrelton Simmons?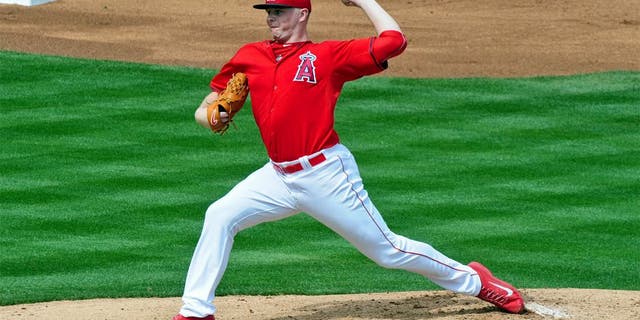 Sean Newcomb was the centerpiece of the deal to trade Andrelton Simmons to the Angels. Matt Kartozian USA TODAY Sports
In the first blockbuster of the offseason, the Atlanta Braves swapped Andrelton Simmons to the Los Angeles Angels for shortstop Erick Aybar, two prospects in Sean Newcomb and Chris Ellis and $2.5 million cash.
To trade a player like Simmons, the Braves had to get a big haul: It was reported that the Braves were asking the New York Mets for either of their young arms plus outfielder Michael Conforto when discussing the All-Star shortstop.
Simmons has club control through the 2020 season and is owed $53 million over these next five seasons for an average annual value of $10.6 million. Taking into account the increasing free-agent contracts, that's a bargain for a player who is 26-years-old and widely considered to be the best defensive player at a premium position.
Trading for prospects is always risky, but it seems as though the Braves did very well in this trade as Newcomb and Ellis were the two top prospects (pitching or otherwise) in the Angels system.
Newcomb, the Angels' first-round draft pick in 2014, is a 6-foot-5 lefty who has drawn comparisons to Chicago Cubs starter Jon Lester. 2015 was Newcomb's first full season in the minors and he absolutely dominated, pitching to a 2.85 ERA with 168 strikeouts in 136 innings across three levels, topping out at Double-A Arkansas.
Your browser does not support iframes.
The biggest knock against Newcomb is his control. Over those 136 innings, he walked 76 hitters including 24 in 36 innings in Double-A. Still, his size, strength and mid-90s fastball all translate to a number one or two at the top of the rotation.
Ellis was the Angels third-rounder in 2014 out of the University of Mississippi. He performed well in 2015, owning a 3.90 ERA in 26 starts, pitching 140 2/3 innings while striking out 132.
Of course, the Braves also received Aybar to fill the role at shortstop, although he is only under contract for the 2016 season. The 2014 All-Star has been with the Angels for parts of 10 years and is one of the more consistent hitters in the game, batting at least .270 with 30 doubles in each of the last five seasons.
With that one season under contract, though, it provides an interesting option for the Braves: Do they roll with Aybar for 2016 and hope top prospect Ozhaino Albies is ready to take the reigns in 2017? Or do they flip Aybar and sign another shortstop?
It's an intriguing situation for the Braves, but there's no doubting the potential of the two pitchers they received.
It should also be noted that it's been reported that Freddie Freeman is probably there to stay in Atlanta.