When Kyle Busch wrecked Dale Jr. at RIR: 'You can't run over the man'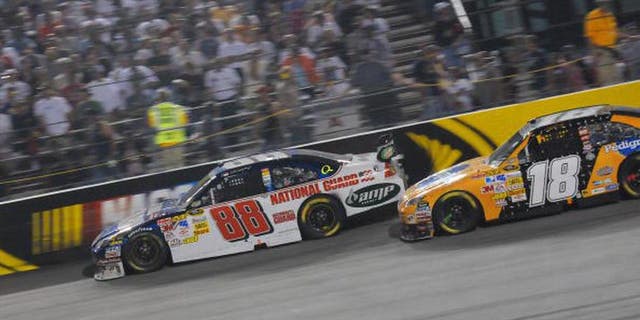 NEWYou can now listen to Fox News articles!
In light of NASCAR's visit this weekend to Richmond International Raceway and the announcement of Dale Earnhardt Jr.'s retirement from full-time driving in the Monster Energy NASCAR Cup Series, we offer this throwback Thursday memory.
It was on May 3, 2008 -- and Earnhardt Jr. was trying to snap a 71-race winless streak by going to Victory Lane for the first time in the No. 88 Hendrick Motorsports Chevrolet he switched to following the 2007 season.
With three laps to go, Earnhardt was leading at the 1-mile short track. But Kyle Busch was in close pursuit in his No. 18 Joe Gibbs Racing Toyota.
Suddenly, to the shock of everyone as they dove into Turn 3 side-by-side, Busch turned Earnhardt. Junior's chances to win were shattered in an instant.
Oh, no, he turned him!" Darrell Waltrip exclaimed on the FOX television broadcast. "No! No!"
Waltrip, and most others watching, could not believe it.
"Lemme tell you boys something: that isn't going to go over well right there," Waltrip added.
And after watching a reply, Waltrip added: "Of course Junior is pinning him down. He's not cutting him any slack. But you can't run over the man."
Check out video of the incident below to see what you think.