Week 11 fantasy football injury report analysis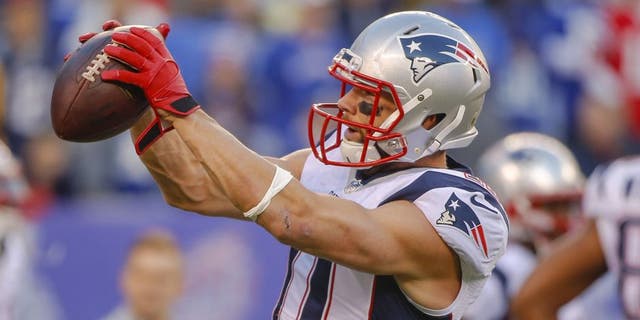 Peyton Manning
The NFL's all-time leader in passing yards has been a shell of himself this season, and it appears injuries may be a major reason for his struggles. His right shoulder has been sore for a majority of the year, but on Monday it was revealed he is also dealing with torn plantar fascia in his left foot, a limiting and painful injury.
The plantar fascia is a dense bundle of connective tissue located on the bottom of the foot. Its primary responsibility is to support the structural integrity of the arch of the foot. Like any tissue, it's susceptible to injury. Excessive repetitive motion can cause the tissue to become inflamed in a condition known as plantar fasciitis. Plantar fasciitis often becomes a reoccurring injury that is extremely painful and difficult to manage. The best course of treatment for plantar fasciitis is often extended rest.
The plantar fascia can also be pushed past its elastic limit, straining or tearing the connective tissue. While a complete tear may sound bad, a diagnosis of a partial tear, like the one Manning is managing, can actually prove to be more problematic. The plantar fascia is intricately designed to withstand and disperse the increased forces associated with weight-bearing, running and jumping. For a right-handed quarterback it's also vital in diffusing force on the plant leg while completing a pass.
A partial tear compromises the integrity of the foot, and the affected individual often experiences substantial pain when attempting these actions. In some extreme cases a procedure known as a plantar fasciotomy is required to decrease the tension and pressure that results with a partial tear. This is precisely why a partial tear is more difficult to manage as a complete tear actually mimics a fasciotomy, forcibly decreasing the tension in the area.
Instead, Manning has to treat the associated symptoms and provide the partially torn tissue ample time to heal. He will not play Week 11, and an extended bit of rest wouldn't be surprising. Brock Osweiler will start against the Bears, though he remains an unproven fantasy commodity.
Julian Edelman
For the second straight week, New England lost an integral component of its offense. Last week, running back Dion Lewis was lost for the season with a torn ACL. On Sunday, a key member of the Patriots' receiving corp went down. Edelman, Tom Brady's favorite target, suffered a broken fifth metatarsal early in the first quarter in a win against the Giants. Specifically, the injury was diagnosed as a Jones fracture, the same injury that cost Cowboys wide receiver Dez Bryant six weeks and five games earlier this season.
Jones fractures are particularly challenging because the blood supply to the area is limited, delaying the healing process. As a result, Jones fractures often require surgery to help prevent a delayed union or nonunion from occurring. Edelman has already undergone surgery and hopes to return for the postseason.
However, these aspirations do little for fantasy owners hoping to win a championship during the NFL's regular season. The injury should negatively impact Tom Brady's overall productivity, though wide receiver Danny Amendola will have a chance to fill Edelman's role. Brandon LaFell, who is still shaking off rust from offseason surgery, could also become a serviceable fantasy option.
Turf Burns
Sam Bradford: The Eagles will turn to Mark Sanchez once again after starter Sam Bradford suffered two injuries in the team's loss to the Dolphins on Sunday. Bradford was diagnosed with a concussion and a separated shoulder. The term separation is used to describe an injury to the acromioclavicular (AC) joint of the shoulder where the collarbone meets the shoulder blade. Bradford will first have to complete the league's mandated concussion protocol before shifting his focus to his injured shoulder. The overlap of the two injuries will be difficult to manage, especially if the concussion-related symptoms linger. He is expected to miss the next two games, but don't be surprised if he misses an additional week or two. Sanchez was above average last season in his nine appearances, averaging 270 passing yards per game with 14 touchdowns and 11 interceptions.
Matt Forte: Forte was questionable entering Week 10 but did not travel with the team to St. Louis. Forte has been sidelined for the last two weeks with a sprained MCL that required a PRP injection. As mentioned last week, players who opt for the injection often miss more than one week recovering, though Forte's limited participation in practice following the procedure suggests he could buck the trend. Jeremy Langford's impressive play could convince the Bears to continue with their conservative course of treatment. A decision won't be made until later in the week. If he suits up, expect Forte's Week 11 value to be diminished as Langford's emergence will allow the team to control his workload.
Landry Jones: Jones suffered a left ankle injury on Pittsburgh's opening drive, forcing the Steelers to turn to Ben Roethlisberger, who did not start because of a foot injury. Big Ben did not disappoint, throwing for 379 yards and three touchdowns. Roethlisberger's early return likely didn't help any fantasy owners and accelerated the team's original return to play plan. However, a well-timed Week 11 bye should help him stay ahead of any lingering symptoms, and Roethlisberger should be back in a starting role Week 12 against the Seahawks.
Tony Romo: The Cowboys have not announced a decision, but they are expected to start Romo in Week 11. The 2-7 Cowboys have struggled mightily since their starting quarterback went down with a broken collarbone in Week 2. The bone has reportedly healed smoothly, and Romo is eligible to be activated from the injured reserve/designate to return list. Bone tissue is one of the few tissues capable of returning to its original strength following injury, meaning Romo's risk should be only slightly elevated. The Cowboys still have plenty of offensive weapons, and players like Jason Witten and Dez Bryant could be in line for a resurgence with Romo back under center.
Stotts works as a Certified Athletic Trainer (MAT, ATC, PES, CES) and is a former winner of the Best Fantasy Football Article from the Fantasy Sports Trade Association.
Follow @RotowireATC on Twitter.
Get a FREE RotoWire 10-day trial (no credit card required) at RotoWire.com