Watch Urban Meyer's son tear up a high school recruiting event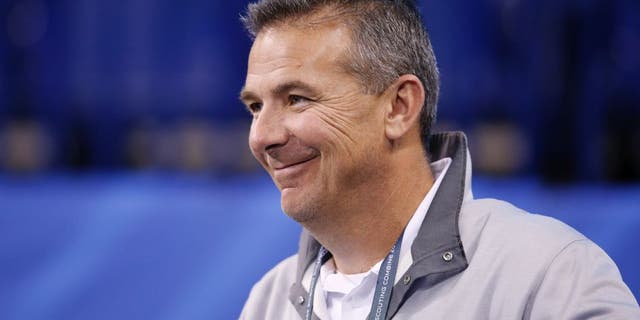 NEWYou can now listen to Fox News articles!
Whether it's at Florida or Ohio State, Urban Meyer has always been known as a monster recruiter, and the 2017 cycle is no different. The Buckeyes already have 16 kids committed for next year's recruiting class, which currently puts them at No. 1 overall according to 247sports.com.
So yeah, the rich are only going to continue to get richer, but at a high school recruiting combine at Ohio State this weekend known simply as 'Friday Night Lights,' the focus wasn't on one of those members of the 2017 class, but instead, one in 2018. That would be Nate Meyer, and if his name sounds familiar, well, it's because he's head coach Urban Meyer's son.
The younger Meyer is following in his father's footsteps as both a football and baseball star at Bishop Watterson High School in Columbus, and on Friday night those football skills were on full display.
Watch below as Meyer, playing wide receiver, absolutely leaves a couple of defensive backs in the dust. And also keep in mind that if these DBs are at Ohio State's 'Friday Night Lights' event, it means that they're likely amongst the best DBs anywhere in high school football.
Also, here's some additional footage of Nate Meyer during his high school season this past fall.
Considering that the younger Meyer just recently completed his sophomore year, it's way too early to know where he may end up playing college football (or baseball). But he certainly appears to have more than held his own Friday night.