WATCH: Bills WR Sammy Watkins fails miserably in strange drill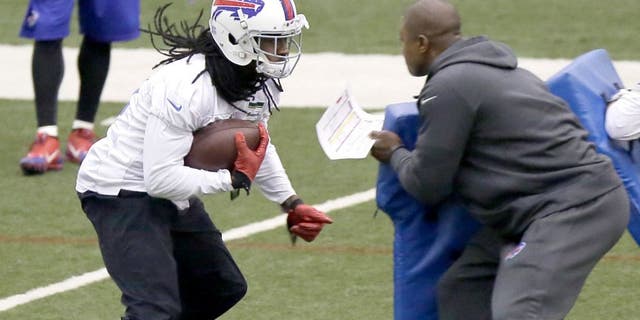 NEWYou can now listen to Fox News articles!
Sammy Watkins partook in a strange drill in practice Thursday, and he didn't have much success. Duane Burleson AP Photo
There's always a rhyme or reason for a specific drill in practice -- whether it's at the recreational or professional level.
Buffalo Bills wide receiver Sammy Watkins took part in a strange drill at practice on Thursday, and needless to say, he didn't succeed. Watkins sat on the ground as a coach threw footballs over his head. Sure, seems like a good drill for catching passes over-the-shoulder, right?
Well, it doesn't look like it helped Watkins at all. Take a look.
That's five balls Watkins missed. Obviously, he's an extremely talented receiver and has made some spectacular catches in his young career, but there were none in this video.
Throw deep passes down the sideline and Watkins will make one-handed, between-the-legs catches with ease. Throw a ball over his head while he's sitting down, and he won't catch a single one.
MORE NEWS: Want stories delivered to you? Sign up for our NFL newsletters.