Warriors roll to NBA Finals undefeated in postseason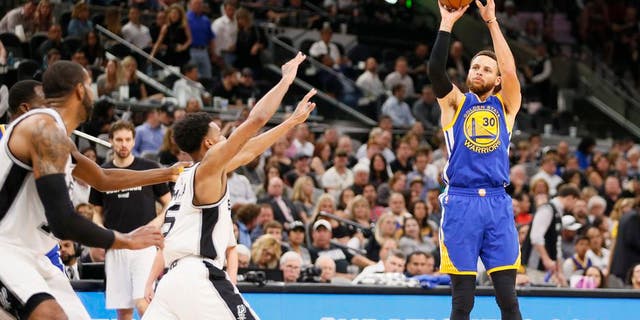 SAN ANTONIO (AP) -- Golden State made sure the inevitable was unavoidable.
Heavily favored to beat the San Antonio Spurs, especially once Kawhi Leonard sustained a series-ending injury, the Warriors completed a dominant sweep in the Western Conference Finals on Monday.
Stephen Curry scored 36 points as Golden State beat injury-ravaged San Antonio 129-115, becoming the first team in NBA history to start the playoffs 12-0.
"12-0 is great, but it doesn't mean anything going into the next series, and we understand that," Curry said.
Golden State led by as many as 22 points in cruising to its third straight NBA Finals. The Warriors await a possible third straight championship matchup with Cleveland, which leads Boston 2-1 in the East finals.
Kevin Durant added 29 points and 12 rebounds.
San Antonio's only lead came on the opening possession when Manu Ginobili tossed in a left-handed scoop shot. The Spurs started Ginobili in what could be his final game with the team. The 39-year-old guard maintained he will not decide whether to retire or return until after the season.
"We started him tonight out of respect," San Antonio coach Gregg Popovich said. "Before the game, you think it may or may not be his last game that he ever plays in, and I did not want to miss the opportunity to honor him in front of our home fans for his selflessness over the years."
Unsure if the beloved veteran will return, the crowd serenaded Ginobili with "Manu, Manu" chants as the game came to a close.
"He kind of worked us pretty good these four games," said Draymond Green, who had 16 points, eight rebounds and eight assists for the Warriors. "So, I think he's got quite a bit left in the tank."
Ginobili finished with 15 points in 32 minutes.
Kyle Anderson scored 20 points to lead the Spurs, who were without Leonard, Tony Parker, and David Lee.
"Obviously it (stinks) that Kawhi wasn't there and Tony wasn't there and David wasn't out there," Green said. "But, at the end of the day, a win is a win and you have to beat whoever is out there against you."
San Antonio didn't go down without a fight despite the injuries.
Anderson dove on the court for a loose ball that the Spurs had tipped away defensively, pushing the ball upcourt to Patty Mills who fed Ginobili for a 3-pointer that pulled San Antonio to 108-94 with 7 minutes remaining.
The effort made Popovich smile and clap at times but the Warriors' depth and talent proved too much for short-handed San Antonio.
"It's the second time we've gotten swept in 15 years, and those are the easiest to digest because you've been overplayed," Ginobili said. "The opponent was better than us, and in this case, way better than us."