Volquez, Royals offense need to get back on track tonight at Chicago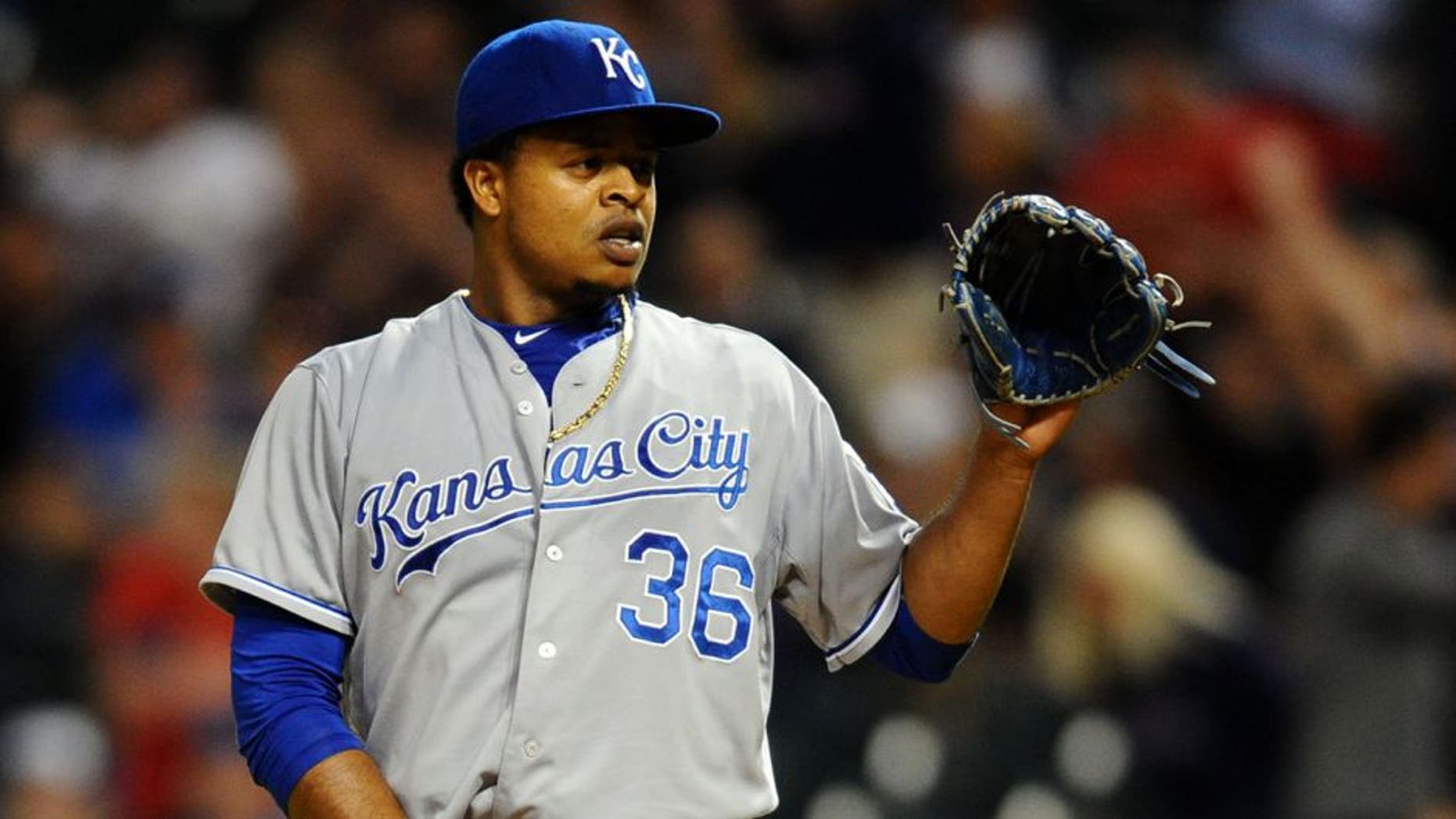 Though the Kansas City Royals proved last season they can succeed in the playoffs without home-field advantage, they sure wouldn't mind having it this year.
That's in danger of slipping away, however, due to a September swoon and the Toronto Blue Jays' stellar second half.
The slumping Royals enter Wednesday night's road test with the Chicago White Sox 1 1/2 games behind Toronto for the American League's best record with five remaining. Kansas City (90-67) has lost its grasp on the top spot with an 8-16 record since Sept. 4, a slide that began when the White Sox recorded a three-game sweep at Kauffman Stadium.
Chicago (74-83) dealt the Royals another blow with a 4-2 triumph Tuesday to open this three-game set, with Adam Eaton hitting a two-run homer off Johnny Cueto and Jeff Samardzija throwing seven solid innings to halt a seven-start home losing streak.
A lack of offense has been among the Royals' recent problems. They've scored 10 runs over a 1-4 stretch and were shut out for 17 straight innings before Eric Hosmer and Kendrys Morales hit back-to-back homers off Samardzija in the sixth.
Kansas City had a potential run taken away in the seventh when Trayce Thompson made a diving catch on Ben Zobrist's drive to left. Third baseman Mike Olt robbed Mike Moustakas with a leaping grab an inning later.
"I'm seeing good at-bats, really," Royals manager Ned Yost said. "We had opportunities to win the game, outside of two outstanding plays."
The task may remain difficult against Jose Quintana (9-10, 3.38 ERA), who hurled seven scoreless innings in a 6-1 win at Kauffman Stadium on Sept. 5 to begin a string of four excellent outings and end an extended one of frustrating results against Kansas City.
Quintana has allowed one run or less each time in going 2-0 with a 1.00 ERA over his past four starts, the last two no-decisions against Oakland and Detroit in which he yielded one run across seven innings in both games.
The hard-luck left-hander, whose 51 no-decisions since 2012 lead the majors, can reach double-digit victories for the first time after winning nine games in 2013 and '14. Quintana's 24 quality starts are tied for second in the AL.
"That's part of the game," Quintana said after his Sept. 22 effort at Detroit, where the White Sox were no-hit through 8 1/3 innings of a 2-1, 10-inning loss. "Every time when I go out, I try to be focused on what I have control over."
Quintana is 1-6 with a 4.38 ERA in 17 lifetime starts against Kansas City, however, and several Royals have hit him well. Morales is 6 for 15 with a homer, Paulo Orlando is 5 for 11 and Alcides Escobar is 5 for 14 off him this season. Moustakas (.314, two homers), Alex Rios (5 for 12), Salvador Perez (.366, two homers) and Lorenzo Cain (.349) all have strong career numbers.
The AL Central champion Royals also hope to get Edinson Volquez (13-9, 3.65) back on track for the postseason. The veteran righty has surrendered four homers and nine walks while going 0-2 with a 5.29 ERA in his last three starts.
He allowed three runs on a pair of homers over six innings in Friday's 6-0 defeat to Cleveland.
Volquez is 2-2 with a 1.67 ERA in four season meetings with the White Sox and held them to one run and four hits through seven innings in the most recent one, a 3-2 home win Aug. 7. Both losses have come at U.S. Cellular Field, where he's allowed three earned runs in 12 innings and received three runs of support.