Upon further review: Wisconsin vs. Nebraska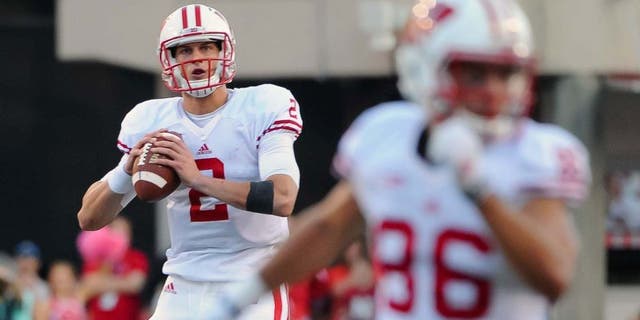 It wasn't pretty, but any win is a good win. And a win is what Wisconsin got over Nebraska, although in a more of a nail-biting fashion than the Badgers would have liked.
Unable to put the Cornhuskers away, then watching Nebraska take the lead on a 55-yard run by a fullback after Wisconsin missed a field goal, the Badgers used the final minute of the game to drive down the field and get a game-winning field goal by Rafael Gaglianone.
The defense came up big in the end and Wisconsin did it in different fashion than usual on offense as Joel Stave passed the ball 50 times.
But, as we said above, any win is a good win.
A recap of Saturday's game:
CLASS LESSONS
-- Jacob Maxwell didn't make the trip (unspecified injury) and Beau Benzschawel made his season debut as the starting right tackle.
-- Walker Williams and Micah Kapoi split time at right guard.
-- One week after leaving the Iowa game with a concussion, Alex Erickson started at wide receiver. Sojourn Shelton began as the team's punt returner, but Erickson took over his usual role eventually.
-- Running back Taiwan Deal missed most of the game with an injury while center Dan Voltz was injured on the last play from scrimmage before the game-winning field goal. Head coach Paul Chryst had no update on either after the game.
-- With Deal hurt, Wisconsin threw 50 times and ran just 34 times, and the latter includes a sack and Joel Stave run.
-- Paul Chryst said if he didn't have confidence in Rafael Gaglianone he wouldn't have put him out there for the game-winning kick.
-- At one point, Wisconsin's quarterback, main wide receiver and running back were all, at one point, walk-ons, as Alec Ingold got a number of carries and started the second half and got his first touchdown. That meant both of the Badgers top-two running backs both were walk-ons at one point who started out as defensive players.
DULY NOTED
-- Wisconsin had not had a game-winning field goal in regulation with under 10 seconds to play since Matt Davenport on Oct. 4, 1997 vs. Northwestern.
-- Joel Stave's 322 passing yards were the 12th most in Wisconsin history.
-- The Badgers had a 300-yard passer, a 100-yard rusher and a 100-yard receiver in a game for the first time since Sept. 30, 2006 vs. Indiana.
-- Wisconsin was just 5 of 16 on third-down conversions but 2 of 3 in the fourth quarter.
-- Troy Fumagalli, Jazz Peavy and Rob Wheelwright all had career highs in yards receiving.
-- Wisconsin had been 0-2 when trailing at the half and the third quarter.
-- Wisconsin had 4th-and-2 late in the game while up by three and went for a field-goal attempt instead of a first down. Nebraska was going into the wind and the chance of a field goal was lessened. A touchdown would have put the game away. As it turned out, the Badgers got their three points but Nebraska got a touchdown to take the lead.
-- When Dan Voltz got hurt, it came on an incomplete pass. If the pass had been completed, a 10-second runoff would have taken place. Since there were only nine seconds remaining, the game would have been over.
WHAT IT MEANT
A loss wouldn't have ended Wisconsin's season, but falling to 0-2 in the Big Ten would have put the Badgers in a very deep hole. Now, the Badgers division hopes are still alive and they have the confidence knowing they can win a close game after the loss to Iowa in which they couldn't pull out a late victory.
PLAYER OF THE GAME
Joel Stave put up a lot of yards, but had to throw 50 times to do it (and completed less than half his passes). But Stave came up big in the fourth quarter, completing 8 of 14 passes for 132 yards, including big passes to Alex Erickson and Rob Wheelwright on the drive which ended with a field-goal try miss, then two to Troy Fumagalli and another to Jazz Peavy as he got the Badgers in field-goal position quickly at the end of the game.
DON'T FORGET ABOUT ME
Yes, he missed two field-goal attempts and caused a little more angst than intended, but Rafael Gaglianone shook that off and made a 46-yarder with time winding down. Be frustrated with the miss, but at the same time come away impressed with the making of a pressure kick. Plus, he misses that one and it is a loss.
THAT MOMENT
There are so many choices, but since this game came down to the final seconds we'll go with the defense limiting Nebraska to 5 yards on three carries and allowing (thanks to timeouts) only 23 seconds to elapse. Thus, the Badgers had 1:03 left on their final, game-winning drive. Couldn't have done it if Nebraska had gotten a first down.
THIS NUMBER
50 -- the number of pass attempts by Joel Stave. That's his second-most in a game. Wisconsin had more passes than runs, the first time the Badgers have won a game doing that since the 2007 Capital One Bowl (UW had lost the previous seven occurrences).
THEY SAID IT
"Nothing. . . . That's this game, you have to keep playing." -- Wisconsin head coach Paul Chryst on what he said to Rafael Gaglianone after his fourth-quarter field-goal attempt miss
"Vince Biegel said 'I love you now, but I would have beat you if you missed.' It would have been a long ride back." -- Wisconsin kicker Rafael Gaglianone
"I knew Nebraska would run the ball, we would stop them, call our timeouts and get another chance." -- Wisconsin quarterback Joel Stave his mindset after Gaglianone's miss in the fourth quarter.
WHAT'S NEXT
Wisconsin (4-2, 1-1 Big Ten) heads back to Camp Randall Stadium where it will face Purdue (1-5, 0-2). The Boilermakers nearly pulled off an upset at Michigan State, then turned around and were throttled at home by a Minnesota team which was coming off being shut out. Oh, and Purdue's only victory is against an FCS team.