Upon further review: Wisconsin vs. Miami (Ohio)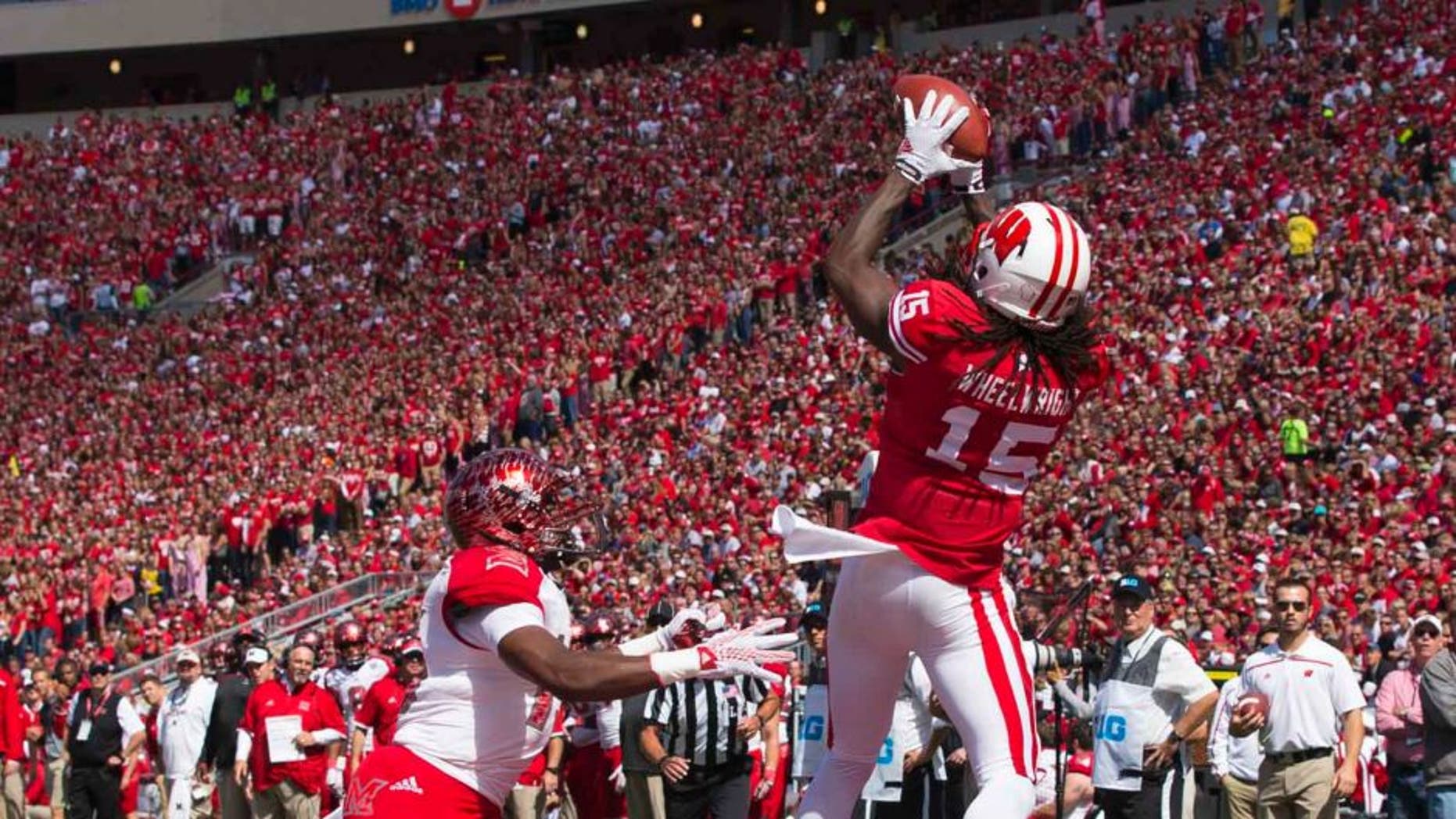 One week after losing to Alabama, Miami (Ohio) figured to be used as a battering ram by Wisconsin's offense. In the end, it was the Badgers' defense which brought the power in a 58-0 win.
Offensively, Wisconsin was supposed to run all over the RedHawks. What's that saying about the best laid plans? It took a while for UW to get anything going on the ground -- really until the second half -- but the passing game was clicking from the start. But that, along with a hounding defense, was more than enough to easily vanquish woebegone Miami.
Next week's opponent is Troy, which could be more of the same. Until then, here's the breakdown from Saturday's win over the RedHawks.
CLASS LESSONS
-- Offensive line questions remain. The holes weren't there for the run game in the first half as Wisconsin rushed 21 times for only 58 yards, and Joel Stave was sacked once. The Badgers right side is the big question. Walker Williams and Micah Kapoi rotated at right guard throughout. Help could be on the way, though, as Ben Benzschawel, a presumed starter in camp, saw some action. Ray Ball, another supposed preseason starter, remained out, however.
-- Wisconsin's secondary is legit. Miami did pick on Derrick Tindall, but Sojourn Shelton (other than high, deep passes), Darius Hillary and Tanner McEvoy provided tough coverage. The RedHawks' longest pass was 26 yards (and that came with UW up 51-0). Last week, Alabama's longest was 33.
-- No Corey Clement, no problem? In past years, if Wisconsin was without its No. 1 tailback there was little dropoff to the backup. Dare Ogunbowale got the start and then didn't carry the ball in the second quarter as Taiwan Deal took over. Neither stood out, although Ogunbowale finally got things going in the third quarter ripping off a 10-yard run on the first carry of the third quarter -- at the time, Wisconsin's first rush by a running back over 6 yards in its first six quarters of the season. Ogunbowale had a good second half and got over 100 yards, but it just seemed like piling on an already defeated opponent. The Badgers need a healthy Clement.
DULY NOTED
-- The struggling run game meant more passing plays. Stave had 24 pass attempts in the first half. Last year he had 24 attempts in a game just three times.
-- As poor as the run game was (especially in that first half), Wisconsin didn't lose any yards on a run (on a play which counted; one was taken away by penalty) until its final offensive play of the game when Mark Saari lost four yards.
-- Stave won his 22nd game as a starter, passing Scott Tolzien for fifth place on UW's all-time list. Stave needs nine wins to be No. 1 by himself. He's got a chance.
-- One more (of many) reasons the Badgers won: Miami's average starting position was its own 25. Wisconsin's was its own 44.
-- Plenty of subs saw action, including QB Bart Houston (4-of-6 passing for 27 yards and a TD) and RB Caleb Kinlaw (7 carries for 30 yards; 1 catch for 5 yards and a TD), the first collegiate game for the latter.
-- Wisconsin doesn't schedule FCS teams any more, but the Badgers have scored 170 points in the last three years against Mid-American Conference.
WHAT IT MEANT
First, let's take a lot of this with a grain of salt. While Alabama is as tough an opponent as a team can face, Miami (Ohio) represented the opposite end of the spectrum. Nevertheless, the defense was dominating, and that was good to see the mojo back. Joel Stave's passer rating might just be fair (in the mid-120s) but that's more due to a low yardage per attempt. Stave has been confident in the pocket and is limiting his mistakes and poor throws. Is anyone still calling for him not to start? On the flip side, Wisconsin's offensive line and rushing attack showed very little in the first half against a bad defense. Miami wore down in the second half -- and were probably worn out with the game out of hand -- and the Badgers run game picked up. Maybe Corey Clement will make a difference. Maybe not.
PLAYER OF THE GAME
Statistically, no one really stood out -- this was a team victory -- and a lot of yards were racked up in the second half as Wisconsin pulled away. But Rob Wheelwright was an exception. The junior wide receiver had five catches for 75 yards with two touchdowns in the first half (he added one reception for four yards in the second half). This was the game Badgers fans have been waiting for out of Wheelwright since he signed on with UW and he was a big part in that first-half cushion.
DON'T FORGET ABOUT ME
His statistics weren't awe-inspiring, but the sheer amount Tanner McEvoy had was impressive. Playing both sides of the ball, McEvoy's first touch actually came at quarterback, where he ran for two yards. McEvoy also caught three passes for 29 yards. But his biggest impact came on defense. He had just one tackle, but had a nice interception, reading an outside route and cutting in front, and two passes broken up. Not big numbers, but it sure was fun to watch.
THAT MOMENT
Wisconsin led 6-0 -- two field goals hardly inspiring the crowd -- and then Alex Erickson woke everyone up with a 35-yard punt return to the Miami 16. Camp Randall Stadium was energized, as was the Badgers offense as three plays later Stave hit Wheelwright in the end zone. It made it just 13-0 but it might as well have been 50-0 as everyone breathed a little easier and a feisty Wisconsin defense could get even more aggressive.
THIS NUMBER
Minus-3. That's the rushing yards Miami (Ohio) compiled. OK, you say, NCAA statistics include sacks in rush yards. True. But take away the sacks -- and one kneeldown -- and the RedHawks still only had 16 yards rushing (on 20 carries). That's really good no matter the opponent.
THEY SAID IT
"This day, it's not about me. The window these guys have to play, it's short, and that's what was fun for me to see today." -- Wisconsin head coach Paul Chryst
"I think he needed to do that for us, for us to be the best, and he's capable of it, and that's what you appreciate from him and you like about him." -- Chryst on Tanner McEvoy playing both on offense and defense
"We haven't seen a D-line like that in a while. Having freaks like that up there is tough to block." -- Miami QB Billy Bahl via the Miami Student
WHAT'S NEXT
Next Saturday at 2:30 p.m. at Camp Randall Stadium, UW faces Troy, which went 3-9 in 2014 and is coming off a 44-16 win over FCS Charleston Southern. In Week 1, the Trojans lost at North Carolina State, 49-21.