Upon Further Review: Vikings at Seahawks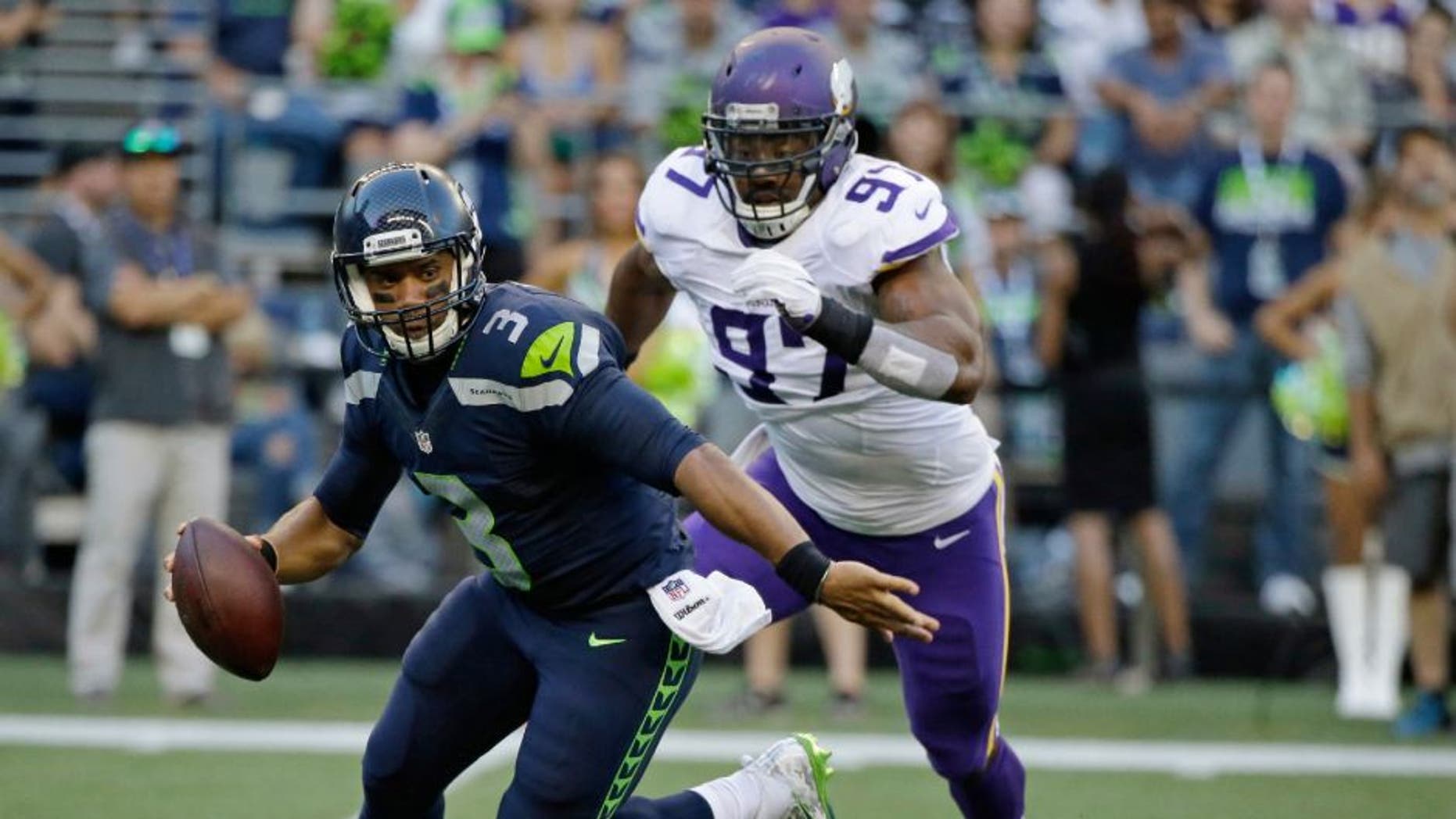 Minnesota Vikings head coach Mike Zimmer wasn't interested in fielding questions about starting quarterback Teddy Bridgewater following a preseason win over the Seattle Seahawks on Thursday night.
Bridgewater spent the game on the bench in favor of backup Shaun Hill and prospective third-stringer Joel Stave.
Why?
That's none of your business, Zimmer told reporters.
"It was my decision. How many times are we going to go through this? It was my decision. Good enough?"
Good enough.
The Vikings pressured Seahawks quarterback Russell Wilson throughout the first half, while a solid showing from Hill and a big interception for cornerback Marcus Sherels propelled Minnesota to an 18-11 win.
SUNDAY (A LITTLE EARLY) SCHOOL
-- Shaun Hill seems to have a little something left in the tank. The 36-year-old journeyman and former Amsterdam Admiral was competent in place of Bridgewater, going 10-for-17 for 129 yards. He played most of the first half, connecting with tight end Kyle Rudolph on the longest passing play of the evening: a 32-yard strike over the middle.
-- Stave entered the game as the first half was winding down, but wasn't asked to do much. He went 6-for-14, setting up a Blair Walsh field goal to close out the second quarter.
-- Jerick McKinnon flashed some of the quickness that has endeared him to Zimmer and offensive coordinator Norv Turner, hitting the line behind tight end Morgan David, before sliding to his left and trotting casually into the end zone with 2:21 remaining in the first quarter.
-- Adam Thielen is making his case for a larger role in the receiving corps. He hauled in an off-kilter throw from Hill on third down that went for 18 yards and led the Vikings with four receptions for 61 yards.
-- After being targeted just once in his preseason debut German rookie Moritz Bohringer didn't see the field on offense and seems like a candidate for the Vikings' practice squad at this point.
DULY NOTED
-- Hill looked sharp early, connecting with Rudolph, Thielen and tight end MyCole Pruitt on a series of solid completions.
-- The Vikings didn't get much going on the ground, rushing for a combined 70 yards on 26 attempts, while picking up just four first downs.
-- McKinnon shared the load pretty evenly with undrafted rookies Jhurell Pressley and C.J. Ham, while Matt Asiata picked up a few carries as well. They combined for an average of just 2.6 rushing yards per attempt and were tackled for a loss five times.
-- The Vikings' run defense was suspect in Seattle, giving up 187 yards and 10 first downs to a cadre of running backs that included undrafted rookie Troymaine Pope and backup Christine Michael.
-- The Vikings struggled on third down, converting on just five of their 14 chances.
WHAT IT MEANT
If Zimmer has some ulterior motive for benching his starting quarterback he isn't letting on, but the win gave the coaching staff a long look at Hill, who is once again in line to back up Bridgewater. The Vikings' run defense is cause for some concern, but the pass defense didn't budge.
PLAYER OF THE GAME
McKinnon got into the end zone early, before Sherels scored another one for the little guys against the Seahawks. He took advantage of backpedaling quarterback Trevone Boykin late in the fourth quarter, jumping a short throw to E.Z. Nwachukwu and taking it 51 yards to the end zone.
DON'T FORGET ABOUT ME
The Vikings' crowded receiving corps has been the story of the offseason, but the Vikings' sixth-year tight end ate up yards in bunches against the Seahawks. Every year seems to be "the year" for Rudolph, as analysts and fans alike continually hype up the big-bodied Notre Dame product. And while he may never break into the NFL's class of top-end pass-catchers, Rudolph gave the hype another shot in the arm on Thursday.
THAT MOMENT
Lost in all that talk of interceptions and benched quarterbacks was an odd little redemptive arc for Walsh, who nailed a 27-yard field goal to close out the first half, connecting from the same distance that vexed him in the Vikings' playoff loss to the Seahawks earlier this year. He followed that up with a 47-yard miss late in the game. Wide left.
THIS NUMBER
4 -- The Vikings dropped Wilson four times on Thursday. Wilson started two full quarters for the Seahawks, completing just five passes for 77 yards on 11 attempts. Seattle's backups got on the board in the second half, but the Vikings successfully held the Seahawks' starters off the board.
WHAT'S NEXT
The Vikings have plenty of time to prepare for their third preseason game. They'll open up U.S. Bank Stadium against the San Diego Chargers at 12 p.m on Aug. 28.
Follow Ryan Lund on Twitter