Upon further review: Vikings at Raiders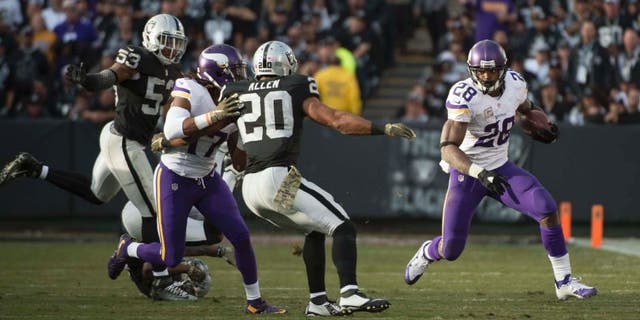 On Sunday, Minnesota utilized a fairly simplistic and time-tested formula for NFL success.
The Vikings played ball-control, winning the time-of-possession battle 33:01 to 26:59, while rushing for 263 yards.
They remained disciplined, committing just three penalties for 15 yards, serving as the antithesis of the Oakland Raiders (eight flags for 82 yards).
And, the Purple and Gold employed a bend-but-don't break defense that limited Oakland's red-zone success.
The end result was a workmanlike, 30-14 win that pushed the Vikings' record to 7-2, giving Minnesota its first five-game winning streak since 2009.
Coach Mike Zimmer's squad has already equaled last season's win total, with seven games remaining on its 2015 slate.
Here's a recap of Sunday's road win:
SUNDAY SCHOOL
-- Adrian Peterson has returned to All-Pro form. Peterson kept the chains moving consistently on Sunday, as Minnesota registered 13 rushing first downs, compared to just six through the air. The 30-year-old, six-time Pro Bowler rushed for 7.8 yards per carry, and his 80-yard scoring sprint with 1:50 remaining put the game on ice for the Norsemen. Peterson ended the day with 203 yards on the ground, giving him 961 for the season. Once again, "All Day" is on pace for a special season.
-- Teddy Bridgewater did little more than manage the game -- but perhaps that's enough for this year's Vikings club. Bridgewater's solid, 96.8 passer rating from Sunday seems to defy logic, considering his ultra-conservative play. Still, Bridgewater displayed some intestinal fortitude by playing just seven days after sustaining concussion symptoms against St. Louis, and his 14-for-22, 140-yard passing performance was okay on Sunday. It should also be noted that the 23-year-old QB had one TD pass to zero interceptions -- and he would've had another scoring strike, if it weren't for a wide-open drop by tight end Kyle Rudolph in the end zone.
-- Linval Joseph is quickly becoming a leader of Minnesota's stout front seven. Joseph had another All-Pro showing on Sunday, disrupting the Raiders offense to the tune of eight total tackles (five solo), one sack, one tackle for loss and one QB hit. Defensive tackles with 6-foot-4, 329-pound frames just aren't supposed to rack up that many tackles. But Joseph has looked spry the last two weeks, with 18 combined tackles during that span.
--Mike Zimmer's tweak to the Vikings' travel schedule worked well. Zimmer wasn't about to see a repeat performance of Minnesota's lifeless, 20-3 loss at San Francisco from Week 1. So, the second-year Minnesota head coach had his squad fly out to Oakland a day earlier over the weekend, to allow his players to better acclimate themselves to the Pacific time zone. That might seem like a slight overreaction, but the move seemed to pay dividends, as the Vikings took a 13-0 lead rather quickly against the Raiders.
DULY NOTED
-- The Vikings' record over their last four road games: 3-1. During that stretch, Bridgewater has five TD passes and just one interception. The Vikings' 23-year-old QB was largely outdueled on Sunday by fellow second-year man Derek Carr (29 for 43, 302 yards, two TDs, two interceptions), but Bridgewater nevertheless walked away victorious.
-- There were connections galore between these two teams. For example, Raiders head coach Jack Del Rio was a former Vikings linebacker, from 1992-95. Raiders offensive line coach Mike Tice served as the Vikings' head coach from 2002-05. Also, Oakland offensive coordinator Bill Musgrave served in the same capacity for Minnesota from 2011-2013.
--Bridgewater again spread the ball around. Sunday wasn't a banner day for any specific Minnesota receiver, as no individual had more than two catches for the visiting team. But Bridgewater continued his trend of getting several pass-catchers involved, as he connected with nine separate receivers on the day.
-- Oakland entered the day averaging 26.6 points per game, 374.6 total yards per game, 6.0 yards per play and 104.6 rushing yards per game. Minnesota held its foe below all those averages on Sunday, yielding 14 points, 371 total yards, 5.8 yards per play and just 84 rushing yards.
WHAT IT MEANT
The win helped the Vikings do what many deemed unthinkable, as it propelled Minnesota past Green Bay (6-3) in the NFC North standings and into first place. Now, if Zimmer's squad can collect even as few as three wins the rest of the way, it stands a solid chance of qualifying for the postseason. And, if the defense continues to thrive, perhaps even larger goals might prove attainable.
PLAYER OF THE GAME
Adrian Peterson had a signature performance in Oakland, churning up 216 total yards of offense. His 203-yard rushing day marked the sixth 200-yard rushing game of his career -- which tied O.J. Simpson for the most in NFL history. Peterson's consistent production in recent weeks has helped his squad survive while Bridgewater works through a mild downturn.
DON'T FORGET ABOUT ME
Veteran cornerback Captain Munnerlyn paced a solid all-around showing for Minnesota's defense in Oakland, as he rang up a team-high seven solo tackles (eight total). Munnerlyn's open-field tackling continues to impress. . . . And, we can't overlook Cordarrelle Patterson's 93-yard kickoff return late in the first half. Patterson has been quiet this season, but that special-teams score came at a crucial time, helping Minnesota regain the lead, at 20-14.
THAT MOMENT
Cornerback Terence Newman turned in Sunday's most important play. With 2:03 remaining and the Raiders still clinging to life, the 37-year-old stepped in front of 6-4 Oakland wideout Andre Holmes for an interception in the end zone. Newman had two interceptions on Sunday, making him the first Viking with multiple picks in a game since Jamarca Sanford had a pair of interceptions vs. Arizona on Oct. 9, 2011.
THIS NUMBER
27. The number of 50-plus-yard plays for Peterson during his NFL career (23 runs, two catches, two kickoff returns). That surpasses the old team record, which had been owned by receiver Randy Moss.
THEY SAID IT
"It doesn't matter where we are right now. The only thing that matters is where we finish the season at. . . . We have to continue to work hard, continue to just ride the wave that we have now." -- Minnesota QB Teddy Bridgewater, via the Associated Press
"It makes me feel good to know in a tough-fought game, even after making the big (80-yard run) I still was ready and wired to go more if we needed it." -- Minnesota running back Adrian Peterson, via the AP
"(Cordarrelle Patterson's kick-return score) was certainly a momentum breaker. We had really captured the momentum and were playing well at that time so it was definitely a blow." -- Oakland head coach Jack Del Rio, via the AP
WHAT'S NEXT
Minnesota hosts division rival Green Bay next Sunday, in a game that was flexed to a 3:25 p.m. start. The Packers endured a narrow, 18-16 loss to the Lions on Sunday, falling to 6-3.
Follow Kelly Beaton on Twitter