Upon Further Review: Packers at Vikings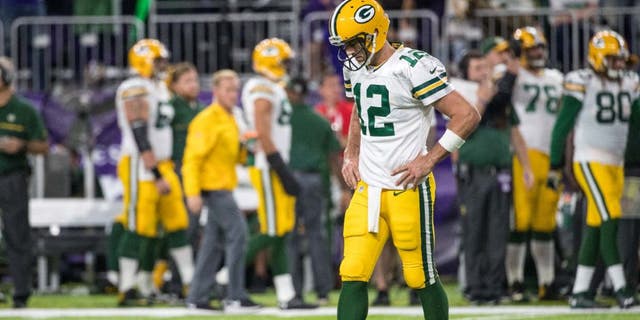 For one of the rare times in the recent history of the Green Bay Packers-Minnesota Vikings rivalry, the Packers did not have the better quarterback Sunday.
New Vikings quarterback Sam Bradford threw for 286 yards and two touchdowns, while Aaron Rodgers threw one touchdown and one late interception, as Minnesota defeated Green Bay 17-14 in its first regular-season game at U.S. Bank Stadium.
Rodgers posted his worst quarterback rating (70.7) in 17-career games vs. Minnesota. The 12th-year veteran was 20-36 passing for 213 yards, just a 5.92 yards per attempt average, and was sacked five times.
Green Bay appeared to be in position to tie or win the game late, however, despite the offensive struggles. The Packers' offense took over at its own 9-yard line with 4:38 remaining and drove near midfield with a pair of first-down passes and a Rodgers' scramble.
They got no further, however, as Vikings cornerback Trae Waynes intercepted Rodgers' third-down pass intended for Davante Adams.
Here's a recap of Sunday's game:
SUNDAY SCHOOL
-- The Green Bay defensive line dominated the line of scrimmage on the first drive of the game and much of the night. Vikings running back Adrian Peterson touched the ball three times on the first drive but had just two yards, thanks to a strong push up front from the Packers. Minnesota did convert one first down, on a 15-yard pass from Bradford to wide receiver Adam Thielen, but the Vikings punted away their first possession at U.S. Bank Stadium.
-- The Packers did not set a good tone on their first offensive play. Adams caught a short pass from Rodgers but fumbled the ball, which Minnesota's Andrew Sendejo recovered. Sendejo then fumbled, which Randall Cobb recovered at the Packers' 10-yard line. Green Bay went three and out after that, with Rodgers throwing two incomplete passes.
-- Green Bay took over at its own 48-yard line a few minutes later, after a Vikings three and out and a partially blocked punt by Ty Montgomery. Rodgers threw deep to Adams on third-and-two, and the Packers drew a 40-yard pass interference penalty on cornerback Terence Newman. Rodgers found Jordy Nelson for a one-yard touchdown a few plays later, giving the Packers a 7-0 lead.
-- The Vikings tied the game on a Bradford touchdown pass to Kyle Rudolph early in the second quarter, capping a 10-play, 54-yard drive. The Green Bay offense struggled throughout the quarter, converting just one first down as Minnesota took a 10-7 lead into halftime.
-- The Packers' offense showed a little life to start the third quarter, with Eddie Lacy rushing for nine yards and Jared Cook catching a 10-yard pass on the first drive. It came to life on its second drive, as Rodgers led the unit into the Minnesota red zone. Green Bay opted to go for a first down on fourth-and-two, but the Vikings defense stopped James Starks after a one-yard rush. Minnesota proceeded to take a 17-7 lead with a touchdown on its next possession.
-- Green Bay subsequently went on its best drive of the game, which Rodgers capped with a 10-yard scramble for a touchdown on third-and-goal. The Packers drove into Minnesota territory on their next possession but the Vikings recovered another Rodgers' fumble, his third of the game. Green Bay forced a three and out and a punt, and the Packers offense took over at its own 9-yard line with 4:38 to go.
-- Rodgers missed tight end Jared Cook on a short throw on first down but led the offense on three straight first downs to the Packers 49-yard line. Green Bay got no further, however. Minnesota's Linval Joseph sacked Rodgers on first down. His second-down pass attempt to Jordy Nelson fell incomplete, and Waynes intercepted his third-down pass attempt.
-- Green Bay forced the Vikings into a third-and-six with 1:40 remaining on the subsequent possession, using its timeouts to stop the clock. The Vikings drew a pass interference penalty on Damarious Randall to keep the drive alive and were able to run out the clock.
DULY NOTED
-- The game announcers made much ado about Waynes' struggles for the Vikings, and for good reason. The second-year cornerback finished with three penalties for 46 yards, part of a 13-penalty night for Minnesota that cost them 137 yards. Green Bay's Randall appeared to struggle equally as much, however, allowing Vikings receiver Stefon Diggs to catch nine passes for 182 yards and a touchdown.
-- Rodgers targeted Nelson a team-high 11 times, and the pair connected on five plays for 73 yards. Cobb and Adams had seven targets, while Cook had six.
-- Lacy had 12 rushes for 50 yards, including six for 34 in the second half. Green Bay outrushed Minnesota 83-30 and held Peterson to 19 yards on 12 carries before he left with a knee injury.
-- The Packers had 263 yards of offense. Green Bay has had 350 or fewer yards in each of its last five regular-season games and under 300 in four of the five.
WHAT IT MEANT
-- Green Bay has some serious work to do on offense. Aaron Rodgers has not regained his MVP form after last season's late struggles, and miscues and miscommunication continue to be a problem. The defense also looked susceptible against the pass, though it stuffed Minnesota's running game all night.
PLAYER OF THE GAME
Bradford stepped into Minnesota's offense after just a couple of weeks and finished 22-31 passing for 286 yards and two touchdowns. He took a pounding but delivered beautiful passes to Vikings receivers for most of the night.
DON'T FORGET ABOUT ME
The Vikings defensive line finished with five sacks and three forced fumbles. It was Minnesota's second straight game against the Packers with five sacks.
THAT MOMENT
Minnesota took a 17-7 lead in the third quarter on a 25-yard reception by Diggs on an Aaron Rodgers-like throw from Bradford. He stood in the pocket after a play fake and delivered a pass where only Diggs could catch it.
THIS NUMBER
3 -- Number of turnovers for Green Bay. It was two if you don't count the fumble that the Packers took back on the same play, but the two in the fourth quarter were killers.
THEY SAID IT
"I do not think it is something you can draw a lot out of. It is week 2 of the season. We had a lot of tight games last year, and this is just early NFL season football. "-- coach Mike McCarthy on Rodgers' accuracy.
"I don't think this is anything to get super crazy about. This is a tough opponent, a division opponent and they are a good football team that still needs to come play at our house later in the season." -- Rodgers.
"Today we just really didn't have anything going for us. The run game started slow. We had a couple nice ones there in the second half but that was about it." -- TJ Lang
WHAT'S NEXT
Green Bay hosts the Detroit Lions, who are 1-1 after losing in the last Minute to the Tennessee Titans on Sunday. The Lions have averaged 6.3 yards per play this season, despite being without Calvin Johnson, and have thrown for 570 yards. Green Bay is 2-3 over its past five meetings against the Lions, a stretch that includes last year's win on Richard Rodgers' Hail Mary catch.