Umpire defends decision to eject Orioles' Kevin Gausman after hit-by-pitch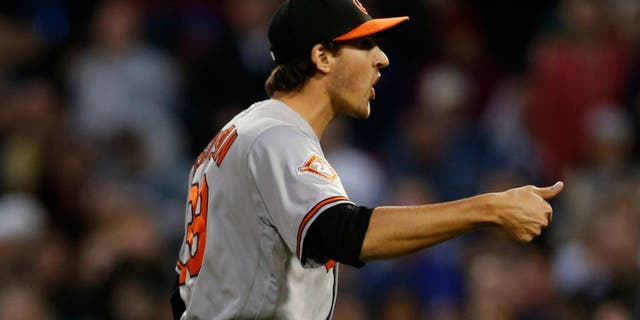 The Orioles and Red Sox continued their prime-time drama on Wednesday at Fenway Park, with two Baltimore players getting ejected by home plate umpire Sam Holbrook.
With both teams having been warned by commissioner Rob Manfred in a conference call before the game because of the recent tension, there were going to be no warnings as Orioles starter Kevin Gausman found out in the second inning.
Gausman hit Red Sox shortstop Xander Bogaerts with a 76-mph curveball (see video above) and was immediately ejected, though he argued vehemently that it was unintentional.
"I didn't know who he threw [out] at first," Gausman told reporters after the 4-2 loss, per MLB.com. "Just complete bush league, to be honest. To throw me out in that situation, after what Sale did yesterday, throwing 98 behind a guy, on purpose, everybody knew it. And, they're going to throw me out for hitting a guy with a curveball, 0-0 in the second inning? It's pretty bush league."
Holbrook gave this statement to a pool reporter after the game:
"Just given the situation and the tension between the two clubs and all the stuff that's gone over the past few weeks, we're all on high alert with anything. I know that the ball was a curveball, but it hit him square in the back and just making a split decision at that point right there. There needs to be an end to this stuff, and I felt like an ejection was the right thing to do at that time, and that's what we did. Thankfully, we didn't have any more problems the rest of the game," Holbrook told a pool reporter.
And Gausman soon had company in the clubhouse, as Orioles center fielder Adam Jones also was tossed by Holbrook after arguing a strike call in the fifth inning.
The four-game series finally will conclude this evening in Boston, and Orioles catcher Caleb Joseph probably spoke for all of his teammates when asked about that Wednesday night:
"I'm the most excited person to get out of Boston, get on with it and get out of here. All we want to do here is play ball," Joseph said, per MLB.com.
The two teams will meet again in Baltimore from June 1-4, perhaps giving everyone enough time to settle down and put all of this weeks shenanigans behind them.
Troy Taormina | USA TODAY Sports