TRUCKS: Tundra Time For Kyle Busch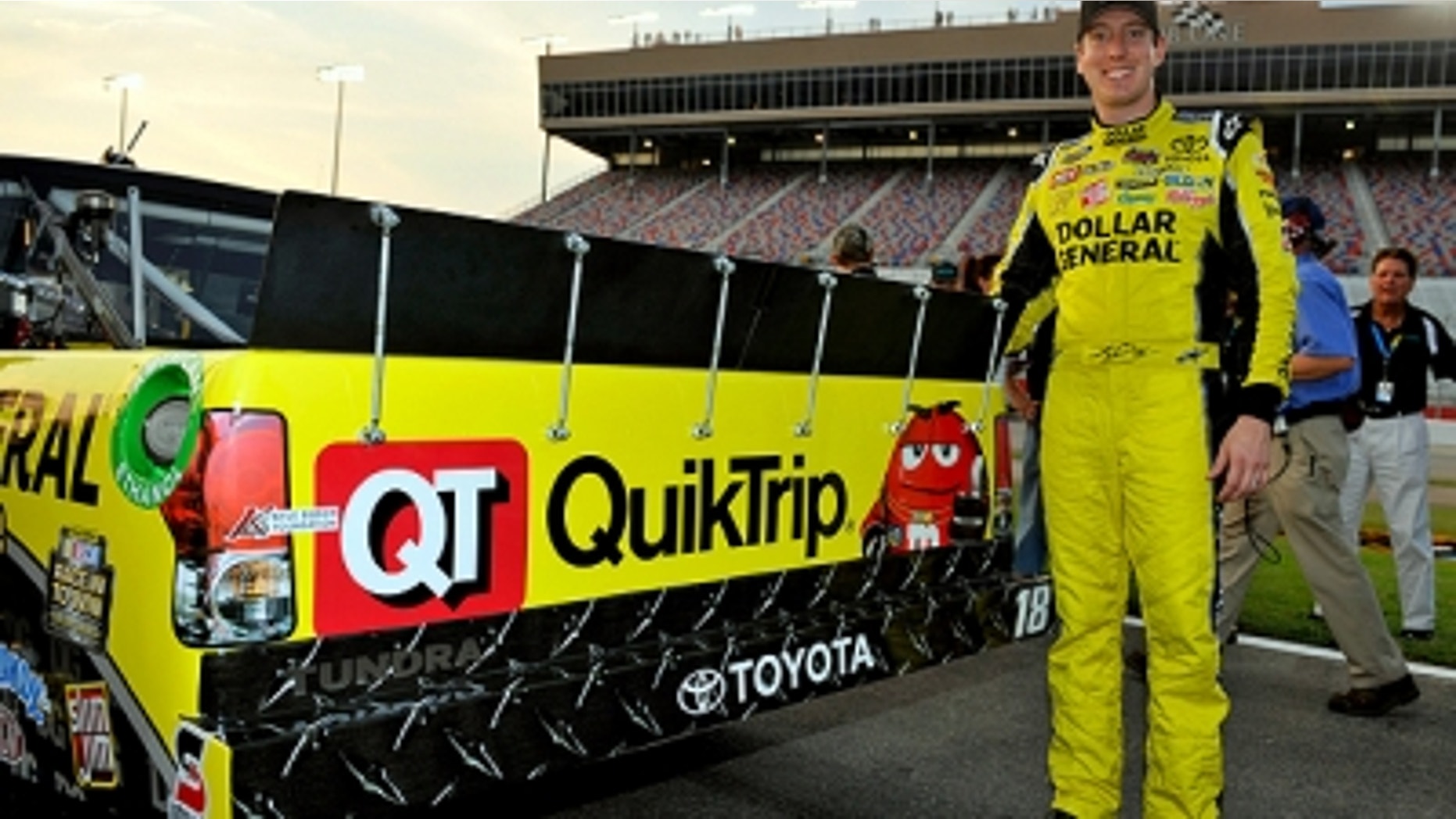 Kyle Busch is about to go truckin'.
For the first time since last November's infamous dust-up with Ron Hornaday Jr. at Texas Motor Speedway, Busch will compete in a NASCAR Camping World Truck Series race.
Busch will race his own No. 18 Kyle Busch Motorsports Toyota Tundra in Friday night's Jeff Foxworthy's Grit Chips 200 at Atlanta Motor Speedway. Busch's older brother, Kurt, is also entered, driving for Billy Ballew, who has been gone from the Truck Series for nearly two years.
SPEED will televise the action from Atlanta on Friday, starting with qualifying at 4:30 p.m. ET. The NASCAR Camping World Truck Series Setup airs at 7:30 p.m., followed by the race at 8 p.m.
Kyle has not raced in the Truck Series so far this year because of last year's incident at Texas, where he drilled Hornaday into the wall under caution. Busch was parked for the balance of the weekend and nearly lost his day job driving the No. 18 Joe Gibbs Racing NASCAR Sprint Cup Series car over that incident. As a result, he agreed to greatly cut back his Truck Series driving at the insistence of Gibbs and his Sprint Cup sponsor, M848ff8if9a6fb627facGGcdbcce6M's.
But that was then and now, Busch is ready to race again.
And no wonder.
Busch has 30 victories in 101 career Truck Series starts — an unheard-of winning percentage of 29.7 percent — including 14 victories in 32 starts since forming KBM prior to the start of the 2010 season.
Kyle said he's looking forward to racing his big brother.
"Kurt was very successful as a rookie in the Truck Series and that earned him a full-time Cup ride quickly," Kyle said. "By the time I got to the Truck Series, Kurt had already established himself in the Cup Series and for whatever reason, he didn't really run any Nationwide or Truck Series races, so we never got the chance to race against each other in NASCAR until I made it to the Cup Series. We've been able to race against each other a few times this year in the Nationwide Series, but it's been mostly working together in the tandem draft on the superspeedways."
It could make for an interesting evening of racing.
"It will be really cool to be competing against each other in the trucks — it's such a fun series to race in," Kyle said. "How exciting would it be to see things come down to a battle of me versus Kurt for the win on Friday night?"
i>Tom Jensen is the Editor in Chief of SPEED.com, Senior NASCAR Editor at RACER and a contributing Editor for TruckSeries.com. You can follow him online at twitter.com/tomjensen100.