Trivia Tuesday: 10 things you might not know about Bristol Motor Speedway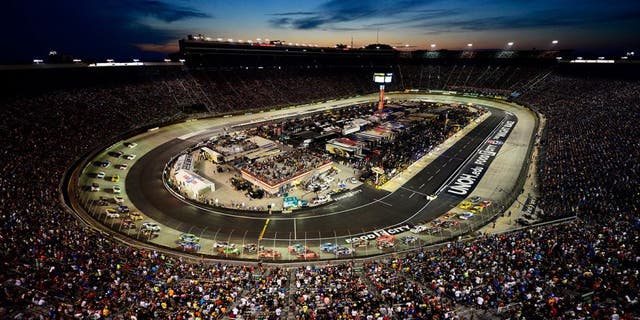 NEWYou can now listen to Fox News articles!
OK, folks, the NASCAR Sprint Cup Series heads to Bristol Motor Speedway this week for the running of the Sunday's Food City 500.
And that means is time for some Trivia Tuesday action around the high banks of one of NASCAR most exciting tracks. Here are 10 pieces of knowledge you might not know about the Tennessee short track.
10. FIRST TIME FLASHBACK -- The NASCAR Premier Series raced for the first at Bristol Motor Speedway on July 30, 1961. Fred Lorenzen won the pole for the Volunteer 500 at a speed of 79.225 miles per hour. The race took place before 18,000 fans, with Jack Smith winning, but only with relief help from Johnny Allen. The purse that day was $16,625, with $3,225 going to the winner.
9. SWINGING 70s -- In 1971, Charlie Glotzbach won at Bristol with Friday Hassler serving as a relief driver -- sensing a theme here? With no caution flags all race long, the duo set a speed record that still stands to this day: 101.074 miles per hour. It was Glotzbach's last career victory, and the first for a Chevrolet in the Premier Series since 1967.
8. AT THE END -- There have been 110 NASCAR Premier Series races run at Bristol. Twenty-two of those races were won by a margin of more than a lap, the last time coming in August 1981. When Dick Hutcherson won here in March, 1966, just seven of 32 cars finished. Good old days? Eh, maybe not.
7. GONE TOO SOON -- Alan Kulwicki won the spring race at Bristol in 1992, on the way to his amazing championship run. Sadly, Kulwicki was killed in a plane crash flying into Bristol on the night of April 1, 1993. NASCAR would not have another owner/driver champion until Tony Stewart in 2011.
6. UNLUCKY 13 -- Aric Almirola finished third in the 2014 Food City 500, but in 13 Bristol starts, he's never led a single lap here. That's the most Bristol starts without leading a lap of any driver in Sunday's race.
5. COT A FLOP -- At the spring Bristol race in 2007, the much ballyhooed NASCAR "Car of Tomorrow" debuted, completed with huge wings on the back and uniform styling from manufacturer to manufacturer. The COT was not well-received by fans or by the racers themselves. "I'm still not a fan of these things, they suck," race-winner Kyle Busch said. "I didn't see any real highlights out there. It was just tough to pass. It was kind of boring."
4. BLUE OVAL BOYS -- Ford has won 640 all-time NASCAR Premier Series races dating back to 1949. Of the active tracks still on the schedule, Bristol ranks first as the manufacturer's most successful, with 36 victories. Rusty Wallace is tops among the Blue Oval boys with five Ford wins at BMS from 1994-2000
3. ALL-TIMERS -- FOX NASCAR analyst Darrell Waltrip is the all-time Bristol winner with 12 victories here. Seven of Waltrip's were consecutive, from 1981-84. Rusty Wallace, Cale Yarborough and the late Dale Earnhardt won nine each.
2. BROTHER ACT -- Only three active drivers have led more than 1,000 laps at Bristol and two of them are brothers. Kyle Busch has led 1,704 laps here, while bug brother Kurt has lead 1,021. Each Busch brother has five Cup victories here, although it's been 10 years since Kurt won and five since Kyle did.
1. JUST AVERAGE -- You'll probably be shocked by which active driver has the best average finish at Bristol. It's Ricky Stenhouse Jr., who in six races here, has an average finish of 11.17. That's better than Kyle Busch (11.95), Matt Kenseth (12.78) and Dale Earnhardt Jr. (12.84).