Trent Richardson says his NFL career will end in the Hall of Fame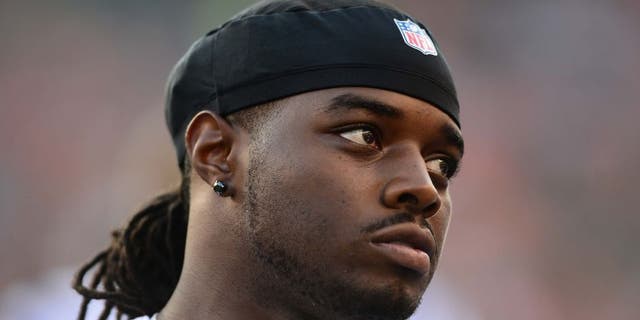 NEWYou can now listen to Fox News articles!
Trent Richard was pretty great at football for a while. And then that stopped. Abruptly.
At his height, Richardson was anything and all things you needed a running back to be. Mostly, the former Alabama Crimson Tide running back and Heisman Trophy candidate was a lead-armored truck between the tackles and a reminder to SEC linebackers of their better priorities.
Richardson was a very good college running back in the nation's toughest conference, which has made his orchestrated flopera of a professional football career that much more unpalatable than, say, the usual college running back's failure to bridge to the professional level.
And Richardson has failed to bridge, thus far. After an abbreviated, 11-touchdown burst in his rookie year, Trent Richardson went on to average 3.3 yards a carry over four ineffective and injury-speckled seasons in the league. His head-first stumble through the NFL appeared to be over in 2015, when Richardson failed to attract an offer as a free agent after being cut by the Raiders.
But now Richardson is back knocking on the NFL door, and by his own account, the 25-year-old back (still young! Ish!) has some, uh, grandiose goals in mind for his second tour.
In a recent interview with CSN Mid-Atlantic's Clifton Brown, Richardson set out the vision for his NFL comeback as a newly-signed member of the Baltimore Ravens backfield. One achievement he's gunning for: Canton.
"Putting on a yellow jacket," Richardson told Brown.
Well then. Did everyone in the back get that? That Trent Richardson is lining up visuals of his own Hall of Fame jacket down the road.
That, friend, is a well-marbled soundbite. But it's indicative of Richardson's view on this second chance: it's an opportunity for him to really do this football thing - - this game/job/lifestyle that elevated him, and then vanished into obscurity after he entered the league.
"As a person at that time, mentally [I] wasn't stable enough to play football, for any level," Richardson said. "I had too much going on outside of football. The football was always there but everything carried on outside the field. It carried onto the field. I couldn't think about football all the time. Football became little to me."
Now, Richardson will compete for carries in the Ravens' reliable mystery bag of store brand ball carriers. He'll face off against Justin Forsett, Terrance West, Kenneth Dixon, Buck Allen and Lorenzo Taliaferro for the honor of finishing what Joe Flacco can't.
And he's excited. And super optimistic!
"This is a good chance of being my last ride when it comes to proving myself in the NFL. I know myself that I'm not done in the NFL, don't want to be done. I got a taste of what that felt like. To tell my kids that their father didn't have a job, it was big for me. I'm here. I'm going to be here for a while."
Calling my shot here: Trent Richardson—first-ballot, Class of 2027.*
*Or flex guy you take a flyer on and delivers. Either is a good goal.
Dan is on Twitter. He will eventually find ways to forgive Trent Richardson for crimes of fantasy seasons past.