Travis Kelce trashes the officials after the Chiefs' loss to the Steelers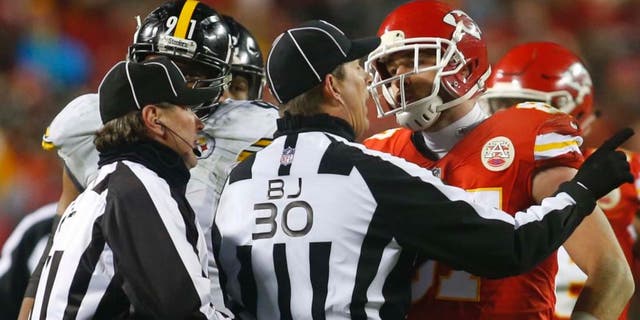 NEWYou can now listen to Fox News articles!
Kansas City Chiefs tight end Travis Kelce took aim at the officials after the Chiefs' 18-16 loss to the Pittsburgh Steelers on Sunday. Kelce's point of frustration stemmed from a holding call that negated a two-point conversion late in the fourth quarter that would have tied the score.
After the game Kelce said the official who threw the flag against Chiefs left tackle Eric Fisher "shouldn't be able to work at Foot Locker" and added that the holding call was "horses**t."
Kecle wasn't finished, saying that the Chiefs "had their jugulars ripped out" by the officials and then specifically called out referee Carl Cheffers, saying he "shouldn't be able to wear a zebra jersey."
Kelce had a team-high five catches for 77 yards but also hurt Kansas City in the second half of the loss. He dropped a critical pass in the third quarter that would have put the Chiefs in the red zone and was flagged for unsportsmanlike conduct later in that drive.