Trade review: The Philip Rivers-Eli Manning swap that shaped the NFL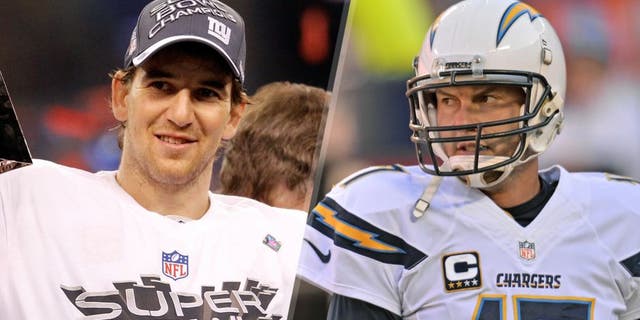 Not many trades change the landscape of the NFL for a decade, but this swap between the San Diego Chargers and New York Giants certainly did.
Back in 2004, the Chargers held the first-overall pick in the draft. With it they selected Eli Manning out of Ole Miss. Manning was obviously a highly-touted quarterback prospect, but there was one problem: He refused to play for the Chargers.
As a result, San Diego traded Manning to the Giants for a handful of picks and their future franchise quarterback, Philip Rivers.
Rivers and Manning obviously headline the memorable trade, but the Chargers received more than just a talented quarterback out of North Carolina State. They also got the Giants' third-round pick in 2004, and New York's first- and fifth-round picks in 2005.
After a few years, it seemed as though the Chargers got the better end of the deal based on volume. But 11 years later and it's not as clear-cut as it once was.
Here's a fresh look at how the trade turned out for both teams.
Giants:
Eli Manning: The Giants only got one player out of the deal, but it was a great one, needless to say. Manning has been one of the league's top quarterbacks for the past decade, and while he's had his share of mistakes and off years, he has two things Rivers and the Chargers still haven't gotten: a pair of Super Bowl rings. Manning has led the Giants to two Super Bowl wins and was named the MVP in both games, topping the New England Patriots twice. Prior to Manning, the Giants had won two Super Bowls. In his career, through 12 games this season, Manning has thrown for 43,073 yards, 283 touchdowns, 195 interceptions and has started every game for the Giants since 2005. He's the epitome of durability at the quarterback position.
Chargers:
Philip Rivers: Like Manning, Rivers has been an outstanding quarterback since coming into the league. However, he didn't get a chance to start until 2006, his third year in the NFL, after Drew Brees left. Since then, he hasn't missed a single start and has produced numbers that are very similar to Manning's. In nine-plus seasons, Rivers has thrown for 40,368 yards, 275 touchdowns and 131 interceptions. As every knows, though, he hasn't won a Super Bowl yet and has only led the Chargers to the postseason five times -- reaching the conference championship once. He's been named to more Pro Bowls than Manning (five to three), but it's the absence of Super Bowl rings that everyone remembers.
Nate Kaeding, K (2004 third-round pick): Surprisingly, the Chargers spent their third-round pick from the trade on a kicker. Kaeding took over the kicking job immediately as a rookie and shined. He's made 86.2 percent of his field goal attempts in his career but hasn't had a full-time gig in the NFL since 2010. He tore his ACL in 2011 and appeared in just five games in the following two seasons. He was named to two Pro Bowls in his career but it's hard to justify spending a third-round pick on a kicker -- especially with playoff appearances being few and far between.
Shawne Merriman, OLB (2005 first-round pick): The Chargers certainly hit on their first-round pick in 2005, even though he was only an impact player for his first three seasons. From 2005 to 2007, Merriman recorded 39 1/2 sacks and forced eight fumbles. He was one of the best pass rushers in the league early in his career but the use of performance enhancing drugs and several injuries hurt him later on. After the 2007 season, Merriman started just 22 games and recorded six sacks before retiring in March of 2013.
Roman Oben, OT (acquired for 2005 fifth-round pick): Offensive tackle Roman Oben was acquired by the Chargers in 2004 when San Diego sent their 2005 fifth-round pick from the Rivers trade to Tampa Bay. Oben started 16 games at left tackle in his first season with the Chargers but suffered a career-threatening foot injury in 2005. He didn't start another game after suffering the injury but did remain with the Chargers until 2007.