Toronto Blue Jays pitcher Marco Estrada to miss All-Star Game with sore lower back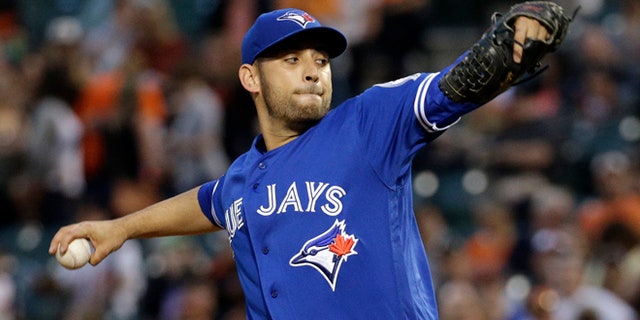 NEWYou can now listen to Fox News articles!
TORONTO (AP) – Toronto Blue Jays right-hander Marco Estrada has gone on the disabled list because of a sore lower back and will not play in the All-Star Game.
Estrada, who left Saturday's start after five innings because of back pain, still intends to travel to San Diego and participate in All-Star festivities. The first-time All-Star was put on the DL, a move made retroactive to Sunday.
"My worst nightmare came true, unfortunately," Estrada said Wednesday. "In the long run, this is the right thing to do."
Estrada, a 33-year-old right-hander, is 5-3 with a 2.93 ERA in 16 starts.
AL manager Ned Yost of Kansas City will select a replacement. Among the candidates is Toronto right-hander Aaron Sanchez, who is 9-1 with a 2.94 ERA. Toronto manager John Gibbons spoke with Yost to put in a good word.
"He's definitely an All-Star-caliber-type pitcher," Yost said. "There's three or four other guys, too. We'll get together as a staff and make a determination."
Right-hander Drew Hutchison will start in place of Estrada against Detroit on Thursday. Toronto recalled righty Bo Schultz from Triple-A Buffalo.
Estrada first dealt with a sore back in spring training and aggravated the injury swinging a bat during an interleague start at Philadelphia. Gibbons said Estrada won't pitch again until July 22 against Seattle, after an interleague series at Arizona.
Like us on Facebook
Follow us on Twitter & Instagram