Tony Romo shares recovery update, which bodes well for Cowboys' offseason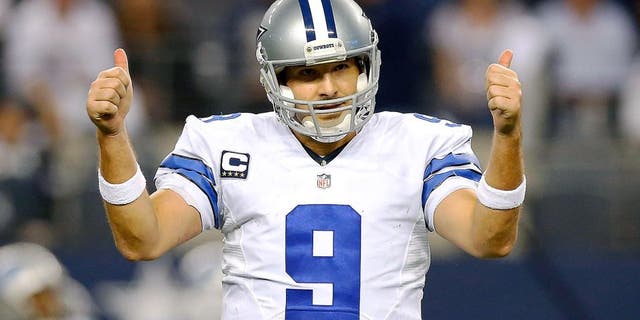 Earlier this month, Tony Romo opted to have surgery to repair his injured left collarbone, which he broke twice in 2015. His recovery timetable was slated for six to eight weeks, but Dallas Cowboys fans were treated to some good news on Twitter on Thursday morning courtesy of the quarterback.
Romo provided an update on his recovery, saying the surgery has "healed up nicely."
It was Romo's first tweet since he shared this clip from "Major League," announcing his return after missing seven games.
Romo's surprise update was exactly that, and a pleasant one, too. There were questions about whether he'd be able to go through a full offseason of workouts, but it sounds like that's the plan -- OTAs included.
Unlike last offseason, Romo and Dez Bryant weren't able to spend much time together. Bryant dealt with hamstring injuries and contract issues in 2015, which left him somewhat out of shape for the start of the season. Then, of course, he broke his foot in the season opener, derailing his season, and the Cowboys', too.
This offseason should be very different with both Romo and Bryant healthy, but there are still several other questions Dallas has to answer. Finding a backup quarterback is at the top of the priority list, and the team is doing its due diligence in that area.
Despite missing out on players like Colt McCoy and Matt Moore, the Cowboys are seemingly looking toward the draft to find Romo's backup, and eventual successor. The team has met with Dak Prescott and worked out Paxton Lynch and Christian Hackenberg. The Cowboys also plan to hold workouts for Carson Wentz and Jared Goff -- the top two quarterback prospects in the draft.
One question that they did answer recently is the running back position ... sort of. The Cowboys signed Alfred Morris to a two-year contract worth up to $5.5 million with incentives. He figures to be the lead back as of now, pending a potential draft pick. Morris' signing gives Dallas flexibility at the position rather than leaving it as a top need in the draft.
On the defensive side, the pass rush is still a huge problem. There is almost no chance Greg Hardy returns and Randy Gregory is suspended for the first four games of the season, leaving Demarcus Lawrence as the top defensive end. It figures to be a big focus in the draft, while a trade shouldn't be ruled out, either.
The Cowboys still have several questions to answer in the coming months, but Romo's health is a huge plus and should allow fans to breathe a collective sigh of relief.