Titans DB McCourty: Dorial Green-Bechkam is 'a beast'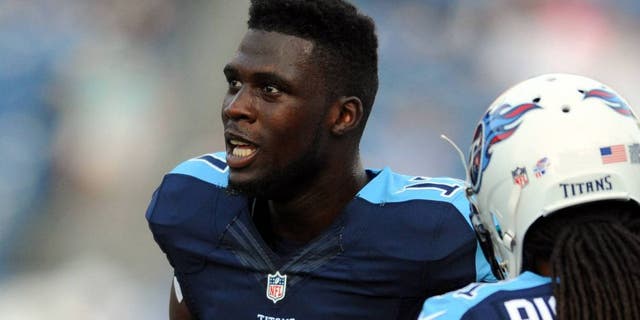 NEWYou can now listen to Fox News articles!
By Jesse Reed
Tennessee Titans rookie receiver Dorial Green-Beckham has impressed his teammates this summer.
Green-Beckham wowed NFL scouts this past winter during the draft process with his combination of size, crazy athleticism and soft hands. After spending the past few months watching the rookie work during practice, his own teammates are now in awe of Green-Beckham's abilities on the field.
The rookie has struggled to stay on the practice field for the Titans with a slew of minor injuries. If he can stay healthy, then he and fellow rookie Marcus Mariota will develop into one of the most exciting young quarterback/receiver duos in the NFL.
During his tenure at Missouri, Green-Beckham put up big-time numbers before off-field troubles got him kicked out of the program. He caught 59 passes for 883 yards (15 yards per reception) and 12 touchdowns in his sophomore season, showing off incredible athleticism to go along with his prototypical size.
At 6-foot-5 and 237 pounds, Green-Beckham towers over defensive backs -- no matter how big they are. College football has yet to begin manufacturing 6-foot-5 cornerbacks, and it's not likely we'll see any secondary defenders who fit this description any time soon.
As a rookie, Green-Beckham should find immediate success as a red-zone threat, given his size and given the fact that Mariota is one of the most accurate passers to come out of college in a long, long time. Once the talented receiver masters the subtle art of route-running (assuming it does happen), it's going to be awfully fun to watch him dominate all over the field -- not just in the red zone.
More from Sportsnaut: