Tigers' Cabrera likely to return vs. Indians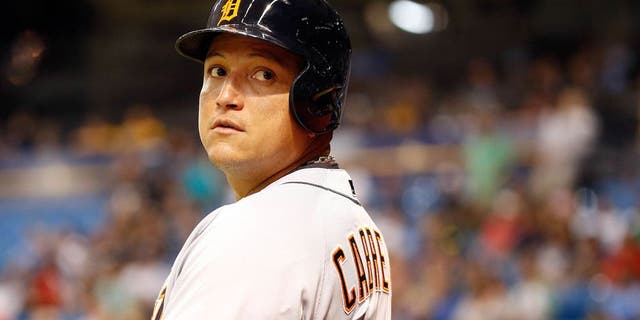 DETROIT -- First baseman Miguel Cabrera is scheduled to come off the disabled list Tuesday to play for Detroit against Cleveland, which would give the Tigers a boost and present the Indians with a problem.
"He's still on track," Detroit manager Brad Ausmus said Monday night. "We need to make sure he gets out of bed OK in the morning before anything's done. We want to make sure he gets out of bed without a stiff neck or something."
Cabrera will return to first base and hit third in Detroit's batting order. The Tigers have been without their top hitter for nine games and 10 days, since he sustained a right groin strain.
Cleveland manager Terry Francona had a tongue-in-cheek view of Cabrera's return.
"I think he's ready to come off (Tuesday)," Francona said. "My own personal opinion, I think they should be careful with him. But they probably won't."
The Tigers stayed afloat in Cabrera's absence, going 5-4.
Inserting Cabrera back into the lineup gives Indians right-hander Corey Kluber an additional big bat to get out.
Without Cabrera, Francona said, "You don't have one of the premier hitters in the lineup. That doesn't guarantee you're gonna win. As a manager, I always know where he is. When I look at my lineup card, it's in bold letters. Because you want to limit, hopefully, what he can do."
Kluber will be facing Detroit and right-hander Justin Verlander for a second time this season. He defeated the Tigers in that April 15 game, getting away with allowing six runs on eight hits in 6 1/3 innings because the Indians thumped Verlander for nine runs on 11 hits in 13-6 decision.
Kluber (3-1, 4.19 ERA) is making his 18th start (plus one relief appearance) against Detroit in his career. He owns a 6-6 record and a 4.31 ERA in vs. the Tigers.
Verlander (1-2, 4.60 ERA) has pitched more games against Cleveland than any other team, with Tuesday marking his 50th start against the Indians. He brings a 19-22 record and career 4.68 ERA against Cleveland into the game.
Detroit has gotten solid play from two newcomers, Jim Adduci and John Hicks, the former an outfielder/first baseman and the latter a catcher/first baseman.
"The call-ups we've had recently, Hicks included, certainly have contributed offensively," Ausmus said. "They didn't hurt their own cause moving forward."
One of the call-ups, likely Hicks, will be sent back to Toledo when Cabrera is activated.
"It's always hard to tell someone they're being sent down," Ausmus said. "It's a little easier when you tell them they're being sent down because Miguel Cabrera's coming off. They're smart guys. …
"The 10-day DL certainly helped us; five days shorter than previous seasons. Miggy's a guy you want all year. He plays 150-something games, he's one of the best hitters in any league."
Detroit also expects to get another player back this week, center fielder JaCoby Jones.
Jones was hit in the face by a pitch more than a week ago and is on a rehab assignment with Triple-A Toledo.
Jones was in Detroit on Monday night since Toledo had the night off. The Tigers have told him he is to play two more games with the Triple-A Mud Hens and then report back to Detroit on Thursday.