Thunder lose in Kings' arena finale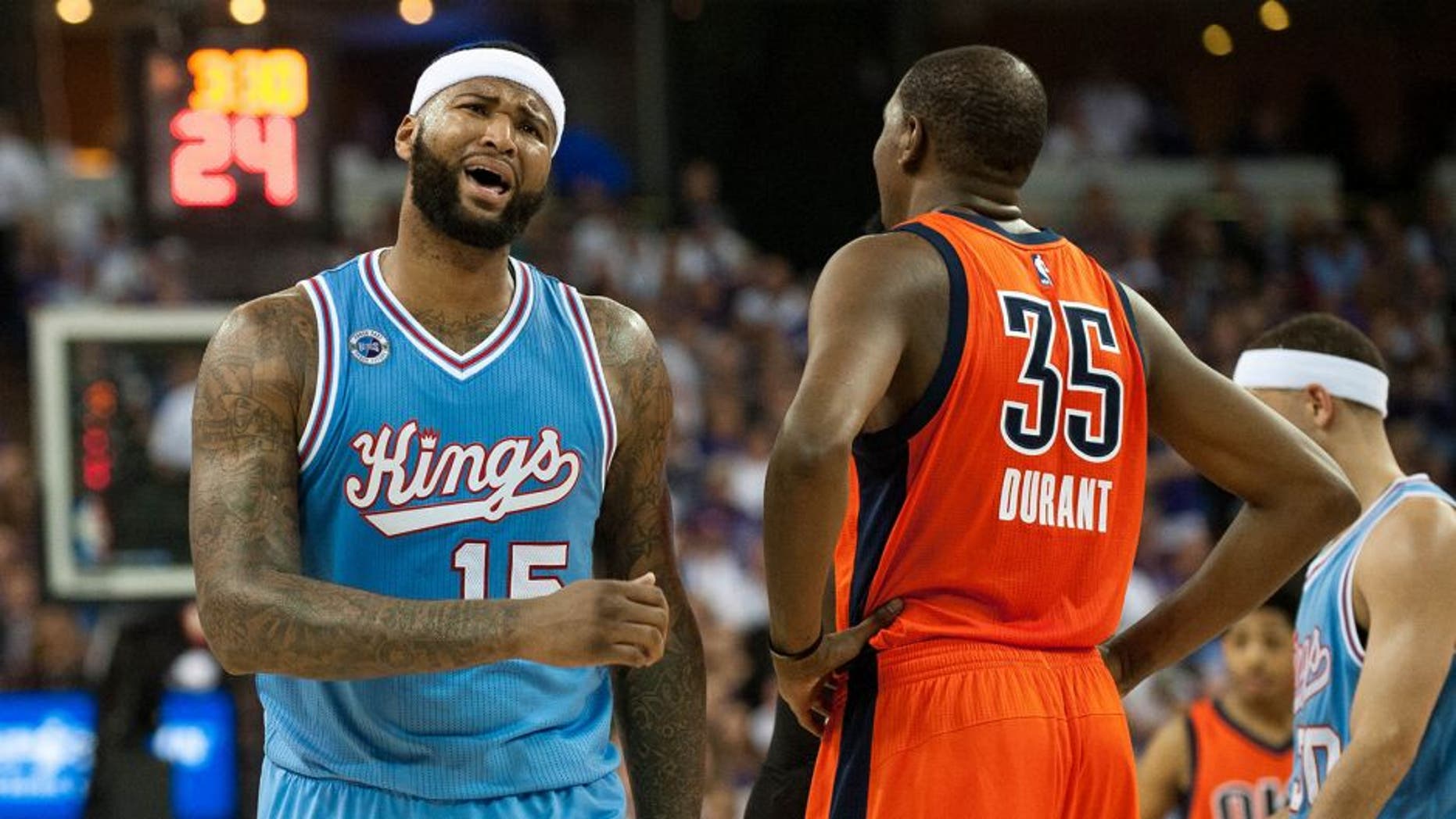 SACRAMENTO, Calif. (AP) -- Rudy Gay scored 24 points, including two free throws with 1 second left, for the Sacramento Kings, who celebrated the final game at Sleep Train Arena with a 114-112 victory over the Oklahoma City Thunder on Saturday night.
Darren Collison had 27 points for the Kings, who have played at the aging arena for 28 years. Next season, the team will move to $519 million Golden 1 Center, which is located in downtown Sacramento.
Kevin Durant had 31 points and eight assists for the Thunder, who have a division title and the Western Division's No. 3 seed locked up. Durant has scored at least 20 points in 63 straight games, tying Kobe Bryant (2005-07) for the longest such streak.
Russell Westbrook had 24 points and 10 assists, and Serge Ibaka scored 14 points for Oklahoma City.
Seth Curry made six 3-pointers and scored 20 points for the Kings. DeMarcus Cousins had 15 points and seven rebounds, but fouled out with 3:26 remaining and struggled throughout the game, missing 17 of 24 shots.
Gay's clutch foul shots came after the Kings had squandered a seven-point lead with 26 seconds remaining.
Although there was nothing at stake for either team, fans were on their feet chanting, ringing cow bells, and they even did the "wave" in the fourth quarter. The energy was reminiscent of a playoff atmosphere The Kings have won just 32 games, though, and won't make the playoffs for a 10th straight season.
There were approximately 50 ex-Kings players and coaches introduced at halftime. The group included Rick Adelman, Spud Webb, Joe Kleine, Rodney McCray, Tyus Edney, Otis Thorpe, Reggie Theus, Mike Bibby, Pete Carril, Kenny Smith and Vinny Del Negro.
After defeating Toronto for their eighth straight victory on March 28, the Thunder have dropped four of six games while resting various players.
Anthony Morrow hit a corner 3-pointer to pull the Thunder within two at 111-109. Gay responded with a free throws for a three-point lead. But Westbrook was fouled on a 3-point attempt and made all three foul shots, tying the game at 112 with 7 seconds remaining.
Durant had made two free throws to tie the game at 101 with 3:26 remaining as Cousins went to the bench with his sixth foul. Collison hit a 3-pointer and later added a jumper, giving the Kings a 108-103 advantage with 57 seconds left.
TIP INS
Thunder: Durant is on track to become the first player since Michael Jordan (1988-89) to average 28 points, eight rebounds and five assists. ... Westbrook had eight of Oklahoma City's 21 turnovers, leading to 26 points. ... The Thunder have two games left and end the regular season Tuesday in San Antonio.
Kings: Playing like his more famous older brother Stephen, Curry made his first five 3-point attempts before missing midway through the second quarter. ... NBA assists leader Rajon Rondo was rested for the third time in four games. ... The Kings haven't made the playoffs since Adelman was fired after the 2005-06 season. Adelman guided the Kings to a winning record in his eight seasons and the team hasn't had a winning record since.
UP NEXT
Thunder: Host Lakers on Monday.
Kings: At Phoenix on Tuesday.