Super Bowl hating: Much more to dislike than just Belichick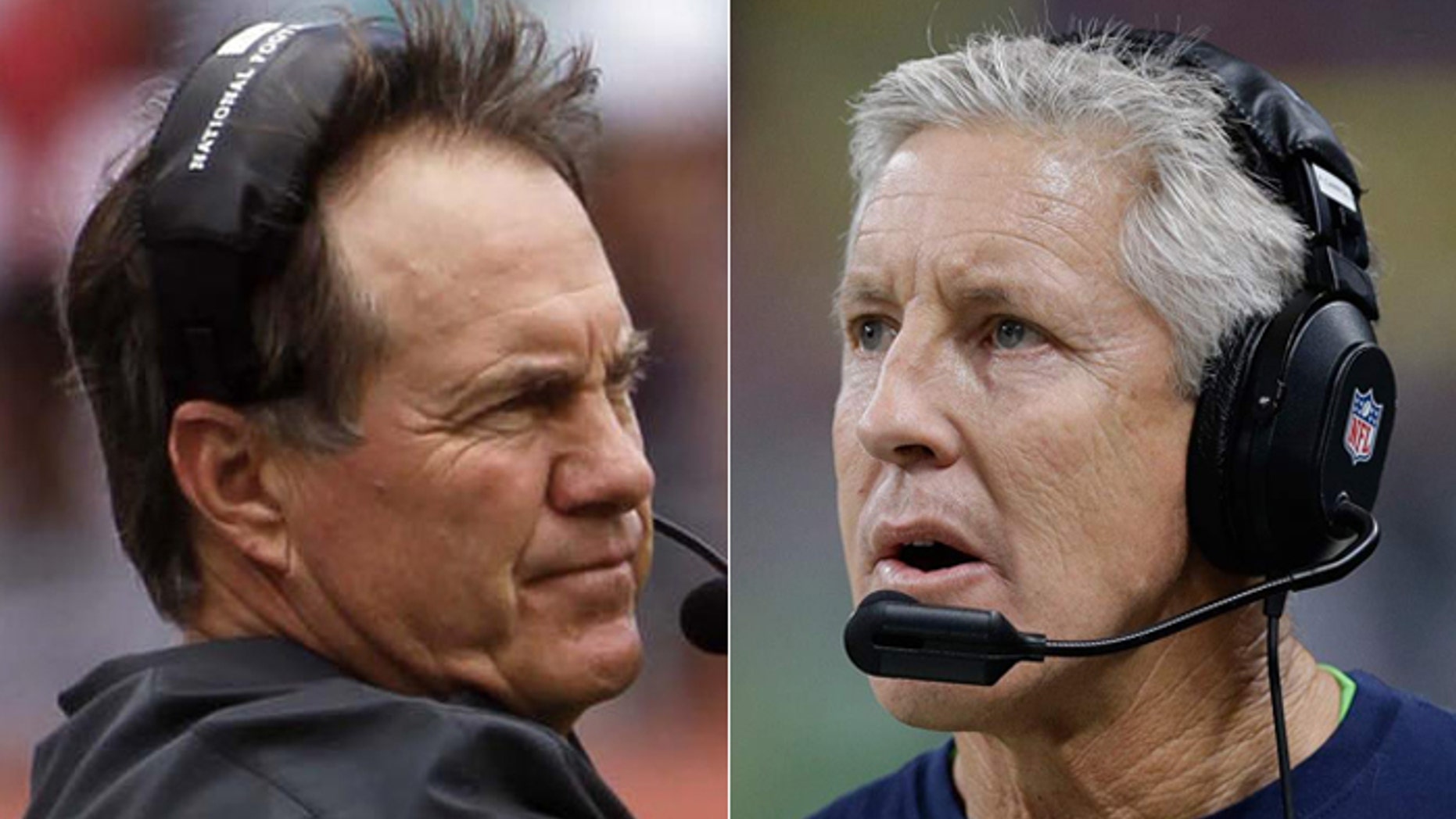 Over the last week or so, many football fans have decided to hate the New England Patriots – specifically Spygate-tainted head coach Bill Belichick and quarterback Tom Brady – even more than usual.
If the Patriots indeed violated the rule that's sparked "Deflategate," we have no sympathy for them, though perhaps the violations might not be as bad as we thought. Maybe Brady will talk after the season. Maybe the NFL won't find any evidence of wrongdoing. Maybe the Patriots' locker room attendant identified this week as a scary-sounding "person of interest" will help us get to the bottom of this, because he apparently entered a stadium bathroom with the relevant bag of footballs on his way to the field. Maybe …
ARRRGGGHHH! Enough about the footballs, and about the possibly guilty Patriots! Are Belichick and Brady the only characters to dislike in Super Bowl XLIX? Hardly!
Start with effervescent Seahawks head coach Pete Carroll. Carroll won two collegiate national championships as the head coach at USC, though one was later forfeited due to NCAA violations that involved then-Heisman Trophy winner Reggie Bush. The NCAA report on the incident suggests Carroll encouraged a sports marketing company friendly with Bush's agent to hire players as interns, though the coach denied the allegation.
USC also served a two-year bowl ban and lost 30 scholarships. But Carroll was not directly affected, as he left for the Seahawks' job five months before the sanctions were announced – one step ahead of the law. Carroll later said he was "shocked and disappointed" by the NCAA's ruling.
Isn't that pretty much what Belichick and Brady said about the deflated footballs?
Carroll and the Seahawks were also fined in both 2012 and 2014 for violating the no-contact rule governing the league's offseason practices. The team will lose two mini-camp practices this year as a result. Basically, NFL teams are not allowed to block, tackle or use pads during offseason practices, and the Seahawks ignored the rule on two separate occasions. Minor offenses, to be sure, but rules are rules - as we've all been arguing since last Sunday. Right?
And let's not forget Seahawks running back Marshawn Lynch. We won't complain too much about him not talking to the media. But over the past month, the runner known as "Beast Mode" has twice celebrated touchdowns by pointedly grabbing his crotch after crossing the goal line. If he does that in the Super Bowl, have fun watching and explaining it to the kids and grandparents.
Seattle's star runner was fined by the NFL on both occasions, and the league has threatened to penalize the Seahawks for unsportsmanlike conduct if he does it again Sunday. Vegas oddsmakers aren't confident he will restrain himself, as a yes bet on "Will Marshawn Lynch grab his crotch after scoring a TD in the game?" reportedly carries a modest 4-1 payout.
Seahawks' teammate Chris Matthews grabbed his own crotch while congratulating Lynch during the NFC Championship game, and was also fined by the NFL. Lynch hilariously responded by tweeting that he was "embarrassed to work for a particular organization" that would fine Matthews for such behavior.
To review here: Lynch isn't embarrassed to cojones-cup in front of 67,000 people. But punishing someone for the same act? Shameful!
Across the field, the Patriots aren't all warm and cuddly beyond Belichick. Take running back LeGarrette Blount, who ran for 149 yards in the AFC Championship game. Blount was with the Pats last season, but signed a free-agent contract with the Pittsburgh Steelers for 2014.
Things didn't go well there. During training camp, he and teammate Le'Veon Bell were arrested for possessing (and apparently smoking) marijuana while driving through a Steel City suburb.
As the season progressed, Blount's "pouting" became an "internal problem" with the Steelers, according to the Pittsburgh Post-Gazette, to the point where he left the field before the end of a victory against the Titans – presumably because he didn't get a single carry. The Post-Gazette reported at least one player thought the Steelers "should leave (Blount) in Nashville," and the act "was not well-received in the locker room."
Obviously.
Fortunately for Blount, quitting on his team resulted in him being cut, which allowed him to help the Patriots win a Super Bowl spot. Karma doesn't always work out well, folks.
To be fair, there are plenty of people to like here. Patriots defensive tackle Vince Wilfork helped rescue a motorist from a car wreck after the AFC title game. Brash Seahawks cornerback Richard Sherman works hard on a charity called "Blanket Coverage," which provides "students in low-income communities with school supplies and clothing so they can more adequately achieve their goals," according to his website. And heck, Russell Wilson is darned near perfect, far as anyone can tell.
There's quite a cast of characters in Phoenix this week, and not all of them are easy to root for. You don't have to watch them - there's always the Puppy Bowl (Animal Planet), the Fish Bowl (Nat Geo Wild) or a good book by the fireplace. But if you do watch Super Bowl XLIX, and you still want to be angry about it, try to look beyond the deflated footballs and use the information here to be an equal opportunity hater. It's only fair, right?
John Halpin offers fantasy football analysis for FOXSports.com, and on television for the Carolina Panthers. Follow him @jhalpin37