Struggling Padres look to avoid 5th straight loss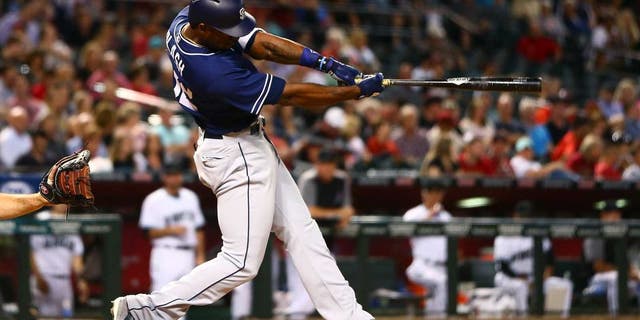 PHOENIX -- The Arizona Diamondbacks are having a lot of fun these days.
Dunk contests in the clubhouse.
A disco ball throwing colored lights on the ceiling.
Biggie Smalls on the stereo.
Winning can do that for a team, and the Diamondbacks look to keep the good times rolling Wednesday night against the San Diego Padres.
The Diamondbacks (14-8) broke out the rap music and disco ball after a 9-3 victory over San Diego on Tuesday, when they had a season-high 16 hits and homered in the first inning for the fifth straight game.
Arizona leads the majors with 121 runs and is 10-2 at home, tying the best start in franchise history. The Diamondbacks have won four of five and seven of 10.
"We've talked about playing downhill baseball here, setting the tone by being ready on both sides of the ball," Diamondbacks manager Torey Lovullo said. "There is a lot of preparation that goes into us being successful early in the game. These guys are all prepared for their first at-bat, and for the hitting coaches who are preparing them. Once we score, we've been doing our job on the mound."
The Padres (8-14) are going the opposite way. They have lost four in a row and nine of 12, dropping the first two games of the four-game series at Chase Field despite a pair of three-hit games by second baseman Yangervis Solarte.
Part of Arizona's recent success is getting early home runs. The Diamondbacks are the first team since the 2005 White Sox to homer in the first inning in five straight games. The first inning long balls came from A.J. Pollock, Jake Lamb/Yamany Tomas, Paul Goldschmidt, David Peralta and Goldschmidt again Tuesday.
"It takes a little bit of pressure off the pitching to be able to play with that lead," Goldschmidt said. "It's one of those things where you'll play however you have to. We were playing from behind a lot. It doesn't have to be one way, just trying to have good at-bats, whether we are up by a lot or down by a lot."
Arizona also leads the majors with nine comeback victories.
Diamondbacks right-hander Zack Godley will start Wednesday, filling the rotation vacancy created when right-hander Shelby Miller as removed from his Sunday start because of elbow inflammation. Miller got a second opinion on his arm by Los Angeles specialist Neal ElAttrache on Tuesday, and the team expects to be told the extent of the injury Wednesday.
In the meantime, the Diamondbacks hope Godley can continue his early-season success with Triple-A Reno.
Godley was 1-1 with a 2.25 ERA in three appearances with Reno. He gave up one single white striking out seven in seven scoreless innings of a 7-1 victory in his most recent start on April 19.
"I was locating all of my pitches pretty well," Godley said. "It was lot of fun to be a part of. To be able to throw the ball exactly where you want to each time is just a great feeling."
Godley was 5-4 with a 6.54 ERA in 27 appearances, nine starts, with Arizona last season after going 5-1 with a 3.19 ERA in nine appearances in 2015. He features a four-pitch mix that includes a cutter and a curveball.
Former Diamondback Trevor Cahill starts for San Diego.
He spent three seasons with Arizona in 2012-14 and won 13 games in 2012 before being traded to Atlanta late in spring training in 2015.
He is 1-2 with a 3.44 ERA in three starts this season. Each of Cahill's starts has gone at least 5 2/3 innings.
Cahill gave up three hits and one run over seven innings in his most recent outing, a 5-3 victory over the Miami Marlins in San Diego on Friday.
"The goal was to keep the ball down," Cahill said. "You always want to go deep. Especially being in the bullpen (last year while with the Chicago Cubs), you realize how important saving a bullpen is."
He has made only one previous start against the D-backs but has plenty of experience in Chase Field, where he is 10-17 with a 4.87 ERA.