Steve Smith says not so fast to son's tweet about trade to Carolina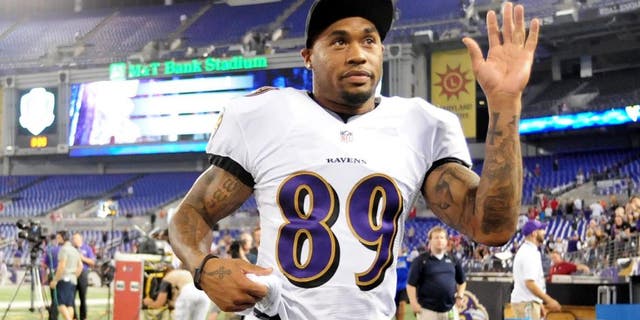 NEWYou can now listen to Fox News articles!
The son of Steve Smith Sr. tweeted an idea that made a little bit of football sense, but his father isn't having it.
Since the Ravens have struggled to a 1-5 start, the younger Smith proposed a homecoming for his dad -- a trade to his former team, the Carolina Panthers, who are 5-0 and have a glaring need at receiver. Such a move would enable Smith Sr. to finish out his career where it all began with a chance at making a run at his first Super Bowl ring.
Smith, who announced this summer that he plans to retire at season's end, balked at his son's proposition, saying he'd quit now if he was traded. Head coach John Harbaugh echoed Smith's sentiments.
"There is no chance of that," Harbaugh said via NFL.com. "I wouldn't part with him."
Smith, still going strong at 36 with a team-high 36 catches and 510 yards in his second season with Baltimore, was unceremoniously dumped after 13 seasons in Carolina. While he still has an affinity for Panthers owner Jerry Richardson, he is apparently not nearly as open to a homecoming as his son is.