StaTuesday: Early defensive ratings for 2016 Milwaukee Brewers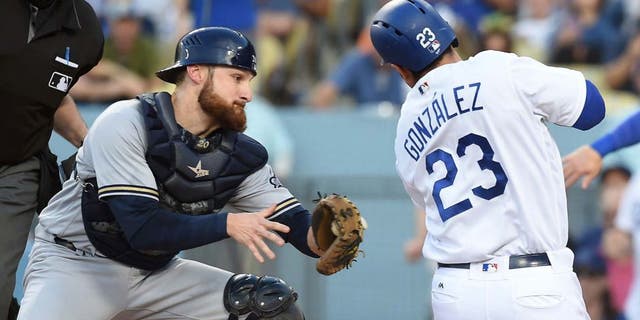 NEWYou can now listen to Fox News articles!
This past week, the Society of American Baseball Research (SABR) issued its first Defensive Index rankings (SDI) for the season, based on games played through June 12.
According to SABR, these rankings account for roughly 25 percent of the selection process used in determining each season's Gold Glove winners and also contributes in determining Platinum Glove Award winners.
The Defensive Index is compiled from different fielding metrics and incorporates a myriad of categories. (If you are interested in a more detailed explanation, please click here.)
Jonathan Lucroy is the highest-rated Milwaukee Brewers player in the SDI rankings, coming in at tied for No 20 overall in the National League with a 3.8 SDI. The highest rating in the NL is Colorado third baseman Nolan Arenado at 9.0. Chicago White Sox outfielder Adam Eaton leads the majors with a 12.7 SDI.
While Lucroy is 20th overall in the NL, he ranks fourth among catchers, behind San Francisco's Buster Posey (5.8), Chicago's David Ross (4.6) and San Diego's Derek Norris (4.6). Lucroy has improved tremendously from last season, though, when he finished with a -0.2 SDI.
Among qualifying pitchers, the Brewers have four with a positive SDI, led by Chase Anderson's 1.3, which ties him for seventh among NL hurlers (Colorado's Tyler Chatwood is tops with a 1.8). In addition, Jimmy Nelson, who was a -3.1 in 2015, is at 0.8, Junior Guerra has a 0.5 and Zach Davies a 0.1. Also rated are Carlos Torres (0.0) and Wily Peralta (-1.8).
The second-highest rating on the Brewers is a 1.7 for Kirk Niewenhuis, which places him fourth among NL center fielders. St. Louis' Randal Grichuk and Chicago's Dexter Fowler both have a 2.6.
Aaron Hill made the move to third base for Milwaukee this season after playing most of his career at second base and things have gone well from a defensive standpoint. Hill has a 0.9 SDI, ranking him seventh among NL third basemen.
Over at second base, Scooter Gennett is tied for fifth in the NL with a 0.5 SDI. San Francisco's Joe Panik tops NL second sackers with a 3.3 SDI while former Brewers shortstop Jean Segura is second with a 2.5.
At first base, Chris Carter is at a -0.8 SDI. Last year with Houston, Carter finished at 0.2. Shortstop Jonathan Villar is 10th among NL shortstops with a -0.3 SDI. However, the five players ranked below him all have SDIs of -3.6 or worse, with San Diego's Alexei Ramirez bringing up the rear with a -6.8.
Ryan Braun has a -0.3 SDI in left field (he finished with a -3.2 in right field last season), which puts him in the middle of the pack. Domingo Santana has the lowest SDI of any Brewers player at -4.3, but there are two right fielders who are worse than him. San Diego's Matt Kemp is at -4.7 while Cincinnati's Jay Bruce has the worst SDI of any player in the majors at -9.8.
Dave Heller is the author of the upcoming book Ken Williams: A Slugger in Ruth's Shadow as well as Facing Ted Williams Players from the Golden Age of Baseball Recall the Greatest Hitter Who Ever Lived and As Good As It Got: The 1944 St. Louis Browns