StaTuesday: All-time Packers playoff leaders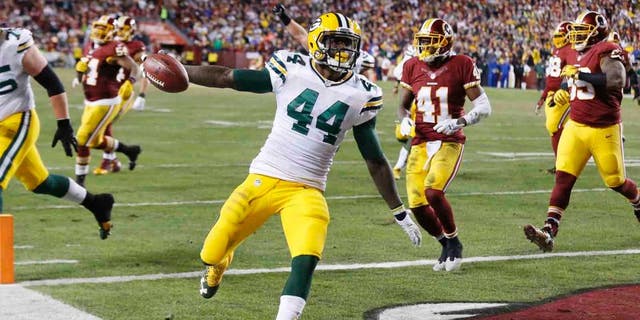 NEWYou can now listen to Fox News articles!
The Green Bay Packers have an illustrious postseason history.
Several of the all-time great players have accumulated yards over the years in the postseason for the franchise, including names just as Paul Hornung, Jim Taylor, Brett Favre, Bart Starr and so on.
Well, a former sixth-round draft pick in 2010 is making his mark as well.
With the two games he played in this season's playoffs, James Starks keeps moving up on some of Green Bay's all-time postseason lists.
(Note: Statistics available since 1960, so this would discount the five postseason games the Packers played from 1936-44. However, football has evolved greatly over the years and it is hard to compare the late 20th Century and early 21st Century players with those who played before and during World War II).
With his 76 yards rushing in two games, Starks moved up to No. 3 -- yes, No. 3 -- on Green Bay's all-time modern postseason history. He also moved past Carroll Dale and an idle Jordy Nelson into ninth place in yards from scrimmage.
MOST PACKERS PLAYOFF RUSHING YARDS
MOST PACKERS PLAYOFF YARDS FROM SCRIMMAGE
Starks isn't the only one to climb the Packers' record books this postseason.
Randall Cobb had three receptions against Washington in the playoff opener, allowing him to reach the top 10 in modern franchise history. (He is also No. 10 in receiving yards, but he was in that spot before the playoffs began.)
MOST PACKERS PLAYOFF RECEPTIONS
Know who else move up a list and to No. 1, no less? Tim Masthay, who now has the most punts in modern franchise playoff history.
Maybe that's not exciting, but it's cool seeing Max McGee's name on the punting list.
More impressive is safety Ha Ha Clinton-Dix, who in four postseason games has three interceptions.
Only eight players in Packers history have three or more picks in playoff contests and no one has done it in fewer games or has a better rate than Clinton-Dix.
We'd be remiss not to mention Aaron Rodgers.
Despite completing just 56.25 percent of his passes this postseason, Rodgers still has the best playoff completion percentage in Packers history.
He's still a ways behind Brett Favre for most passing yards and touchdowns and trails Bart Starr and Lynn Dickey -- Lynn Dickey? -- in passer rating (an 84.9 rating in the 2015 playoffs didn't help his cause).
Here's a list of every Packers player since 1960 to throw a pass in a playoff game. Guessing you didn't know of all 10.
Finally, here's a look at all the kickers in modern Packers playoff history.
Mason Crosby has been quite impressive; a near-automatic.
Also, offensive lineman Jerry Kramer had a better percentage than Chester Marcol (OK, small sample size, but still, Kramer accounted for 10 of Green Bay's points a 16-7 NFL championship win over the Giants. Impressive.).
Follow Dave Heller on Twitter