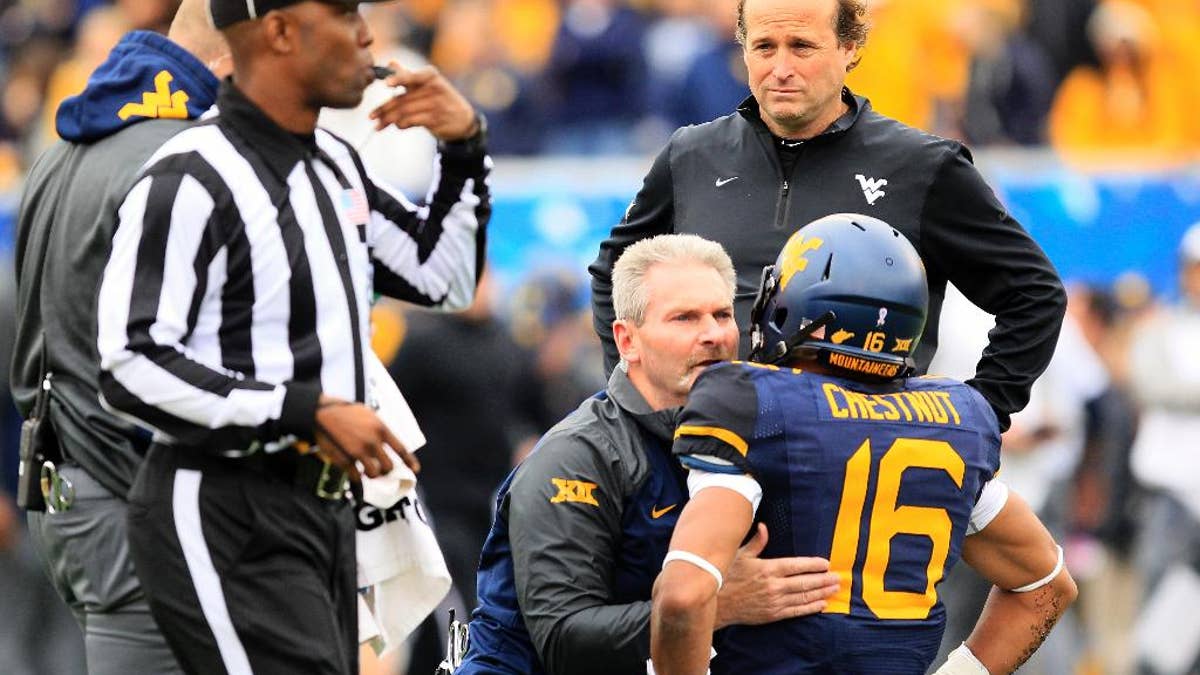 CHARLESTON, W.Va. – Three injured starters haven't been ruled out for No. 22 West Virginia's next game at Oklahoma State.
Coach Dana Holgorsen said Monday that cornerbacks Daryl Worley and Terrell Chestnut and running back Rushel Shell are day-to-day. They were hurt in the first half of West Virginia's 41-27 win over Baylor on Saturday.
Worley injured his ribs after fumbling a second-quarter punt. Later in the period, Chestnut sustained a head injury after a hard block from Baylor wide receiver Corey Coleman.
Shell hurt his right ankle after a first-quarter run.
All three did not return.
"We knew it was going to be a physical game. We wanted to play that way," Holgorsen said. "I thought we were nasty. We played the type of game that I felt like we needed to in order to win."
The Mountaineers overcame the injuries with their depth.
Backup cornerback Ricky Rumph made six tackles, while Ishmael Banks had a tackle and broke up a pass. The Mountaineers limited Baylor to season lows for points and total yards.
In Shell's absence, three other running backs combined for 150 yards on 42 carries. Baylor had entered the game allowing an average of 108 yards on the ground.
Dreamius Smith, the Mountaineers' fourth-leading rusher, gained 39 yards on a second-quarter drive that he capped with a 9-yard scoring run. Wendell Smallwood, who had a season-high 123 rushing yards a week earlier at Texas Tech, led West Virginia against Baylor with 66 yards on 20 carries.
"Having guys go in to play at a high level when guys go down is what you have to do if you want to win games in the Big 12," Holgorsen said.
Worley's fumble was the latest in a season filled with problems on punts for the Mountaineers. Their average of 3.6 yards per return is among the worst in the nation. Jordan Thompson also has had fumble problems and deciding when to catch punts. Twice on Saturday, West Virginia lined up with all 11 players rushing the punter and no one back to field it.
West Virginia (5-2, 3-1 Big 12) plays at Oklahoma State (5-2, 3-1) on Saturday.