Splashdown: 3-point king Curry surpasses own mark for new NBA record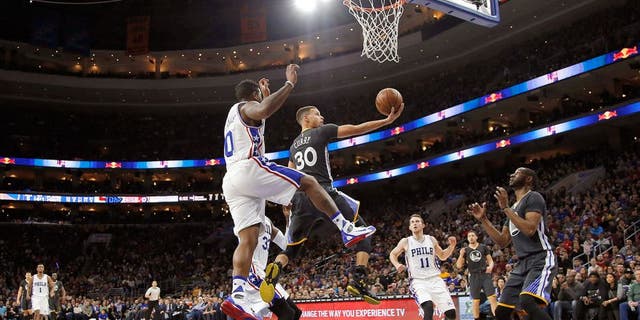 Golden State Warriors sharpshooter Stephen Curry splashed five 3-pointers in Saturday's win at Philadelphia to give him an NBA-record 78 this month. Curry held the previous record for most 3-pointers made in one month with 77 in November 2015. He's also third on the list with 75 in March 2015.
The Warriors needed all five, plus a game-winning 3-pointer from Harrison Barnes in the final second of the game to snatch a 108-105 victory, and move to 43-4 on the season with a sixth consecutive victory.
Curry, who had 23 points, six assists and five rebounds, can build on his 3-point record with today's January finale at the New York Knicks. Meanwhile, his assists can often be as pretty as his long-distance shot.
In 15 games in January, Curry is shooting 47.3 percent (78 of 165) from beyond the arc, his highest percentage for a full month this season. He shot 48.6 percent in three games in October. He hasn't shot below 43.8 percent from downtown in any month this season.
If Curry is to pass whatever his final 3-point record for a month is at the end of today's game this season, his best chancewill be in March when the Warriors play 17 games.