Solomon expected back as Arizona tries to halt losing streak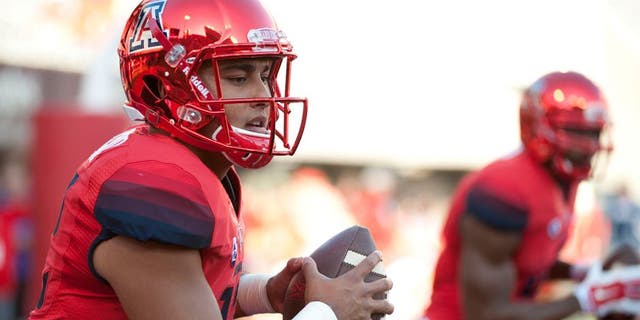 All signs point to the return of Arizona quarterback Anu Solomon for Saturday's game against Oregon State.
Unfortunately for the Wildcats, he doesn't play defense.
Oregon State will seek to give coach Gary Andersen his first Pac-12 win, facing an Arizona defense that has allowed a whopping 1,067 yards and 111 points in the last two games, blowout losses against UCLA and Stanford.
The Beavers (2-2, 0-1 Pac-12) had the week off after a 42-24 home loss to Stanford. In a scheduling quirk, the Wildcats (3-2, 0-2) don't have a bye, playing in 12 consecutive weeks.
Solomon left with a concussion in Arizona's 55-17 loss to UCLA and sat out last week's 55-17 beating at Stanford. Backup Jerrard Randal passed for 178 yards and ran for 67 in his first career start but was erratic throwing the ball and couldn't move the offense the way Solomon usually does.
In his radio show earlier in the week, Wildcats coach Rich Rodriguez called Solomon's progress encouraging and said he was optimistic the sophomore quarterback would play on Saturday. Reports that Solomon would play did not surprise Andersen.
"We were thinking that he would be back the whole time," Andersen said. "It didn't really affect how we prepared."
Here are some things to watch when Oregon State plays Arizona in Tucson (1 p.m. on FOX Sports 1).
SPREAD VS SPREAD: The Beavers, who for years ran a conventional offense under coach Mike Riley, have switched to a spread game under Andersen, with elusive freshman Seth Collins at the controls.
Of course, Rodriguez more or less invented the spread offense.
"We see our offense, and that is basically what they do," Rodriguez said. "Our zone and counter is basically the same."
ZONE READ: With Solomon back, look for the zone read to show up early and often.
"It's been a big part of their package," Andersen said. "You can tell they train it very closely, and they recruit to it for the offensive line, those zone-running running backs, the quarterbacks that can move themselves around."
Oregon State has a quarterback in Collins who can move around, too.
"He might be the fastest quarterback we play all year," Rodriguez said. "I have been really impressed with him. They do some similar stuff that we do and some other things as well. It is a completely different plan than what we saw last week (against Stanford) so everything that we worked on last week is going to be different than everything we are working on this week."
DEFENDING THE DEFENSE: Rodriguez found himself defending Arizona's 3-3-5 defense from fan criticism after the last two blowout losses.
"The truth is if they really studied it, they would realize the 3-3-5 is not that much different from a 3-4," he said.
"Again, we want to be more multiple and we have tried to be, but when the guys can't do it because of injuries (including All-American linebacker Scooby Wright), that is tough," he added.
As for the fans, Rodriguez said, "Those out there in the stands saying the 3-3-5 is no good, at least they're talking about it, but do they know what goes in and out of it, the history behind it? I do not think so."
RUNNING AROUND: Running backs figure prominently in Saturday's game.
Arizona's Nick Wilson leads the Pac-12 at 112 yards per game but was held to a season-low 45 yards at Stanford.
Oregon State will counter with a trio of backs -- Storm Barrs-Woods, Chris Brown and Ryan Nall.
"We're in as good a spot as we have been all year long at that position," Andersen said.
The Beavers' leading rusher for the season is Collins at 76.5 yards per game.
HEATED RIVALRY: OK, so they aren't real rivals, but it will be heated, especially by Oregon State standards, for the 1 p.m. local time kickoff.
The forecast high for Saturday in Tucson is 93 degrees.
"It's going to be hot over there," Andersen said. "We're hydrating and getting ourselves ready to go and expect to go over and play well. `'