Soccer Roundup: Will Real Madrid Collapse Give Barcelona La Liga Crown?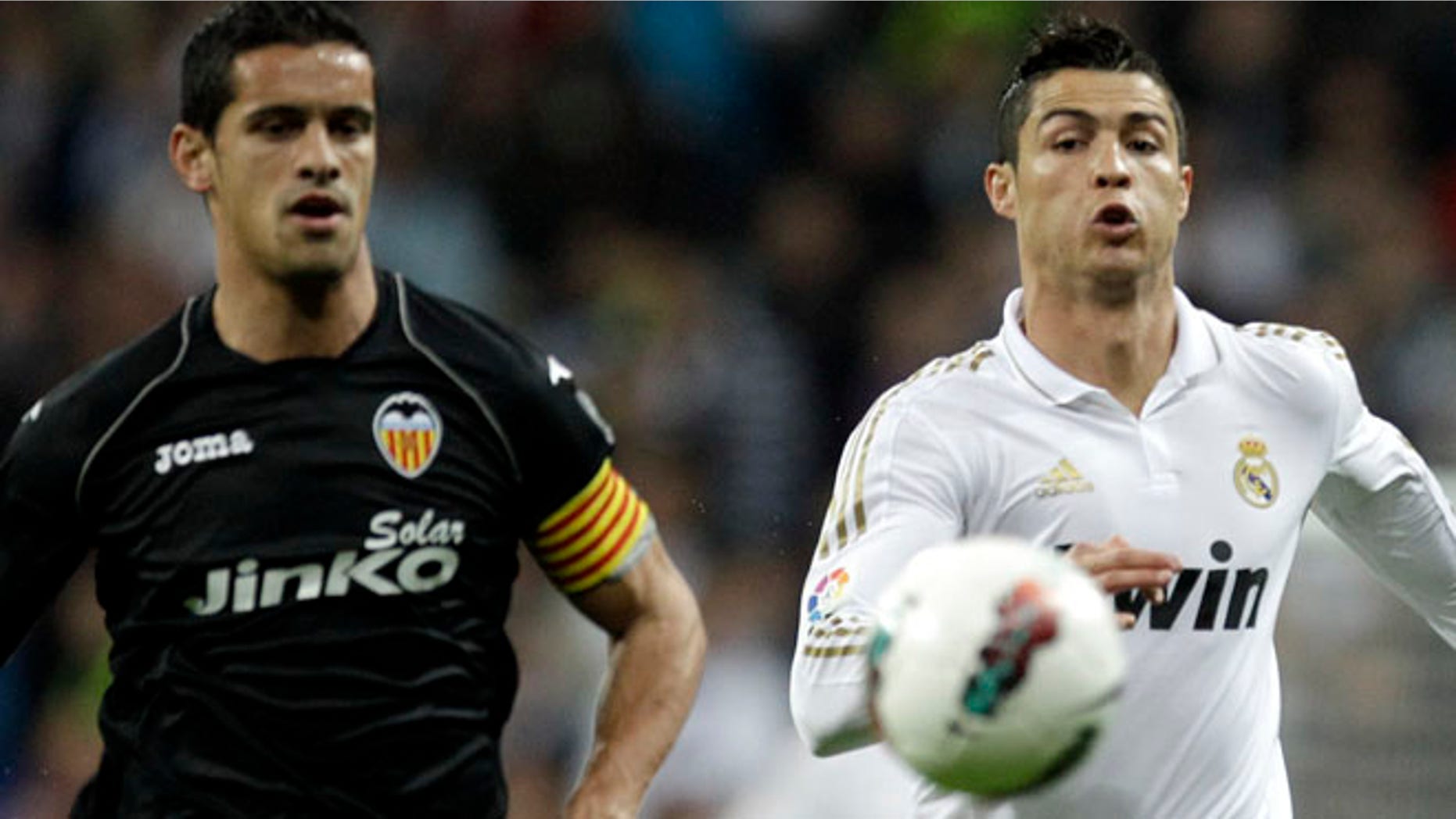 To say Spain's La Liga race is becoming a classic would be an understatement.
It just depends on how you use the word classic.
If Barcelona winds up winning the coveted trophy, it will turn into a classic comeback from a 10-point deficit over the final three months of the season. It also will be a classic and historic meltdown if Real can't retain its shrinking lead.
Raging Barcelona moved within four points of first-place Real Madrid with a 4-1 victory over host Real Zaragoza on Saturday. A day later, Real stumbled in an embarrassing scoreless draw with Valencia at home.
Real once had a 10-point lead and now must find a way to rediscover that made it the runaway leaders for so long with seven matches remaining in La Liga season.
"Madrid can lose this league," Real captain and goalkeeper Iker Casillas was quoted by The Associated Press. "There is a great team chasing us. We can't sit back and live off a 10-point lead we built up in the past. We are facing teams that are also playing for their own goals."
Real (25-2-4, 79 points) and Barça (26-2-6, 75) will meet in a derby in Barcelona on Sunday, April 22, a game that should go a long way in deciding the title.
On Saturday, Argentine superstar Lionel Messi reached yet another milestone by becoming the first player to crack 60 goals in a season since in almost 40 years in Barça's win at Zaragoza, his team's ninth consecutive win. The last player to reach that special milestone was German great Gerd Mueller, who finished with as astounding 67 goals during the 1972-73 season.
Messi, who leads La Liga with 38 goals, snapped a 1-1 tie with another brilliant score in the 39th minute before converting a penalty kick in the 86th minute.
Carlos Aranda had given Zaragoza a 30th-minute lead. Barça captain Carles Puyol equalized in the 36th when goalkeeper Roberto Jiménez fumbled a routine corner kick and the ball fell to the former's feet. Messi set up Pedro Rodríguez's goal in stoppage time.
On Sunday, Valencia goalkeeper Vicente Guaita turned out to be the star of the game, denying several goals, including stopping Argentine Angel Di María, a halftime replacement for fellow countryman Gonzalo Higuaín late in stoppage time. Real fell short of setting a club record of scoring in 32 consecutive games.
Cristiano Ronaldo, who banged a shot off the woodwork in the eighth minute, was stopped by Guaita after Di Maria feed early in the second half.
Before the two archrivals collide, Barcelona hosts Getafe on Tuesday and visits Levante on Saturday, Real will play at Atlético Madrid on Wednesday and host cellar-dwelling Sporting Gijón on Saturday.
Spain
Carlos Vela
The Mexican international struck in the 12th and 15th minute for Real Sociedead, which could not hold the lead en route to a 2-2 draw with Espanyol.
Who Will Win the Champions League: Barcelona, Real Madrid, Bayern or Chelsea?
Roque Santa Cruz, Marco Ruben
Cruz, a Paraguayan, scored for Real Betis in its 3-1 win over Villarreal, helping push the club 10 points clear of the relegation zone. Ruben, an Argentine, converted a penalty kick in stoppage time.
Miku
The Venezuelan striker tallied in the 20th minute to start Getafe to a 2-0 victory over Sporting Gijon.
Andrés Guardado
The Mexican international midfielder set up Deportivo de la Coruna's equalizing goal in its 3-1 victory over Real Murcia in the Spanish Second Division encounter. After Emilio Sanchez had given the visitors the lead in the eighth minute, Guardado set up the tying score. Teammate Alex found the Mexican and he sent a left-wing cross to Valeron at the far right post. Valeron headed the ball past goalkeeper Alberto for his fourth league goal. Guardado was taken out in favor of Salomao in the 76th minute. Guardado and Deportivo will return to action on Sunday, facing RC Celta in a Galician derby.
England
Chicharito 
The Mexican striker did not get an opportunity to do what he does best -- being Chicharito -- in Manchester United's 2-0 win over 10-man Queens Park Rangers in the English Premier League. Javier Hernández never got off the bench as Wayne Rooney converted a controversial penalty kick and Paul Scholes added a goal. Perhaps United manager Sir Alex Ferguson is saving Hernández for two games this week as the team eyes the EPL crown. ManU plays at Wigan Athletic on Wednesday and hosts Everton on Sunday.
Chicharito's Excellent Adventure
Luis Suárez

The Uruguayan standout tallied in the 82nd minute for Liverpool, which salvaged a 1-1 tie with Aston Villa to snap a three-game losing streak. The Reds have accrued only nine points in 13 games this year. After Australian Chris Herd had given Villa the lead with a 10th-minute score, Suárez put home a rebound of a Daniel Agger header that hit the post.
Juan Mata, Fernando Torres

The Argentine broke a personal eight-game scoreless streak by connecting for his sixth goal of the season three minutes into stoppage time to give Chelsea a dramatic 2-1 win over visiting Wigan. Second-half substitute Fernando Torres, a Spaniard, rattled a right-sided shot off the far left post and Mata slotted home the rebound. Mata had a goal denied by the goalkeeper in the first half. Chelsea, which will play Barcelona in the UEFA Champions League, was fortunate to leave with three points because its first goal, by Branislav Ivanovic appeared to be offside by a yard.
Italy

Diego Milito, Diego Forlan, Mauricio Pinilla, Esteban Cambiasso

They all played roles in Inter's 2 2 tie with 10 man Cagliari. Milito, an Argentine, equalized for Inter only a minute after Davide Astori's goal gave the hosts a 1-0 lead in the fifth minute. Pinilla, a Chilean striker, restored Cagliari's lead with a header in the 61st minute, but he was then slapped with his second yellow card for an excessive goal celebration. Only three minutes later, Cambiassio, an Argentenian, tied it, putting home a Forlan (Uruguayan) pass using the outside of his foot.
Luis Muriel

The Colombian striker had a brace for Lecce, which defeated Roma, 4 2.

Rodrigo Palacio

The Argentine lifted Genoa to a 1-0 lead over Novara, which received a Guiseppe Mascara score for a 1-1 draw.
The Rise of Latinos in the MLS
Germany

Raúl, Jefferson Farfán

Raul showed he still had it as the former Spanish international striker hit a brace and the Peruvian set up all three goals for Schalke in its 3-0 win over Hanover. The 34-year-old star teamed with the Colombian on both goals. He headed in Farfan's cross in the sixth minute and did a give and go with Farfan before placing the ball past goalkeeper Ron-Robert Zieler. Raul took the ball with his left foot and scored with his right for his 14th Bundesliga goal of the season and 20th in all competitions. He came off to a standing ovation in the 71st minute. Farfan completed his unique triple by creating Klaas-Jan Huntelaar's 24th goal of the season off a cross in the 63rd minute.

France
Renato Civelli
The Argentine defender scored Nice's second and insurance goal in the 57th minute of its 2-0 home win over Lorient as the club climbed into 13th place.
Lisandro López
Lisandro, an Argentinean, converted two penalty kick as fourth-place Lyon edged Auxerre, 2-1. Lisandro has 12 goals this season as Lyon moved within three points of Lille and three in front of Toulouse.
Guillermo Ochoa
Ajaccio and the Mexican international goalkeeper secured another point in its quest to get out of the Ligue 1 relegation zone in a 1-1 draw with Saint-Etienne. Ajaccio is in 17th place out of 20 teams with 33 points, one more point than FC Lorient, two more than FC Sochaux-Montbeliard and six in front of last-place Auxerre (27 points). Ochoa made one save and blocked three other shots. Florent Sinama-Pongolle gave Saint-Etienne the lead in the 72nd minute.
Soccer-Mad Church Worships Diego Maradona as a God
Portugal
James Rodriguez
Rodriguez, a Colombian, created the lone goal by Brazilian winger Hulk in first-place Porto's 1-0 triumph over Braga. Rodriguez set up Hulk, who raced down the right flank past a defender and fired home a diagonal shot in the 55th minute.
United States
Alvaro Saborio, Fabian Espindola
This attacking duo was all Real Salt Lake (5-1) needed in its 2-0 Major League Soccer victory over the Colorado Rapids (3-2) at home. Saborio, a Costa Rican, tallied in the 20th minute, taking a pass from defender Tony Beltran as the Costa Rican got behind two defenders before beating goalkeeper Matt Pickens from six yards. "I saw him take a step back towards the back post and I thought that hopefully if I can get it over that guy, he can time his run and get a touch in there," Beltran said. "He did a great job taking that first touch and burying it, so credit to him."

Espindola, an Argentinean, scored an insurance goal in the 57th minute, a controversial one. He ran into the penalty area after a long ball from Louis Gil before he slotted it past Pickens, who claimed that the RSL players had handled the ball. Referee Jair Marrufo, however, allowed the goal to stand. "I'm really amazed at both Fabian Espíndola and Álvaro Saborío – to me, they both looked extremely alert and bright tonight," RSL coach Jason Kreis said. "I'm pleased that they both got on the score board, but probably more pleased with their defensive effort. When they are that in tune for giving for the team we almost always get results."
Real Madrid Wins! Then Drops Copa under Bus
Alejandro Moreno
The Venezuelan struck for the equalizing goal for Chivas USA en route to a 2-1 win over the host Portland Timbers. Moreno, who got rid of the plastic mask he was wearing to protect his broken nose, scored on the Goats' first shot in the 48th minute as he headed a ball home past goalkeeper Troy Perkins for a 1-1 deadlock.
"I just floated into the box past the defender and found a good ball," Moreno said. "I was able to rise above and snap a header into the goal. I was very happy for the team and the result and certainly it was a goal that allowed us to believe in what we are doing on the field."

Michael Lewis, who has covered international soccer for more than three decades, can be reached at SoccerWriter516@aol.com.