So long, slugger: Big Papi's most unforgettable moments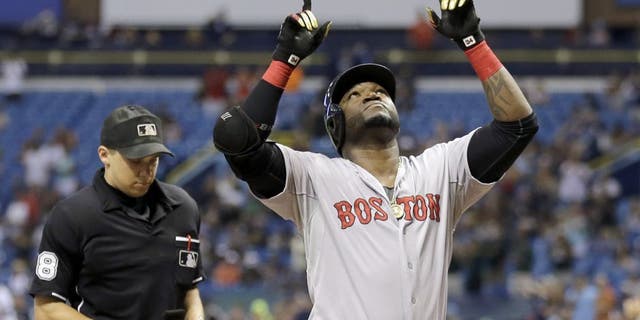 NEWYou can now listen to Fox News articles!
David Ortiz will reportedly be hanging it up after 20 unforgettable seasons. Chris O'Meara AP Photo
What a career it's been.
Following the 2016 season, his 20th in the league, Boston Red Sox slugger David Ortiz will reportedly retire.
It's been a long, successful and memorable career for the 39-year-old DH, who will turn 40 on Wednesday. A look back at some of his most unforgettable moments during his tenure:
Sept. 14, 1997: Papi slugs his first home run
What's that saying? A journey of a thousand miles begins with a single step? If there were a baseball equivalent to that, this would be it. Ortiz is just one of 27 members of the 500 Club, but it all began with this swing of the bat.
Your browser does not support iframes.
Oct. 17, 2004: The ALCS walkoff
The Red Sox, trailing 3-0 in the ALCS to the New York Yankees, needed a miracle -- they were looking to break the Curse of the Bambino. In the 12th inning of Game 4, Ortiz came through in the clutch, hitting a walk-off home run that proved to be the turning point in the Red Sox's World Series run.
Your browser does not support iframes.
July 8, 2011: Benches clear against Baltimore
Sure, Big Papi is known for his memorable home runs, but he was also known as a fierce competitor. After three straight inside fastballs, Ortiz chirped at Kevin Gregg of the Baltimore Orioles, causing both benches to be warned. Ortiz flew out on the next pitch, but went after Gregg while running to first base. Unsurprisingly, both players were ejected.
Your browser does not support iframes.
April 20, 2013: Ortiz gives impassioned speech
In the first game after the bombings at the finish line of the Boston Marathon, Ortiz used his platform to give an impassioned speech to the city of Boston. The entire video above is worth watching, but Ortiz's speech starts around the 3:30 mark.
Your browser does not support iframes.
July 27, 2013: Who needs dugout phones?
As mentioned above, Ortiz was known as a fiery competitor -- and also one with a short fuse with umpires. After taking some pitches he thought were balls, Ortiz flied out and took his frustrations out on the dugout phone, prompting his ejection from the game.
Your browser does not support iframes.
Sept. 12, 2015: Big Papi joins the 500-homer club
Despite an aging body and constant questions about his decline, Ortiz has continued to smash baseballs. After hitting No. 499 earlier in the game, he joined Albert Pujols as the only players to hit Nos. 499 and 500 in the same game. He's just the 27th member of the 500 club and one of three active members (Alex Rodriguez, Pujols, Ortiz).
MORE MLB: Want stories delivered to you? Sign up for our MLB newsletters.