Simon Pagenaud focused on winning IndyCar title, not races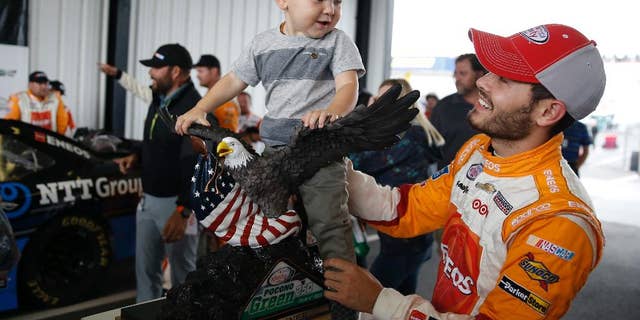 NEWYou can now listen to Fox News articles!
DETROIT – Simon Pagenaud topped IndyCar qualifying twice at Belle Isle but didn't win either of the actual races. He even faded back to 13th in one of them while trying to stretch fuel at the end.
So it wasn't a perfect weekend by any means — but it was still a step forward.
"I'm pretty happy," Pagenaud said. "Big picture: championship."
Pagenaud's second-place finish in Sunday's race was more than enough to salvage a successful weekend, and he exited the Detroit event with an 80-point lead in the series standings. Although there's plenty of time left in the season, Pagenaud has already staked an impressive claim to the title with his stellar start.
In eight races, the Frenchman has finished first three times and second three times. Nobody else has more than one win, and Scott Dixon is the only other driver with more than one finish in the top two.
Dixon has one win and one second-place showing. He's the one in second place in the standings, but well behind.
While Pagenaud keeps producing impressive results for Team Penske, his closest competitors have been unable to make a serious push. Dixon was 57 points back before this weekend and had finished in the top 10 in every race. That streak ended when he had electrical issues and finished 19th on Saturday.
Helio Castroneves is in third place, but he also lost ground over the weekend. He finished 14th in Sunday's race after catching a bad break because of an ill-timed caution flag.
Pagenaud lost Sunday to teammate Will Power, but he had every reason to feel good about how the weekend had unfolded. Only two drivers — Sebastien Bourdais and Conor Daly — gained ground on Pagenaud at Belle Isle. And they're still 147 and 180 points back.
"I'm very happy," Pagenaud said Sunday. "I think we salvaged a pretty good weekend. Helio had a bad day today. Dixon is behind. Those are the main contenders."
Pagenaud's satisfaction shouldn't turn into overconfidence — certainly not at this stage, and not with Dixon as the closest threat in the standings. It was Dixon who overcame a 47-point deficit in the final, double-points race at Sonoma last year to win his fourth series championship.
But there's no doubt who the best driver has been through the first eight races. And it's not particularly close.
___
RCR-XFINITY
Richard Childress Racing has added four drivers to its Xfinity Series roster, including Sam Hornish Jr.
The drivers will share seat time in the No. 2 Chevrolet Camaro with crew chief Danny Stockman. Ben Kennedy will race at Iowa Speedway on June 19, while Hornish will race at Iowa on July 30 and Kentucky Speedway on September 24.
AJ Allmendinger will join the team at Mid-Ohio Sports Car Course on August 13 for the road course race, and Michael McDowell will drive at Road America.
"We're honored to have these gifted drivers join the team for selected races during the 2016 season," said Mike Dillon, RCR's vice president of competition. "We're working hard to put together a driver lineup that allows us to compete for the Xfinity Series owner's championship. I'm confident we'll be able to challenge for the title this season and be a threat to win in each of the races."
___
PATRICK-LIFE INSURANCE
Danica Patrick will be encouraging people to take a closer look at their life insurance needs through a new role as spokeswoman for Life Insurance Awareness Month.
The annual campaign each September is coordinated by the nonprofit organization Life Happens and is designed to encourage Americans who do not have adequate life insurance to get coverage.
"My parents made a point to instill financial responsibility in both my sister and me at a young age, to avoid the financial hardships they had endured as kids," Patrick said.
Both her parents lost their fathers when they were teenagers, and neither had life insurance. Patrick's mother was one of five children, and her mother had to sell off most of the family farm to make ends meet.
___
LARSON-SHOWCASE
Kyle Larson will host a showcase event at Cycleland Speedway for a second consecutive year, and it will be the highest paying one-night event in Outlaw Kart racing.
Kyle Larson's Outlaw Kart Showcase will run on Sept. 6 at the speedway in Chico, California. The event will again be presented by ParkerStore, and will offer a $25,000 purse in the Outlaw Kart Open Division with $6,000 going to the winner. The Outlaw Kart Showcase will also include the Box Stock and 250 Outlaw Karts.
Larson spent most of his childhood racing at Cycleland and said hosting the showcase there "was a no-brainer for me.
___
FOX-LE MANS
Fox Sports will open its coverage of the 24 Hours of Le Mans next Saturday with Bob Varsha and Brian Till leading an eight-member broadcast team.
Varsha's broadcast team for the iconic endurance race includes Calvin Fish and Tommy Kendall, while Till leads the team of Jamie Howe and Scott Pruett.
Justin Bell and Andrew Marriott will report from the pits and Sam Posey, described by Autoweek as "driver, racing broadcaster, fine artist and all-around good guy/ambassador for motorsport," is also providing pieces throughout the weekend.
"From my first Le Mans in the mid-1980s, the 24 Hours has been my favorite event in motorsports," Varsha said. "Nine decades of spectacular history, drivers and teams from nearly 30 countries, extraordinary mechanical diversity on the grid, a quarter million spectators and the sheer audacity of racing state-of-the-art machinery on an eight-plus mile lap made up mainly of public roads is simply a fan's dream."