Should Red Sox have traded prospects for starter instead of Kimbrel?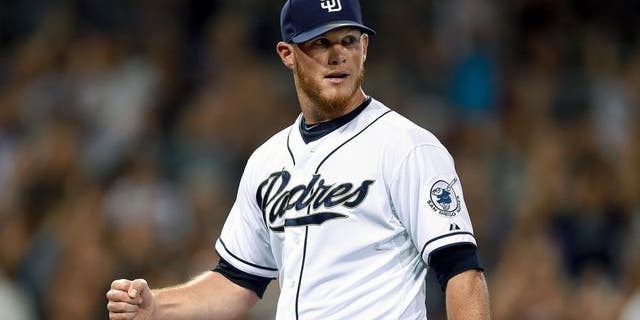 The biggest question with the Red Sox's trade for Craig Kimbrel is whether new president of baseball operations Dave Dombrowski could have used the four prospects he sent to the Padres to land a starting pitcher instead.
The Sox's answer is no, that pitchers such as Chris Sale or Sonny Gray were unavailable. But that is only true at the moment. Teams pivot, markets change. And if Dombrowski is serious about Kimbrel being his biggest trade acquisition of the winter, then he is now in a corner in his pursuit of an ace.
Only two such pitchers are available in free agency -- Zack Greinke and David Price. We learned the last time Greinke was on the market that he prefers the National League, and the best guess is that he will re-sign with the Dodgers, unless the Giants somehow bid higher. Price, meanwhile, is thought to prefer the Cubs.
Both pitchers value comfort, but both want to be paid. One exec who knows Greinke jokes that the right-hander would play for the Tokyo Giants if they made him the highest offer (Greinke proved he could thrive in a large market with the Dodgers, though Boston is a different type of large market than Los Angeles). Price, for a variety of reasons stemming from his time with the Rays, probably does not consider the Red Sox his first choice. But if the Sox outbid the Cubs by say, $30 million, hello Boston.
Dombrowski, by all accounts, is quite fond of Price, and presumably is authorized to spend on an ace in a way that his predecessor, Ben Cherington, could not (remember, the Sox probably could have extended Jon Lester for $125 million or so before he hit free agency).
If Dombrowski indeed gets his man, then the price for Kimbrel trade becomes more palatable. The Sox were so deep in prospects, they could not keep all of them. Center fielder Manuel Margot and shortstop Javier Guerra, blocked by more advanced players, probably would have been traded eventually. The only question was for whom.
What happens, though, if Dombrowski fails to land Price or Greinke? Might he sign two other free-agent starters -- say, Jordan Zimmermann and Johnny Cueto? Or might he go for just one, count on bouncebacks from Clay Buchholz and Rick Porcello and bank on Eduardo Rodriguez taking a major step forward?
Whatever the answer, Dombrowski evidently was comfortable with expending his prospect power on a reliever who throws 60 to 65 innings per season. Time will tell if he went too far, too soon.
SCORE ONE FOR PRELLER
For an example of how patience can be a virtue in trade discussions, consider the Padres' approach with Kimbrel and how they got a bigger return for him in November than they would have in July.
I was one of many who was critical of Padres GM A.J. Preller for passing on the Yankees' offer for Kimbrel, which included shortstop Jorge Mateo and a willingness to absorb a healthy portion of the amount the Padres owed infielder Jedd Gyorko -- at the time, about $33 million.
My thought was that the Padres were passing on too good an opportunity, that Kimbrel's value only would diminish in time. Well, it turns out that the Pads landed Guerra, a shortstop comparable to Mateo. Plus Margot. Plus infielder Carlos Asuaje and left-hander Logan Allen. Four of the Red Sox's top 30 prospects in all, according to MLB.com.
"SD got a TON," one rival executive told me in a text.
When I asked Jim Callis, MLB.com's draft and prospect expert, to evaluate Mateo and Guerra, he replied, "They're very comparable. Guerra is a better defender, very interesting if his power is real. Mateo is a legit shortstop and he can fly, gets some Jose Reyes comps."
The only problem with the six prospects the Padres acquired for Kimbrel and Joaquin Benoit is that they all were at Double-A or below. A number of players the Pads traded a year ago -- Joe Ross, Trea Turner, Matt Wisler, Jace Peterson, etc. -- were more advanced. So, in a sense, the team took a step back in the development chain.
The larger question, of course, is where the Padres go from here. One exec predicts that Preller will go "full rebuild" -- right-hander Ian Kennedy turned down the Pads' qualifying offer, the team is shopping righty Tyson Ross and also is looking to move Matt Kemp, according to major-league sources.
Ross is under club control for two more seasons, righty Andrew Cashner for one. Kemp, meanwhile, is owed $86 million over the next four years. Is it possible that Preller could pull off the first Kimbrel trade in reverse, attaching Kemp to Ross the way the Braves attached Melvin Upton Jr. to Kimbrel?
Such a move would lessen the return on Ross at a time when the Padres badly need to replenish their system. In any case, it's difficult to know exactly what Preller is thinking; the Padres, who appeared over-budget before trading Kimbrel and Benoit and losing Kennedy, also are considering additions such as free-agent shortstop Ian Desmond.
Signing Desmond would cost the Pads a second-round pick, but Preller also could view him as a trade asset who eventually could bring a greater return. Good players can help accelerate the building process; Desmond could bridge the gap to Guerra, then move on.
AND THE BRAVES?
Officials from three different clubs told me that the Braves have indeed shopped first baseman Freddie Freeman, with one saying such a possibility was "the talk of the (Arizona) Fall League" among scouts about 10 days ago.
The Braves, another official says, are "shopping everyone owed money" -- a group that would include right-hander Julio Teheran, right fielder Nick Markakis and center fielder Cameron Maybin, among others.
Clearly, the Braves do not fear backlash; otherwise, they would not have traded shortstop Andrelton Simmons. From a financial perspective, they might be even more motivated to trade Freeman, whose salary will rise from $12 million in 2016 to $20.5 million in '17.
Then again, Freeman's value at the moment might be somewhat in question - he did not make a start during the final weekend of the regular season due to a lingering right wrist injury.
Whatever, the Braves continue to send mixed signals.
GM John Coppolella told reporters that the trade of Simmons was intended to improve the team for 2016 and not just for the future, saying, "We can't have a year like we had last year."
The Braves expect Erick Aybar to be an offensive upgrade over Simmons and the two pitching prospects they received from the Angels, Sean Newcomb and Chris Ellis, to contribute next season. But much more work needs to be done if they truly intend to lose significantly fewer than 95 games.
To that end, the Braves have re-signed free-agent catcher A.J. Pierzynski, and they also are talking to a number of other non-compensation free agents, including some veteran relievers, sources say.
Still, what actually is their goal? Ninety losses? Eighty-five? Or is their true plan to move Freeman and Teheran, secure even more prospects and all but guarantee themselves the No. 1 pick in the 2017 draft (they will draft third in '16)?
While the Braves' rebuild bears similarities to those of the Cubs', Astros' and Royals', none of those clubs traded as many signed or controllable young players -- players such as Simmons, Kimbrel, Jose Peraza, Evan Gattis and Alex Wood, players who could have prevented the team from taking as hard a fall.
Another issue: The Braves, who do not include no-trade clauses in contracts, likely are losing credibility with their own players. Kimbrel and Simmons did not sign their new deals early in 2014 thinking they would be traded so quickly. The same goes for Freeman and Teheran, who -- for now - remain with the club.
AROUND THE HORN
● The Cubs do not intend to move third baseman Kris Bryant, shortstop Addison Russell or left fielder Kyle Schwarber, but will at least explore the trade interest they are getting in right fielder Jorge Soler and infielder Javier Baez, sources say.
Moving one of those hitters only would make sense if the return was a pitcher of similar age, service and talent. The risk for the Cubs in addressing their pitching needs solely through the free-agent market is that they could end up with an old rotation quickly.
Starlin Castro would not bring back the same type of young pitcher as Baez or Soler, but he batted .295 with a .783 OPS in the second half. Playing second base seemed to relax him, and he still will only be 26 next season.
● The trade activity on Rays relievers Jake McGee and Brad Boxberger only intensified after the Kimbrel trade -- and teams unwilling to meet high free-agent prices are again targeting the Rays' starters, sources say.
The Rays already have traded right-hander Nathan Karns to the Mariners, but their depth could enable them to move another. Left-hander Blake Snell, the 52nd overall pick in the 2011 draft, is progressing rapidly.
● Finally, the Mets are fairly adamant that they will not trade any of their young starting pitchers, but would it have made sense for them to trade right-hander Matt Harvey for the package that the Red Sox used to land Kimbrel?
Granted, the four prospects who went to the Padres are not yet close to the majors, but Margot could have been the Mets' center fielder of the future, Guerra would have given them another shortstop prospect to go with Amed Rosario, and Asuaje and Allen would have been additional assets.
Both Harvey and Kimbrel are under club control for three more seasons.