Shaq's son announces where he will play college basketball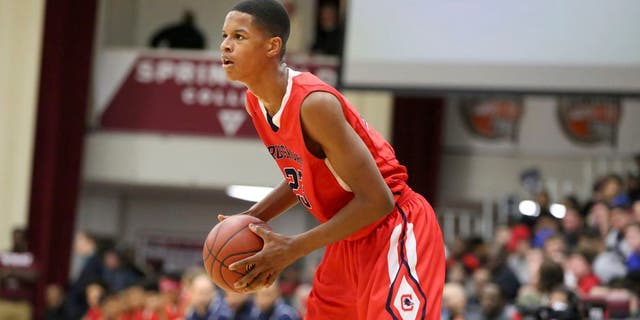 NEWYou can now listen to Fox News articles!
The recruitment of the most high-profile player in the class of 2018 has come to an end.
Early on Wednesday, Shareef O'Neal -- son of Basketball Hall of Famer Shaquille O'Neal -- announced that he will attend the University of Arizona. The announcement came via his AAU team's Twitter page.
O'Neal's recruitment has been closely followed in college basketball circles even though he still has a full year of high school left and has taken quite a few twists and turns along the way.
The younger O'Neal said he favored Kentucky early in the process, while his father like the Wildcats, along with Michigan State and his alma mater, LSU. Arizona was rarely mentioned in the mix, although it shouldn't be surprising considering that the Wildcatsalways recruit well, especially on the West Coast. They also signed one of the top players in the 2017 class, a five-star forward named DeAndre Ayton, who also played in the Cal Supreme summer program.
In terms of what Arizona is getting from the younger O'Neal, well, that's still up for debate. He is a considered a five-star prospect by most recruiting services, and some have him ranked among the top 20 junior prospects in the country. However, he is still very much a developmental prospect and probably is notan immediate impact, one-and-done type player. He is also a different type of player than his father, more of a modern "stretch four" than a low-post banger like the elder O'Neal.
Regardless, this is huge news for Arizona and coach Sean Miller, who not only got one of the best juniors in the country, but certainly the most notable as well.
O'Neal can't officially sign a Letter of Intent to play at Arizona until next fall.