Seahawks G Bailey inactive in wake of want-out Twitter posting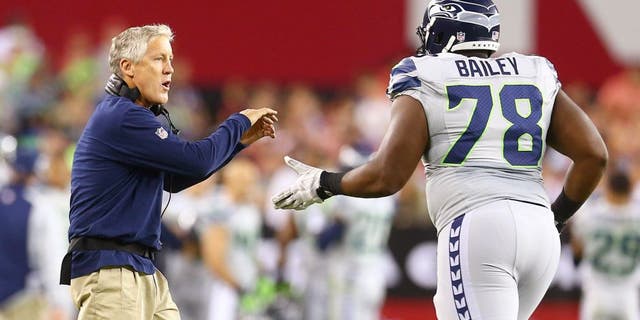 NEWYou can now listen to Fox News articles!
Seattle Seahawks offensive lineman Alvin Bailey let it be known via Twitter this week that he'd welcome playing in another city. There's a good chance he won't feel any differently this week.
Bailey was inactive for the first time in Sunday's matchup at the Cincinnati Bengals. He has barely set foot on the field through the first four games, taking only two snaps.
On Wednesday night, Bailey drew the ire of Seattle fans when he tweeted: "Thinkin about 31 other cities I'd rather be in then Seattle right now ..." When Bailey was listed as inactive Sunday, at least one fan referenced that posting.
Bailey, who was expected to vie for a starting position, told reporters the following day he is not concerned about his playing time and said the hostile reaction to his Twitter posting was "not as big of a deal as people are making it out to be."
MORE NEWS: Want stories delivered to you? Sign up for our NFL newsletters.