Ryan Getzlaf was spectacular for the Ducks in Game 4 (even with some gifts from the refs)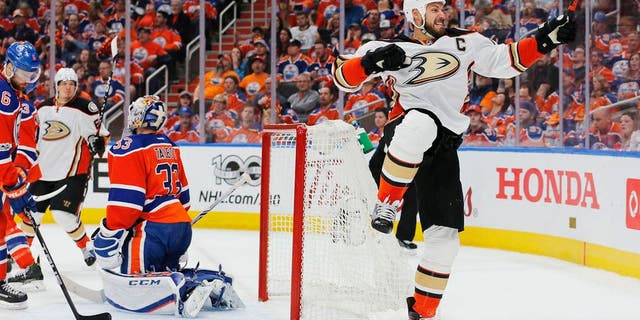 Don't let that shiny bald head fool you, Ryan Getzlaf isn't playing an old man's game just yet.
Getzlafwas the driving force in the Ducks' crucial Game 4 win on Wednesday night in Edmonton, tying their series with the Oilers at two games apiece.The 31-year-old centerman was outstanding as he recorded four points (two goals and two assists) in Anaheim's 4-3 overtime victory.
Three of those four points came in the second period as the Ducks managed to climb out from under an early two-goal deficit and take a 3-2 lead heading into the second intermission.
It was the first multi-goal playoff game of Getzlaf's career and his two tallies leapfrogged him over Teemu Selanne for the most postseason goals in Ducks' franchise history (36).
Getzlaf has been a beast and seems to have found another gear in this series. Even Oilers coach Todd McLellan has acknowledged that his team is havingtrouble in trying to counter his size and playmaking ability.
"Right now, we don't (have answers)," McLellan said, via NHL.com. "He's playing that well. And he's had 26 or 27 minutes, so you can try to get whatever match you want, it's either 17 (Ryan Kesler) or 15 (Getzlaf) on the ice all the time."
With that being said, it's worth recognizing that some of Getzlaf's points came on controversial plays on Wednesday night.
His first goal came on a wrister that beat Edmonton goalie Cam Talbot, but you could easily argue that there was goaltender interference on the play. Talbot was bumped by Ducks winger Corey Perry just prior to the shot whizzing past him.
While the contact wasn't all that egregious and Perry didn't enter the blue paint, you can still make the case that Talbot wasinterfered with. You can see from the overhead view that Perry clearly makes contact with Talbot's right arm, which hinders his ability to use the blocker as the shotbeats him blocker-side.
Here's the official language from the NHL rulebook:
The goaltenderinterference penalty seems to be getting more convoluted and ambiguous every day (similar to the NFL's interpretation of a catch) and there doesn't seem to be a lot of consistency with the way things are called on the ice. Perry's contact doesn't appear to be intentional or deliberate, but you can certainly make the case it's not incidental and that he impaired Talbot's ability to defend his net on the play.
Former NHL official Kerry Fraser said he would have ruled it no goal.
Regardless, the Oilers challenged the goal and the ruling on the ice was upheld.
This came back to bite them later in the period when Getzlaf assisted on a Rickard Rakell goal that may have been preceded by an offside zone entry. Because Edmonton lost the earlier challenge, they had no timeout and weren't able to call for a review on Rakell's equalizer.
Getzlaf also had the primary assist onJakob Silfverberg's overtime-winner, though that didn't come without a little bit of controversy either.
After blocking a shot in the defensive zone, Getzlaf attempted a breakout pass that glanced off Silfverberg's stick and rolled more than halfway down the ice and past the Oilers' goal line.
It seemed that some of the Oilers on the ice felt that it should have been whistled for icing, but it wasn't.
Even if you want to argue that one (or all) of those goals could/should have been taken off the board, it's impossible to denyhow dominant Getzlaf was on Wednesday night. What's done is done, the seriesis tied, and the Oilers need to figure out how to limit the Ducks captain as this thing heads back to Anaheim.
Geoff Burke-USA TODAY Sports | Geoff Burke