Royals-White Sox is a matchup of struggling offenses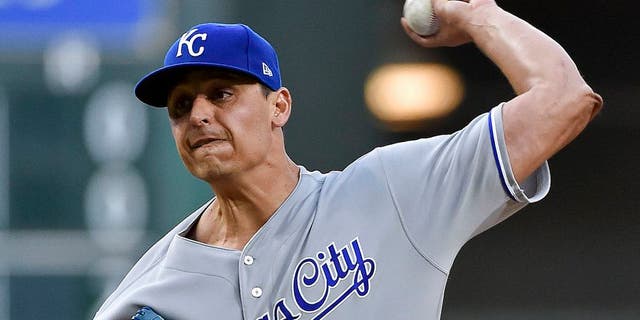 NEWYou can now listen to Fox News articles!
Both the Kansas City Royals and the Chicago White Sox will be trying to get back on track when they open a three-game series Monday night at Guaranteed Rate Field.
The Royals have lost four straight and five of their past six, while the White Sox have dropped three of their past four.
Both teams have been woeful on offense -- Chicago ranks 29th in the majors with 55 runs scored, and Kansas City is last with 46.
"Our offense right now has obviously been struggling," Royals manager Ned Yost told the Kansas City Star on Sunday after he juggled his lineup. "We'll just try to get a little something going at the top of the order."
Kansas City (7-11) scored just five runs in losing four consecutive games to the Texas Rangers.
However, the Royals have recently dominated the White Sox. Last season, Kansas City went 14-5 against the White Sox, who have dropped six consecutive season series against Kansas City for the first time in franchise history. Chicago was 40-72 against the Royals during that period.
The teams are meeting for the first time this season as the White Sox wrap up a six-game homestand. Chicago beat the Cleveland Indians 6-2 on Sunday to avoid a three-game sweep by the reigning American League champions.
Left-hander Jason Vargas -- who is 3-0 and leads the AL with a 0.44 ERA -- is scheduled to start Monday for the Royals. He has won each of his first three starts while allowing one run in 20 2/3 innings. Vargas threw 14 2/3 scoreless innings against the Oakland Athletics and San Francisco Giants in his last two outings.
Vargas missed most of last season while recovering from Tommy John surgery.
"I just feel that I'm not having to deal with the nagging issues that my elbow was giving me," Vargas told the Star after his last start. "I think even before it was really hurt, (it was) just dealing with those aches that work themselves out."
However, Vargas has struggled against the White Sox. He is 1-2 with a 6.85 ERA and given up 12 home runs in nine career games against Chicago.
Miguel Gonzalez (2-0, 2.84 ERA) will start for the White Sox. He is 6-5 with a 2.75 ERA in his past 16 starts. In his last start, the right-hander allowed a run and four hits in 8 1/3 shutout innings against the New York Yankees. He is 1-5 with a 4.36 ERA in eight career starts against the Royals.
"I just go out there and compete," Gonzalez told MLB.com after his start against New York. "That's my goal. Every time I go out there, I try to do six-plus innings. Quality innings are important, quality starts as well."
The rebuilding White Sox (8-9) will look to continue their offensive momentum after they ended a 23-inning scoreless streak with three runs in the first inning Sunday against Cleveland.
"We're in a good position, where we are now," White Sox shortstop Tim Anderson said. "A win like this can definitely be something we can build off of."