Royals solve Berrios, bullpen as Twins lose 11-6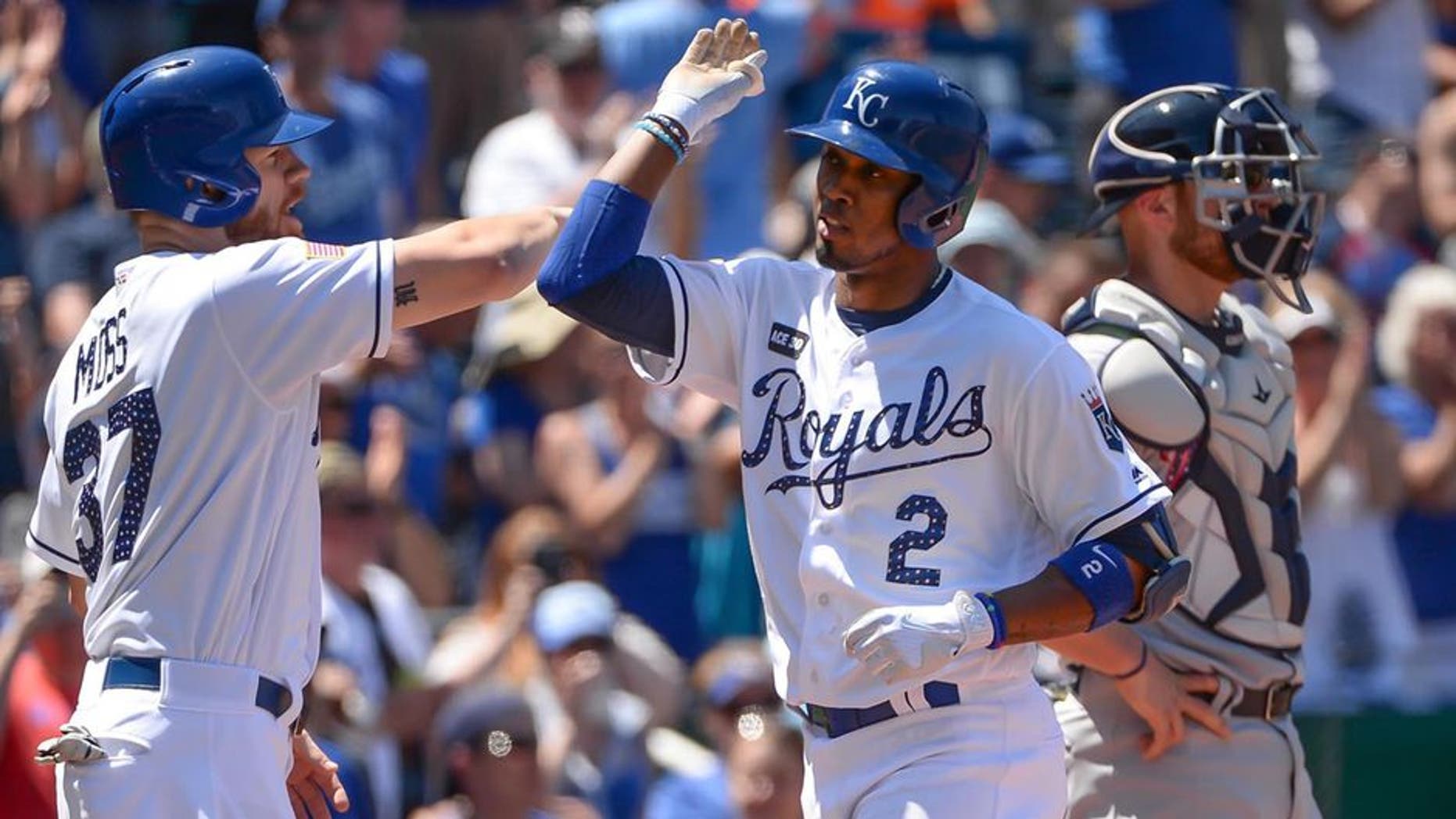 KANSAS CITY, Mo. -- Mike Moustakas hit his 22nd home run and Alex Gordon connected for a three-run shot as the Kansas City Royals rallied from a four-run deficit to defeat the Minnesota Twins 11-6 in the opener of a day-night doubleheader Saturday.
Moustakas tied his season high for home runs and matched Jermaine Dye in 2000 for the club record before the All-Star Game.
Alcides Escobar and Brandon Moss, with an estimated 474-foot drive to straightaway center, also homered for the Royals.
Gordon's homer with Moss, who had three hits, and Escobar aboard in the eighth gave the Royals a cushion.
Salvador Perez hit a two-out, two-run single in a three-run seventh to snap a 6-all tie against Tyler Duffy (0-2). Ramon Torres, who also had three hits, doubled in Whit Merrifield with the first run of the inning.
Mike Minor (4-1), the fourth of six Kansas City pitchers, picked up the victory, permitting one run and striking out four in two innings.
Luke Farrell's big league debut ended after 2 2/3 innings. The son of Boston Red Sox manager John Farrell retired only eight of the 18 Twins batters he faced, giving up five runs on seven hits and three walks. The 26-year-old right-hander walked Brian Dozier and Robbie Grossman with the bases loaded in the second.
With the blessing of Boston general manager Dave Dombrowski, John Farrell left the Red Sox in Toronto and flew to Kansas City to watch his youngest son make his major league debut.
"Some things are just more important," Royals manager Ned Yost said.
Boston bench coach Gary DiSarcina served as acting manager for the Red Sox on Saturday.
Miguel Sano homered leading off a three-run third for the Twins that gave them a 5-1 lead. Jorge Polanco's two-out double in the sixth gave Minnesota a 6-5 advantage.
Royals left-hander Matt Strahm was removed in the fourth with left knee inflammation.
FAIR OR FOUL
Twins manager Paul Molitor insisted Eric Hosmer's three-run homer Friday for Kansas City was foul. After a 111-second delay for a crew chief review, the call on the field was confirmed. "I would imagine that MLB's going to look at that, considering the fact that we feel we have video that at least backs up that Hosmer's being foul," Molitor said Saturday. "They can use it. When you send a steak back, you're mad that they did it wrong, but you're trying to help them get it right in the kitchen. You know what I'm saying? So . they'll figure it out. It's not a protest thing. It's not a rules violation. It's just an imperfect system."
ROSTER MOVES
Twins: RHP Ryan Pressly was recalled from Triple-A Rochester. Rookie RHP Alan Busenitz, who had a 2.08 ERA in six appearances, was sent to the Red Wings.
Royals: RHP Seth Maness was designated for assignment to make roster space for Farrell. Maness was 1-0 with a 3.72 ERA in eight relief appearances with Kansas City, but allowed 16 hits, including three homers, in 9 2/3 innings. He had a 9.77 ERA in 15 2/3 innings over 10 games with Triple-A Omaha.
UP NEXT
Twins: LHP Hector Santiago will be making his second start since coming off the disabled list from a shoulder strain.
Royals: LHP Travis Wood makes his first start since Sept. 19, 2015, with the Cubs.